Carter McLaughlin is Newman Civic Fellow Recipient at SMSU
Published Wednesday, May 12, 2021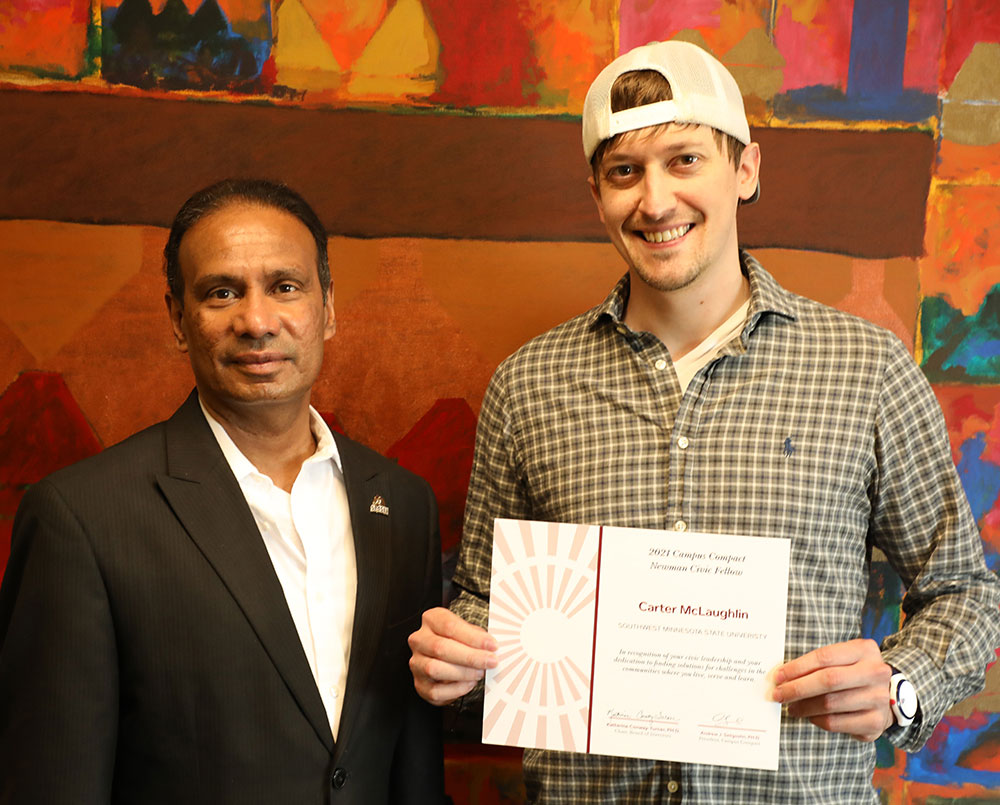 Carter McLaughlin, with President Kumara Jayasuriya
Carter McLaughlin, a senior from Eden Prairie, Minn., has been named the SMSU Newman Civic Fellow recipient for 2021.
He is one of 212 students from 39 states, Washington, D.C., and Mexico who will make up the organization's cohort of Newman Civic Fellows.
McLaughlin is a Philosophy major with minors in Political Science, Pre-law and Religious Studies.
A non-traditional student, he transferred to SMSU this past academic year from Normandale Community College and has made an immediate impact.
He was selected as one of two Campus Election Engagement Project (CEEP) Student Fellows during the election season 2020. He and his counterpart worked hard to implement six required voter engagement events before the Nov. 3, 2020 election. The events, activities, classroom presentations and recorded videos were informative for the SMSU students, who often sought him out with voting questions outside of scheduled events.
He is an active member of the  campus group Enactus (Entrepreneurial Action for Others Creates a Better World for Us All) . That group is involved with several projects, including a food rescue project to alleviate food insecurity in the Marshall area, as well as working closely with a regional animal shelter. His involvement has resulted in connections to a number of campus and community partners to create collaborative responses to these areas.
He volunteers at the Campus Religious Center, delivers Meals on Wheels and will remain a student member of the Center for Civic & Community Engagement's Advisory Group.
He's had an interesting background, having previous experience as a flight operations analyst, manufacturing operations analyst and supply chain analyst, as well as management positions in the food service industry.
Through the fellowship Campus Compact provides, he will benefit from a variety of learning and networking opportunities that emphasize personal, professional and civic growth.
Related Articles