Jenifer Goblish Named CTAM Outstanding Adjunct Faculty Award Winner
Published Wednesday, September 29, 2021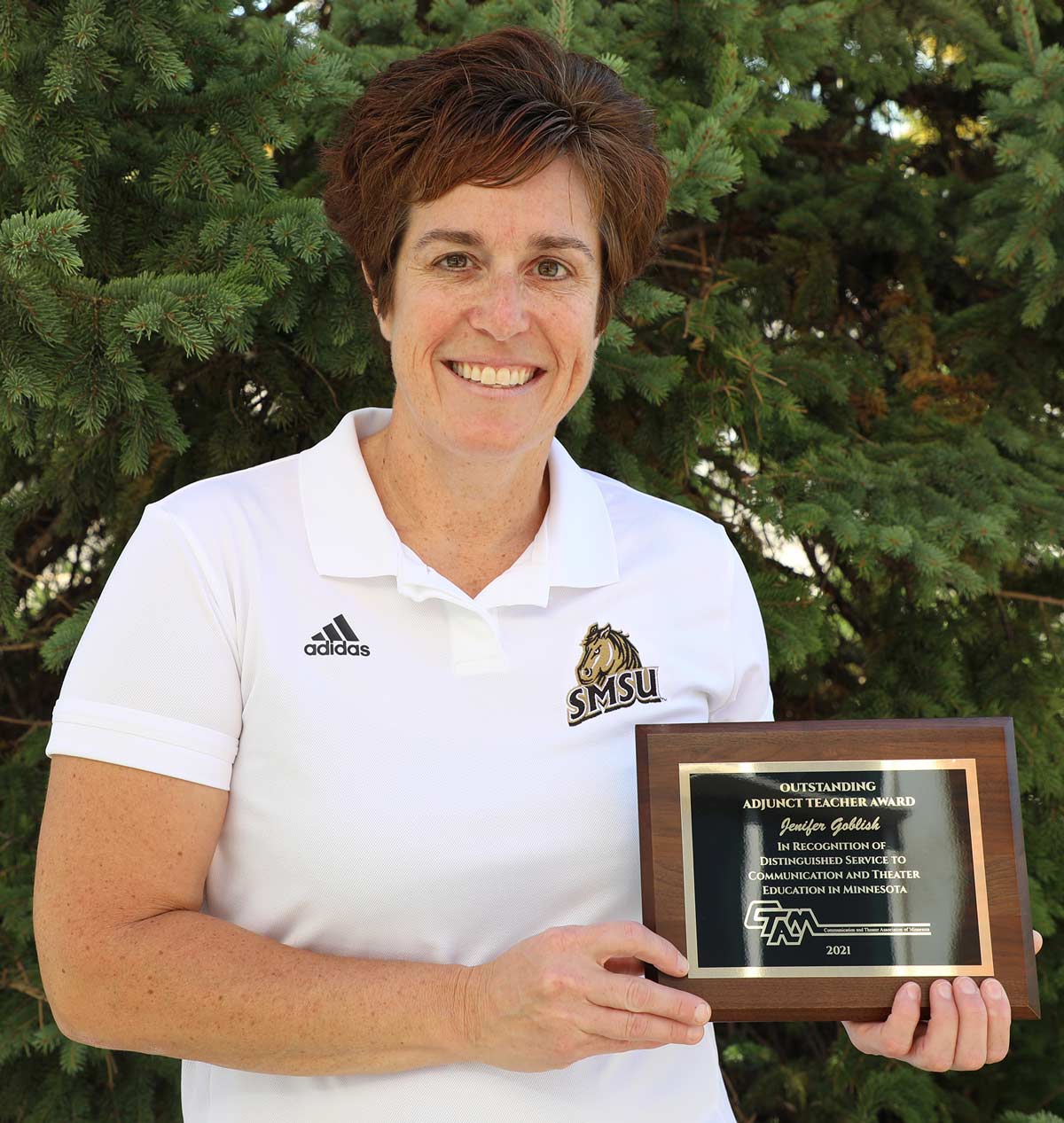 Jenifer Goblish
Jenifer Goblish just likes the vibe at Southwest Minnesota State. 
"There's an energy here. Everyone is accepting, and they go out of their way to make sure you have a good day. It's like a family," she said. 
That's part of the reason she is so thankful for her recent Outstanding Adjunct Faculty Award, presented by the Communication and Theater Association of Minnesota (CTAM). She was recognized virtually on Sept. 17. 
Goblish is an adjunct faculty member for College Now, SMSU's concurrent enrollment program, which includes over 100 high schools in Minnesota. She also teaches a course in Communication Studies to SMSU students on campus.. 
She's been a full-time adjunct for eight years, teaching just under 12 credits per year. "Up until last year, all of my work was with College Now. The last two years I've had one course that I teach (on campus, to SMSU students)." 
With College Now, she mentors high school teachers in a dozen districts. Those teachers, in turn, teach concurrent enrollment courses to their students, earning college credits while satisfying requirements for high school graduation.  
Her background is student-based. She earned undergraduate degrees in Speech Communication, Secondary Education and Literature/Language Arts from SMSU in 1999. She earned a master's in Educational Leadership with an emphasis in Teaching, Learning and Leadership from SMSU in 2004, and a second master's, in Communication Studies, from Minnesota State, Mankato, in 2019. 
The mother of four delights in following her children in their activities at Wabasso High School. She and husband George farm outside of Vesta. Three children — Jordan, Jasmine and Josh — are out of college, and youngest son Jayden is a senior at Wabasso High School, where, much to her delight, was recently crowned Homecoming king. 
Mark Fokken, coordinator of the Communication Studies Program, had high praise in his nomination letter. "I could go on and on about Jen Goblish, but suffice it to say there is no one I can think of with whom I've worked in recent years who is more deserving," he wrote. "I have known few instructors who take the job of course preparation more seriously." 
Associate Professor of Communication Studies Ben Walker echoed those sentiments. "Jen continues to shine as one of the best teachers we have. She works passionately to provide a high quality education experience to students and is always thinking of ways to improve herself and the program" he wrote in his nomination letter. 
Goblish is appreciative of the recognition. But what she's doing now hasn't changed over the years for the Fulda, Minn., native. 
Before coming to SMSU she was an English teacher at Red Rock Central High School, Lamberton. "As an alumna, I've always been passionate about SMSU and being a part of it," she said. "I like the atmosphere, the small class sizes. I just like being on campus." 
And don't think she doesn't steer her College Now students toward SMSU. "I tell them about College Now scholarships (for concurrent enrollment students who attend SMSU). I even bought brown and gold M&M's for them. It's a small thing, but they really appreciated the gesture." 
Related Articles