Natasha Boe '10 is New Financial Aid Director
Published Wednesday, October 20, 2021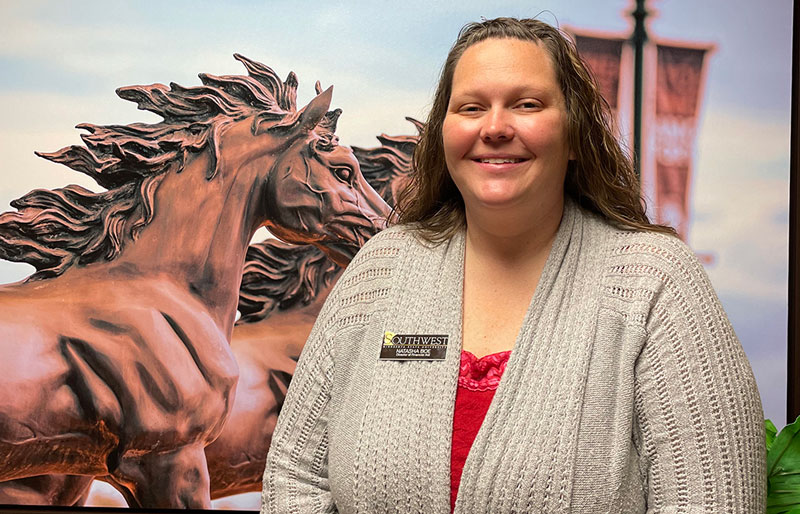 Natasha Boe, Financial Aid Director and proud alumna
Natasha Boe is no stranger to Southwest Minnesota State University. A 2010 alumna with a double major in Management and Finance, she has made her way home.
Boe, originally from Ortonville, Minnesota, is the new Director of Financial Aid at SMSU. She was first exposed to working in a financial aid office through her graduate assistant position at Minnesota State Mankato in 2012. After earning her master's there, she took a position in the Student Financial Services office, before accepting a position as Assistant Director of Financial Aid at Rochester Community and Technical College for eight years. "After my four years (as a student at SMSU), this is a place that I could come back and work," she said.
There were some new things that came with moving from a two-year to a four-year institution, and Boe is appreciative of the support she's received from her SMSU colleagues. "The staff I work with is very knowledgeable and helpful so that's made the transition very smooth."
Before she had applied for the director position, she was already familiar with the financial aid staff.  "The financial aid community is also very tight-knit," she said. "Other directors are willing to help out in any way they can."
"One of the things that's probably the most memorable is getting to know and reconnecting with the individuals that were here when I was a student," she said. "Honestly just being back on the campus and being in a leadership role has been rewarding."
Some of Boe's favorite tasks as the director include helping students and their families pursue the dream of higher education. Currently, Boe travels to high schools in southwest Minnesota to do "Financial Aid Night" presentations. She discusses things like the FAFSA, work-study opportunities, scholarships, tax benefits, and loans, to name a few. Her main emphasis is providing resources for students and their families who may have questions. When navigating the financial aid landscape, especially for first-generation student, there are questions that will arise.
"If your student is aware of where they are going to college, reach out to their financial aid office if you have any questions," Boe suggests. If your school is Southwest Minnesota State University, she is willing to help. "I can help them navigate those waters, let's put it that way," said Boe.
The SMSU alumna has come full circle — from student to employee — and is happy to be a part of the Mustang Family.
Related Articles