Veterans Resource Center A Valuable Place at SMSU
Published Monday, November 08, 2021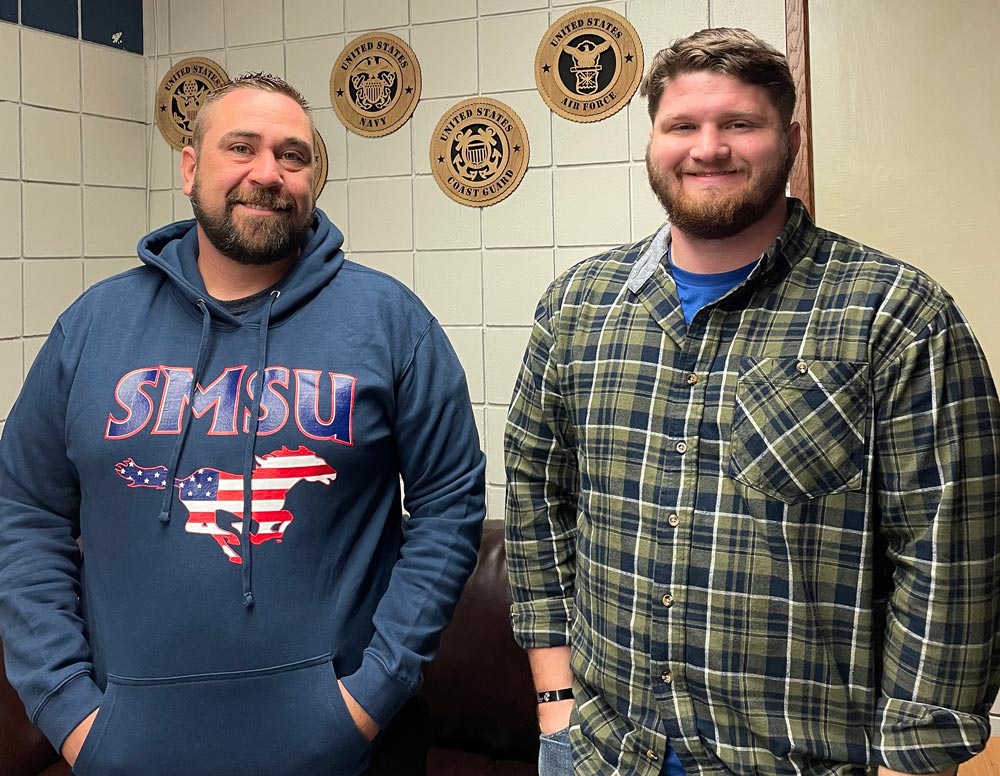 Justin Guggisberg, left, and RJ Hogrefe
Veterans Day on November 11 is the day set aside to honor those who serve our country, and sacrifice so much to defend our freedoms.
Many veterans choose to attend college after being discharged. At SMSU, they are met with a welcoming environment at the Veterans Resource Center.
The Center is something of a safe haven for these veterans, who tend to speak in military acronyms, have their own 'language' and unique sense of humor. They share common experiences that are foreign to the majority of the student body.
Justin Guggisberg is the Higher Education, Benefits and Resource Coordinator for the Minnesota Department of Veterans Affairs. The Wabasso, Minn., native is a 20-year Air Force veteran, and is in his 11th year on the campus of SMSU, where he finds great satisfaction assisting veterans and active service military wishing to continue their education at the university.
"I actually started school here in 2009, and was finishing up my degree in Justice Administration and Social Work. I was a work-study student for Pat Ebner, and when she had passed away all of the work-study students had applied for her position and I was lucky enough to get it."
RJ Hogrefe is from Holloway, Minn., and is a four-year Marine Corps veteran, where he was a chemical, biological, radiological, nuclear defense specialist. The non-traditional student decided to return to college to finish his History degree, which he started in the Marine Corps.
Both Guggisberg and Hogrefe reflected on the benefits that the Veterans Resource Center has for them individually. The Center helps veterans, of course, but also their dependents. "We also assist the families of our veterans," said Guggisberg. There are so many benefits available, and Guggisberg makes sure all questions are answered.
Hogrefe said the move from military to college life was a real change. "Going to college after serving was a huge culture shift. Going from a very structed lifestyle to a very relaxed atmosphere was difficult. Making the transition to the real world is difficult, so being able to have a place where I can speak in our military acronyms makes me feel a lot better about college," Hogrefe said, reiterating that the Veterans Resource Center is a place he calls home. "Everyone that comes to this Center understands me and I really enjoy that."
Guggisberg and Hogrefe mention some of the outreach activates that the Veterans Club sponsors. Walking Tacos are a popular event, and then Veterans Club sponsors a 5k/10k run each Homecoming. They are proactive in raising awareness of the Veterans Resource Center.
"The best part of my job is getting to see the different groups come through and make those connections throughout their college journey," said Guggisberg, a sentiment shared by Hogrefe. "I probably would've never spoken to some of the vets on campus because as military we are very quiet and keep to ourselves. This Center is a place for us to just come and talk about our struggles, accomplishments, and help one another just get through college knowing we aren't alone," he said.
Veterans bring an interesting perspective college, said Hogrefe. "They view courses as a job; you're getting paid (from the GI Bill) for this so they have the intentions of doing well in the class. Veterans have various life experience that will change them forever, so why not bring that into the courses that they are taking and share that experience with others?"
SMSU has been ranked third in the nation as a Military Friendly school, and a Military Spouse institution. It's a culture Guggisberg has worked hard to establish and area veterans thinking about returning to college may contact him at: justin.guggisberg@smsu.edu.
Related Articles