Sanford Health Commits $500,000 to SMSU Foundation to Honor Legacy of Former Baseball Coach Dr. Jim Denevan
Published Thursday, December 16, 2021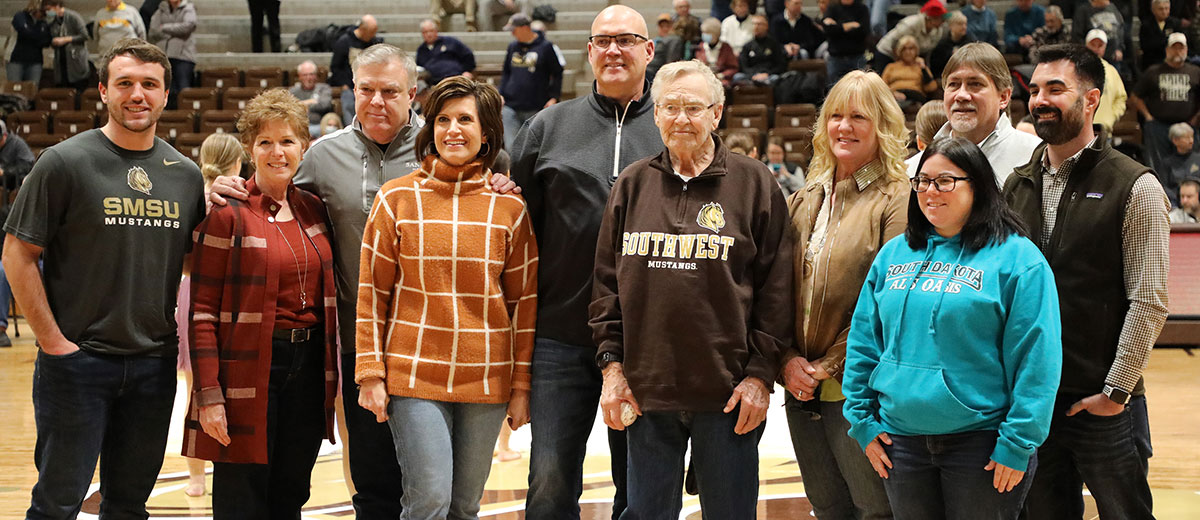 The Denevan family, recognized at a recent men's basketball game.
The Southwest Minnesota State University Foundation has received a $500,000 gift from Sanford Health to recognize the legacy of former Mustang baseball coach Dr. Jim Denevan.
The gift will be funded over five years by Sanford Health, which employs two of Jim's sons. Jim, Jr., is Vice President of Construction and Planning, and Tom is a Property Management Specialist. A third sibling, Teresa, also lives in Sioux Falls.
The endowment will support baseball scholarships at the university.
Dr. Denevan was the head baseball coach at SMSU for 21 seasons (1971-81, 83-86, 91-96) and also taught in the SMSU Physical Education department. He took over the program in 1971, its second year of existence. He led SMSU to regular season conference championships in 1974, 1994 and 1996, and one conference tournament championship. He also led the Mustangs to three NAIA District championships in 1974, 1986 and 1993. Dr. Denevan retired in 1996 as the program's all-time leader in victories with 353, a mark since surpassed by current head coach Paul Blanchard. He was enshrined in the Hall of Honor in 2013.
The idea for the endowment came from former Sanford Health CEO Kelby Krabbenhoft, said Jim Denevan, Jr. "Sanford has established endowments with many schools and he mentioned that he would like to do some type of endowment in dad's name a SMSU," he said. "(Krabbenhoft) left a year ago and his successor, Bill Gassen, indicated he'd like to continue with that initiative."
All three of the Denevan siblings graduated from Marshall High School. Jim is a 1983 SMSU alumnus with a degree in Health and Physical Education. Their mother, Marilyn, passed away in 2020.
"I'm excited about the potential of this gift for the SMSU baseball program. Baseball was near and dear to dad's heart, and it's a wonderful way to honor his legacy at SMSU," said Jim Denevan, Jr.
"This gift will be used for baseball scholarships and will help increase our level of play," said SMSU baseball coach Paul Blanchard. "It will support quite a few student-athletes, and we're very thankful to Sanford Health and the Denevan family."
"Jim Denevan played a big part in the early history of the baseball program and helped guide the program to prominence during his time as a coach," said SMSU President Dr. Kumara Jayasuriya. "We are thankful to Sanford Health and the Denevan family for this generous gift, which will continue his legacy in the future."
Related Articles