Unique College Now Program Seeks to Cultivate an Interest in Teaching
Published Thursday, January 27, 2022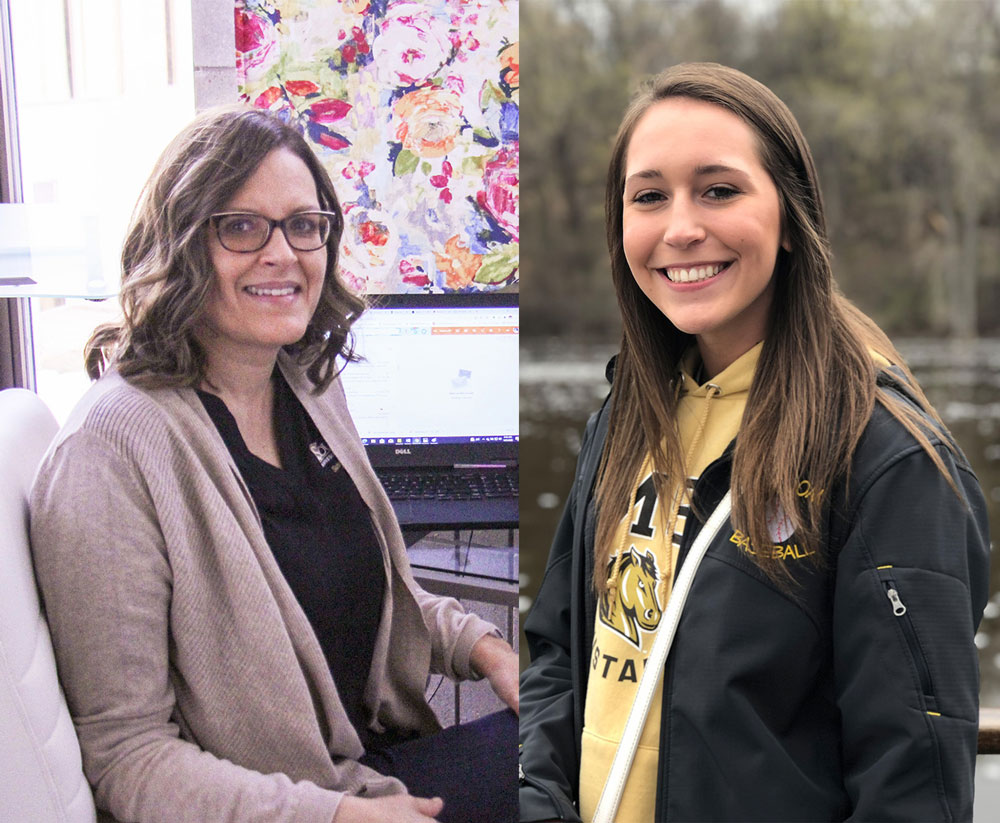 Kandy Noles Stevens, left, and Rebecca Hacker
SMSU student Rebecca Hacker, a senior Elementary Education major from Windom, is completing her student teaching this semester and ready to find her first full-time teaching position in 2022-23.
Hacker is the first graduate of an Education-focused College Now initiative, with a goal of instilling in high school students a desire to explore the teaching profession.
The program is coordinated by Kandy Noles Stevens, Assistant Professor of Education/College Now. She took over as coordinator in 2018, a year after its debut.
She said the initiative is starting to pay dividends in participating high schools.
"Dr. Kristin Kovar was the first coordinator, and we were just in one high school initially," said Stevens of the concurrent enrollment program. "We have such a dire teacher shortage around the nation, and, specifically, in Minnesota. The concept of the program is to introduce students at a younger age to consider teaching as a career."
By the second year it was in eight schools, "and now we have close to 30," she said. "It's grown bigger than we initially envisioned — it's been amazing."
Hacker is a good example of the success the program has enjoyed. She had all classroom requirements completed by fall semester 2021, and is finishing her degree requirements as a student teacher in the St. James school district, where she teaches fifth grade.
Hacker had an early interest in teaching. She is the second-youngest of 10 children in the Tim and Rita Hacker family, "so I have plenty of nieces and nephews. I enjoy being with kids and once it came time to think about my future, I looked at things I could do with children. That led to me teaching. The course I took through SMSU my senior year, Education 101, I took to make sure that's what I wanted to do. It reaffirmed much of my thinking. I was able to have some classroom time, and I learned about the ins-and-outs of being a teacher."
Since then, a second course, Introduction to Child Growth and Development, has been added. And there's a current effort to create a summer academy, where a third class is offered, said Stevens.
The program has a wide geographic net, and is offered in such high schools as Breckenridge, Grand Meadow, Sauk Centre, Adrian, and several high schools in the Twin Cities, among others.
"From this program, we have had 28 students enroll in our Education program on campus," said Stevens. "And I make a promise to the students, that we will be there to support them. I have them over for supper, make them care packages during finals. All of the College Now professors really do care, and what we are doing in Education is a critical need."
Hacker didn't look too hard when it came time to choose a college. "I had predominantly been thinking of SMSU because of their excellent Education program. I had two of my older siblings graduate from SMSU, too, which solidified my decision."
Older sisters Leah Lovell and Trista Rhubee are both alumnae; Leah is a high school counselor, and Trista, a science teacher.
Paula Wolter Mattson, interim Middle School Principal in Marshall, was the Intro to Education classroom teacher for Hacker when she was an educator in Windom. She is sold on the program.
"Windom was very lucky to have been selected to be a part of the program. It's an amazing experience for students when they are in high school," she said.
Mattson said she's impressed with the program because "it can help students save time and money when deciding what career path they might want to take."
Students are able to spend time in the classroom, and that, said Mattson, deepens the experience of the students. "I think a surprising takeaway for me was how empathetic the students became of other people in general. It exposed them to others' needs and helped them understand students have different backgrounds and deal with things we don't always see — family life, struggles, and successes. It helps them be a more genuine teacher, because at that level you don't have any experience."
The program is different than most concurrent enrollment programs in that its goal is to interest students in a particular career. "These courses are designed to help students explore education as a viable career option. They are pre-professional classes, compared to the transfer curriculum type of courses many high school students take, which are more general in nature," said Stevens.
Related Articles