Seth Johnson: Meet the Guy Who Feeds SMSU
Published Tuesday, February 15, 2022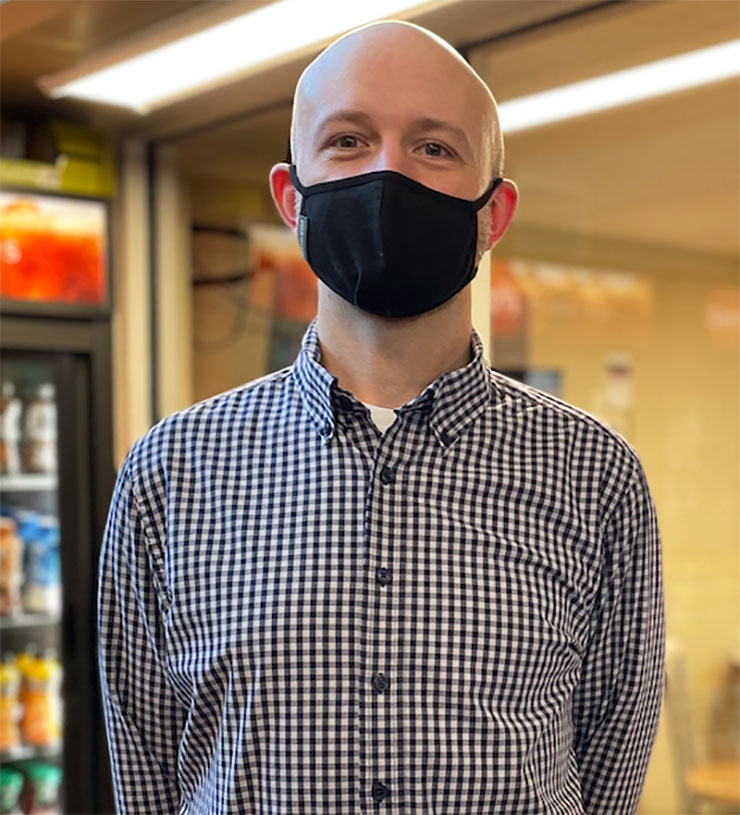 Seth Johnson
"Working with people is honestly my favorite part of the job," says Chartwells Director of Dining Services Seth Johnson.
Chartwells has been the food service provider on campus since 2016. There are various divisions within Chartwells, including the Higher Education Division. They employ part-time students and full-time staff to work at the Dining Hall, State Street Subs, the Coffee House, and the C-Store. There are 73 employees, and of that number, 50 are students.
Johnson grew up on the east coast but found where he calls home in Marshall. His first job with Chartwells was as a retail manager. He worked his way up to his current position. "This job opened up and I decided to go for it. I love working with people in fast-paced environments, so it has been a perfect fit for me."
He's worked in restaurants and many other parts of the service industry — front of the house, to back — and strives to apply that knowledge into his day-to-day tasks. "I have a great team, and I'm thankful for that. I enjoy working in all areas of Chartwells, from cooking omelets to making drinks at the Coffee House.
"It's interesting to look at our vendors and what our orders look like. Pre-COVID we would get about 95 percent of our order (delivered), but now, amidst the pandemic, we often receive 75 percent or less. We spend about $30,000 per week." Johnson said.
The most popular foods in the dining hall include macaroni and cheese, chicken strips and mashed potatoes. Chartwells goes through about 200 gallons of milk per week.
COVID-19 has impacted Chartwells. They've experienced staffing shortages, product availability and vendor orders not being fully filled. Johnson said these are trends that continue to hinder the food service industry.
Johnson said, in the future, he hopes to expand offerings and locations. "Ensuring that we are providing a great experience for students and staff is the goal at Chartwells," he said.
Related Articles