Alumnus Nathan Alfson '20 Finalist for Sioux Falls Teacher of the Year
Published Thursday, February 17, 2022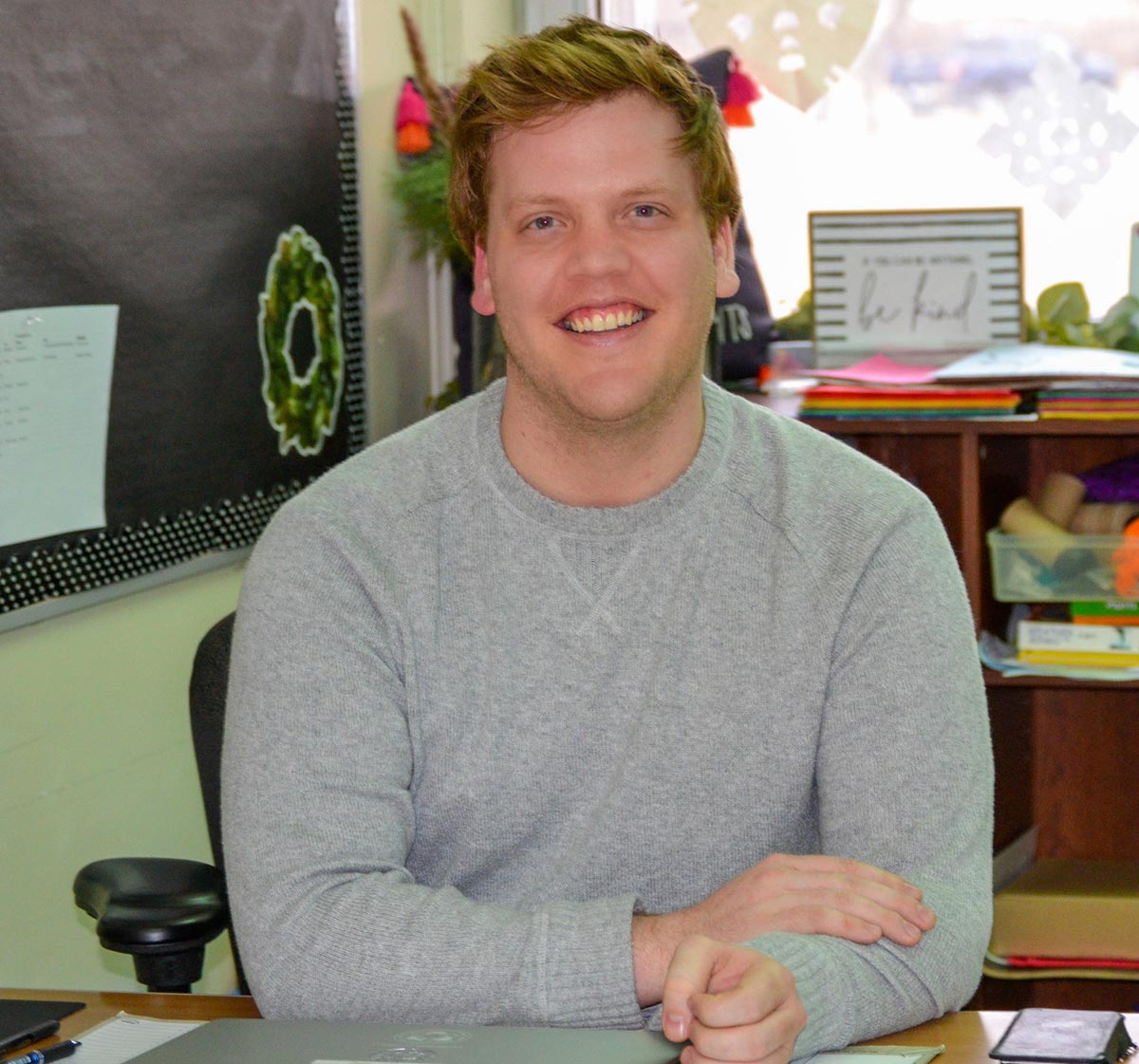 Nathan Alfson
SMSU alumnus Nathan Alfson loves nothing more than walking into his special education classroom each day at Sioux Falls Washington High School.
"My kids are literally my favorite things on Earth," he said. "I always tell people how authentic they are, and that's something the world needs more of — authentic, good human beings. Our kids are like that. Even in their worst days, when they are struggling, they find unique ways to show love to us and their peers."
Alfson is a 2020 SMSU graduate with a degree in Special Education, with an ABS license for grades k-12. He's in his third year at Washington.
He's also one of five finalists for the Sioux Falls School District Teacher of the Year award. The district has just under 136,000 students, and includes "four high schools, and lots of elementary and middle schools," he said.
He went about his special education path in a unique way. He got an undergraduate degree in sociology (psychology minor) from Augustana and went to work as a program coordinator for adults with disabilities for Lifescape in Sioux Falls. "I knew from a young age I wanted to work with humans. I love people. Late in high school and early in college I decided to get into counseling or social work of some sort."
That position wasn't all he thought it may be, however. "I recognized how much I needed more human interaction. I was a case worker, and did observations and paperwork in an office, calling other agencies. I wanted to do more with humans, when a friend suggested special education."
That started his pursuit of a second undergraduate degree at SMSU. While taking courses online at SMSU, he was a special education teacher in his hometown of Pipestone for two years. He received a variance from the state to teach there while pursuing his degree. "I lucked out. It was the paraprofessional to special ed program at SMSU and I was able to do my job while taking courses."
He taught in Pipestone and took online courses, and that fact "made it super-efficient for me. I got hands-on learning and I was able to implement things in my classroom. The professors were easy to work with, and they were very understanding that I was also a coach, so they were very accommodating during the entire process."
In Pipestone, he was an assistant volleyball and baseball coach. At Washington, he is an assistant volleyball coach. He played baseball at Augustana, and has a brother, Brandan, who played baseball at SMSU and is a 2015 alumnus.
Other family members have SMSU connections, too. Brandan's wife, Steph (Rudie), is a 2014 alumna; older brother Ryan attended SMSU for several years; and Ryan's wife, Abby (Kittleson), is a 2009 alumna.
The winner of the Teacher of the Year award in Sioux Falls will be announced in the next three weeks, he said. That winner will then be in contention for the state-wide honor. "I was shocked and surprised," he said of the nomination.
Alfson said he approaches his profession perhaps differently than others, and his passion is clear. "l love advocating for my students, and giving them a voice and helping them share their unique talents and strengths with the world."
Related Articles