Four Students Awarded Full-ride Scholarships as Part of President's Regional Scholars Award Program
Published Friday, March 04, 2022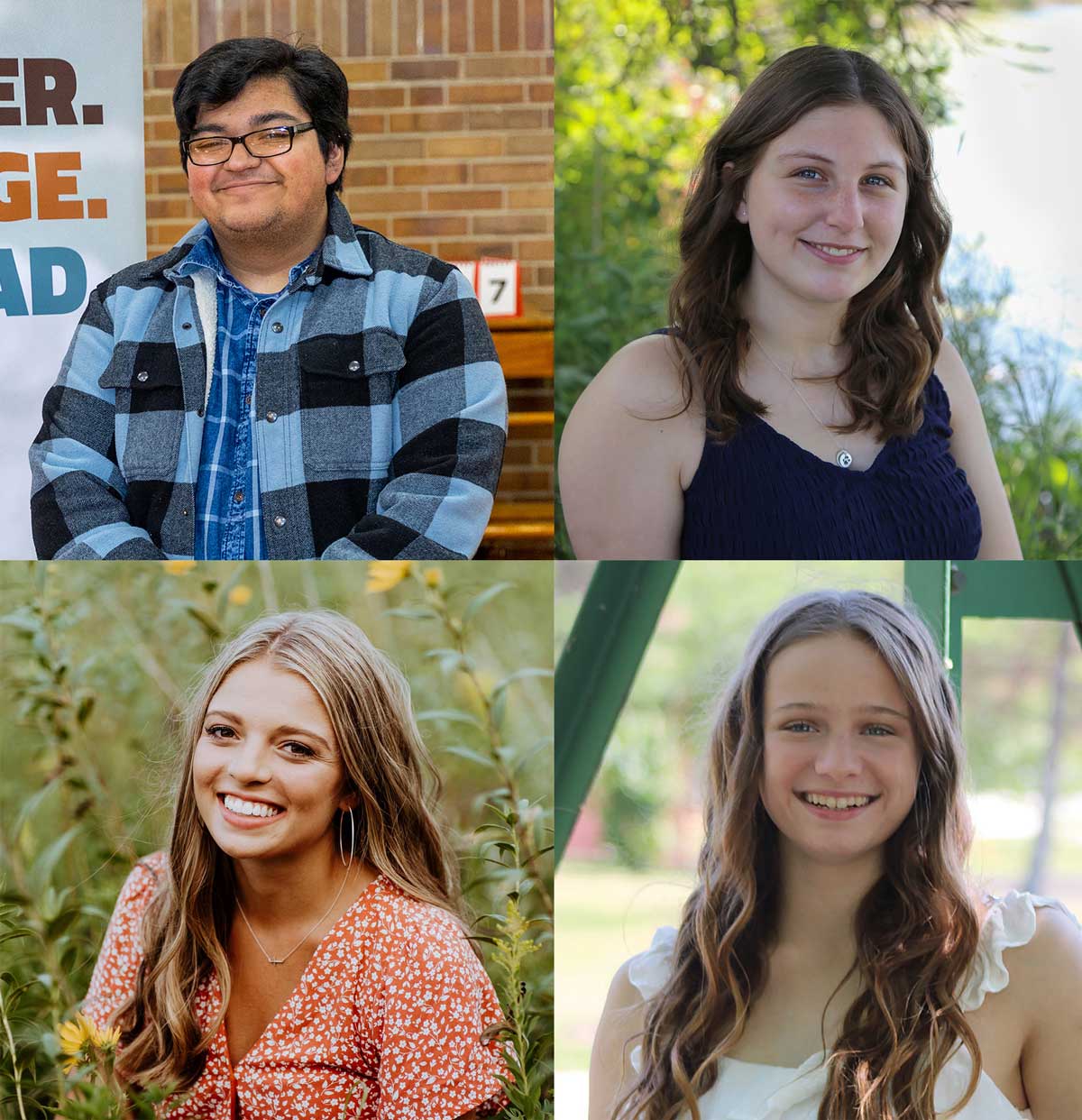 Top left: Aaron Rojas; top right: Halle Egge; bottom left: Jordan Hausmann; bottom right: Olivia Blaskey
Four high-achieving high school seniors have been awarded full-ride scholarships to Southwest Minnesota State University as part of the President's Regional Scholars Award program.
Olivia Blaskey from Jackson County Central High School, Halle Egge from Willmar High School, Jordan Hausmann from Hancock High School, and Aaron Rojas from Adrian High School will receive full-ride scholarships starting in fall semester 2022. The scholarships are for four years. The students were selected through a combination of their outstanding academic achievements and interviews with SMSU faculty, staff and President Kumara Jayasuriya.
The scholarships are the top tier of awards of the President's Regional Scholars Award program, launched in November, 2019. There are six scholarship levels to the Regional Scholars program, and range from $4,000 to a full ride over four years.
Olivia Blaskey is the daughter of Nicholas and Amy Blaskey from Lakefield. She has several teachers who are SMSU alumni tell her about the SMSU. Since she wants to teach, she visited campus "and as another future student, Luci Schiefelbein, said, 'It is small enough to feel like home, but big enough to offer new experiences and opportunities.' There is no better way to describe SMSU. Being from a small community, that is exactly what I need out of college." The full-ride "will allow me to get the absolute most out of my college experience without having to worry too much about the financial aspect," she said. "It also gives me some validation that all the hard work and time I put into school and being involved in the community has been worth it."
Halle Egge is the daughter of Kristen and Benjamin Egge from Willmar. She will major in Secondary Education in Communication Arts and Literature when she begins her academic career at SMSU in the fall. The scholarships "brings peace of mind and relief to me," she said. "With this scholarship, I can be assured that I won't leave SMSU worried about student loans and can concentrate on my academics. I can go into the world feeling prepared." She was impressed by how the university and community are so connected during her visit. "I also noticed how helpful and kind the people I met were. I chose SMSU because it is the perfect environment for me to grow and thrive. I know the faculty truly want me to succeed."
Jordan Hausmann is the daughter of Troy and Alice Hausmann. The Hancock High School senior plans on majoring in pre-medicine at SMSU. The scholarship "means that I can further my education without worrying about financial stresses," she said. "The thing that stood out to me about SMSU when I visited campus was how nice everyone was. It is a very welcoming campus and community, and I look forward making new connections with people of different backgrounds."
Aaron Rojas is the son of Aaron and Karla Rojas from Rushmore, Minn. The Adrian High School senior wants to major in Math Education with a Spanish minor, and is grateful to receive the scholarship. "Throughout my entire senior year a major fear has been compiling student debt. The massive ball-and-chain that could hinder my movements well into adulthood. On the day I got the full-ride, I walked back to class; the hallway was quiet, a stark contrast to the (scholarship-awarding) celebration that I had just walked out of. It was then I felt the full weight of what just happened. It stopped me in my tracks. I felt the weight removed from my ankle. I took several deep breaths and walked like a free man the rest of the way to class, with a longer stride than usual."
"Our purpose in implementing the President's Regional Scholars Award program was to keep the best and brightest students in southwest Minnesota, attending SMSU," said SMSU President Kumara Jayasuriya. "We look forward to having these four outstanding students join the Mustang Family in the fall."
For further information about the scholarship program, contact the Office of Admission at: 507-537-6286; Admission@smsu.edu.
Related Articles