SMSU Senior Sureeporn Sompamitwong Makes a Difference With Creative Healing Space in Worthington
Published Tuesday, March 15, 2022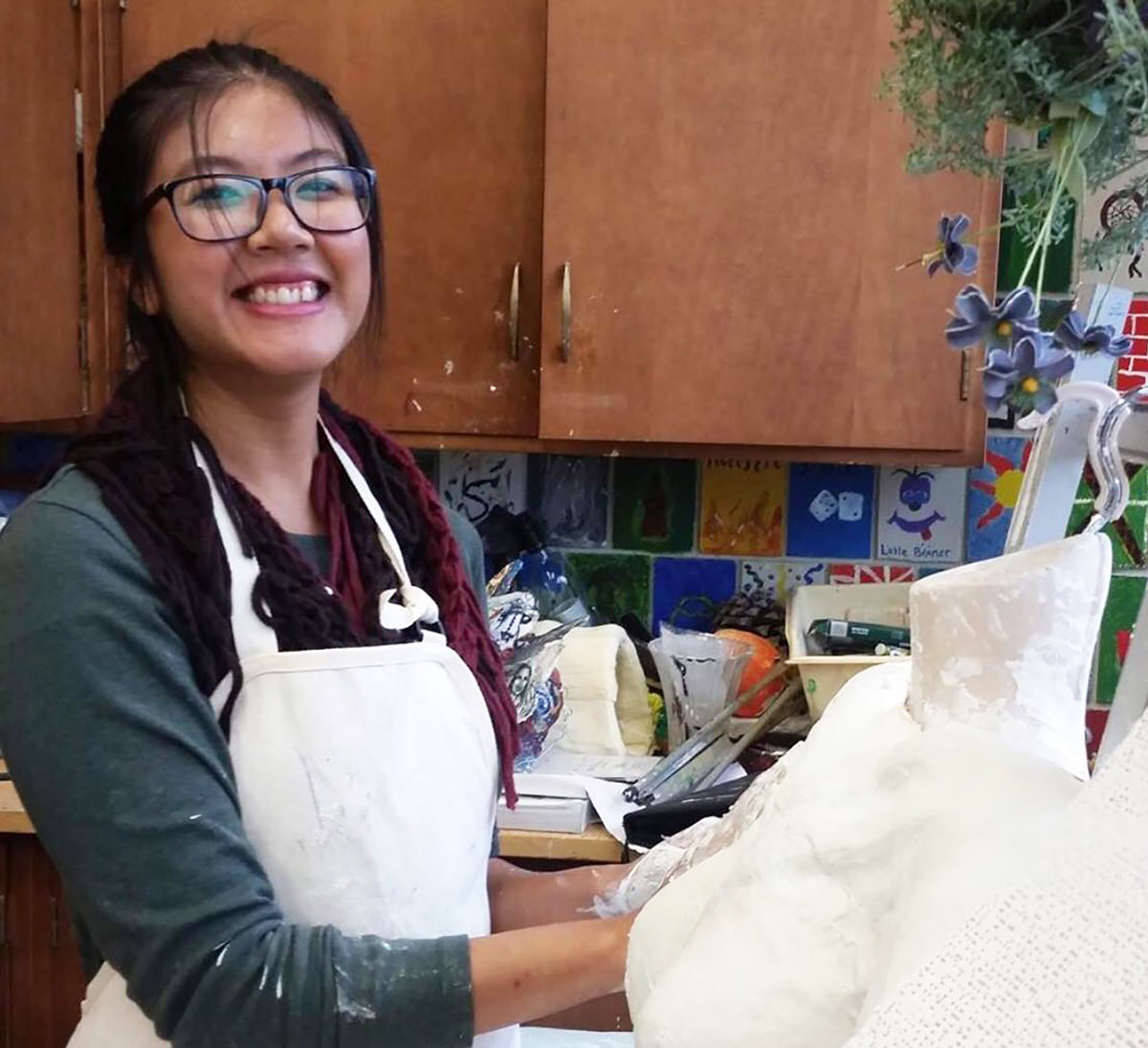 Sureeporn Sompamitwong
"I found myself healing the most by creating art, and I wanted to create a space so others could experience that, too," says Southwest Minnesota State senior Sureeporn Sompamitwong, founder and director of Creative Healing Space in Worthington.
Sompamitwong is a Sociology major at SMSU. She is originally from Thailand and came to the U.S. when her family won a visa lottery. Growing up in Worthington, she developed a love of clothing and accessories, and dreamed of working in the fashion industry and becoming a designer. After high school, she studied at a community college for a year and later moved to Los Angeles to pursue a fashion career. It was during her time in L.A. that she also discovered a love for sculpting and painting and became passionate about helping others heal through art. These experiences led her to found Creative Healing Space in 2019, and the non-profit is the focus of her senior capstone project.
Creative Healing Space serves students, women, families, immigrants and youth in southwest Minnesota. The programming addresses, and brings awareness to, mental health, education and creative art. It is a safe space for youth and Black and Brown community members so they could gather and heal together through different artistic forms of expression. It provides workshops, events and community groups for Black and Brown community members, LGBTQIA individuals, and immigrant community members in Worthington and the surrounding area.
"Art therapy is a way that you can express yourself and it is specific to each person. These works of art have an emotional meaning to them, whether it is happy or sad," she said.
The inspiration for the nonprofit came about during an earlier art course. "I love creating and working on things with my hands. We had a project in one of my classes to make one mask and I ended up making 30 of them! I have found that hands-on projects are my passion, and I wanted to create something for others who share that passion as well."
Equity and inclusion are two focuses of the nonprofit. Session activities run monthly and are open to all community members. "I am mindful of the people in my community and want to make sure that everyone feels included. Having people from all cultural and ethnic backgrounds share their art and lead art classes is a goal that I have, to show that there is so much diversity in art."
Helping people is the best reward that Sompamitwong experiences. "People have reached out and connected with me after sessions, telling me how we helped motivate them to be happier individuals. I want to continue to do good for my community and I think that this space is helping."
Art therapy, comic book writing, murals, and other art-related activities are examples of the variety of sessions that Creative Healing Space offers. The rotating offerings may include physical, visual, and writing art have helped reach a wider variety of audiences.
She continues to expand the offerings at Creative Healing Space. Her latest project ties her love for fashion, art, and mental health into one. She was awarded a scholarship by the Ignite Rural Art Residency for a community project. Sompamitwong's project is entitled "Art Invasionz" and is a clothing line, which features pieces from Worthington youth ages 12-18. They also submit an essay as to how art is therapeutic for them. The initiative opens another door for youth to experience fashion and expression in a new, interesting way.
She believes that art has a powerful healing effect on one's mind, body and soul, and she is making a difference in the lives of many in southwest Minnesota.
Related Articles