Inaugural WorldFest is April 30 at Red Baron Arena & Expo
Published Friday, April 08, 2022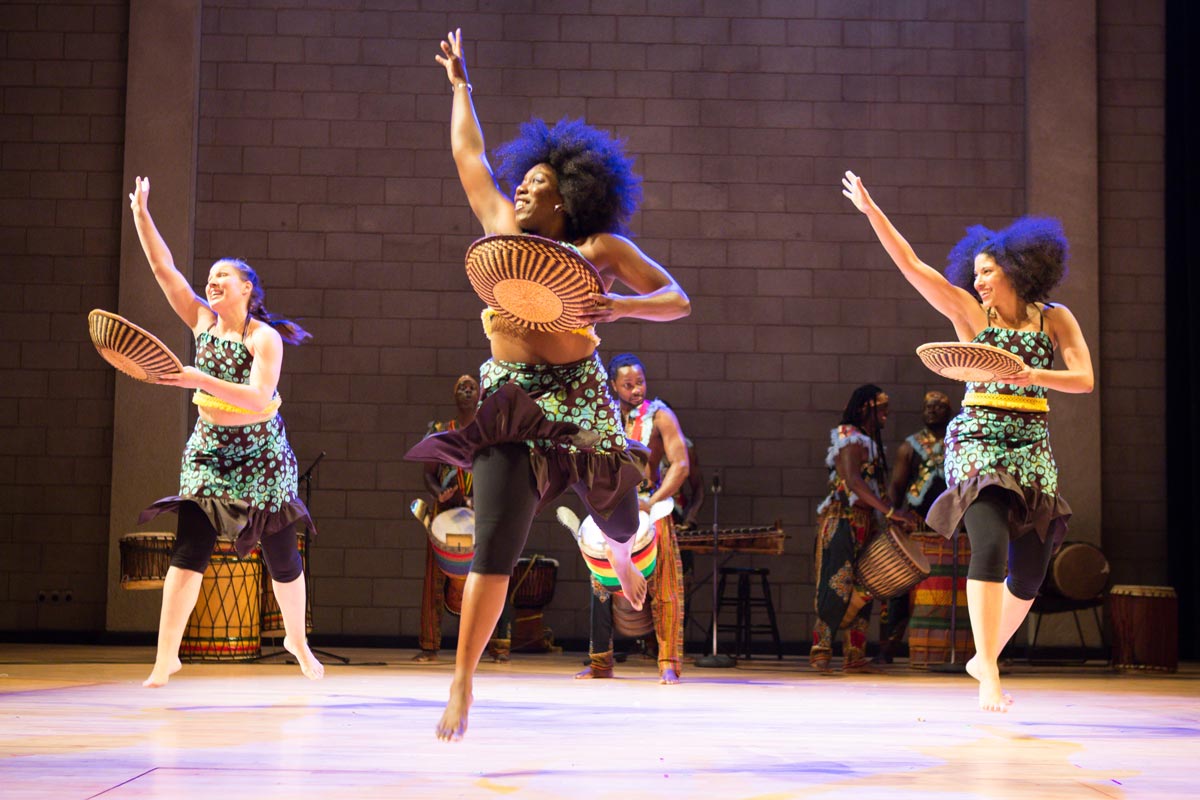 The Duniya African Drum & Dance group will be a part of WorldFest 2022.
The first WorldFest 2022 celebration will be held from noon to 8 p.m. on Saturday, April 30 at the Red Baron Arena & Expo in Marshall.
WorldFest is a reboot of the International Food Festival held for 29 years at Southwest Minnesota State University. The pandemic caused the event to be canceled in 2020 and 2021.
It has been brought back, with a broader, more diverse and inclusive scope and will celebrate international cultures and local diversity through education, food, arts and cultural performances.
WorldFest will include three key areas:
The World Café: It will be open from noon until 8 p.m. and will feature international food, local favorites, local ethnic restaurants and a food truck. Vendors to date include Taste, the SMSU student-operated restaurant; The Hindi Store in Marshall; Brau Brothers in Marshall; the Bumbai Store in Walnut Grove; and Asian Hut from Storden, Minn., a food truck.
The World Cultures Expo: This will be open from noon to 6 p.m. and features SMSU students and community members sharing information about their respective home countries and cultures. This area will also feature a number of hands-on activities, said event organizer Dr. May Lee Moua-Vue, Director of the Center for International Education at SMSU.
Featured exhibits/countries include Brazil, Bulgaria, Colombia, Ethiopia, Hmong, India, Ireland, Jamaica, Karen, LatinX, Malaysia, Nepal, Nigeria, Norway, Saudi Arabia, Spain, Taiwan, Lyon County Museum/Historical Society, John Sterner, local artist, alumnus and Sicangu Lakota, and more.
The World Stage: This will run from noon to 8 p.m. and features talent from SMSU, the local community and professional artists and troupes representing international and diverse cultures in southwest Minnesota. The performers and start times include:
Native Pride Dancers. This group consists of Native American dancers from the Twin Cities, 12:15 p.m.
Pete Lothringer and Ross Anderson, jazz musicians from Marshall, 1 p.m.
Salmini Jayasuriya, wife of president Kumara Jayasuriya, singer, 1:45 p.m.
Rince na Chori Irish dancers, 2:00 p.m.
Danish Atiq, SMSU student, sword dancing, 2:30 p.m.
Duniya African Drum & Dance. Traditional rhythms and dances from Guinea West Africa, under the direction of Master Drummer Fode Bangoura, 3:00 p.m.
Ratsamee Lee, SMSU student, poetry, 3:45 p.m.
Norsk Four, Norwegian musicians and dancers, 4:00 p.m.
Karen Dance Troupe, 5:00 p.m.
Gia Vang, KARE Channel 11 news anchor, and her father Tsong Tong Vang, Hmong flutist and storytelling, 5:15 p.m.
Salsa Magic, Latin Dance lessons and dance party, 6:00 p.m.
---
The event is sponsored by SMSU, the city of Marshall, Southwest Regional Development Commission, Visit Marshall, the Southwest Initiative Foundation and the Lyon County Historical Museum.
"When we thought about reimagining the International Food Festival, we wanted to partner with others and widen its appeal. This is our 30th anniversary, and we hope that the event is well attended," said Moua-Vue.
SMSU students and K-12 students can enter the event free. The cost is $5 for all others. Food may be purchased from individual vendors.
Related Articles