Former President Jon Wefald Passes at Age 84
Published Tuesday, April 19, 2022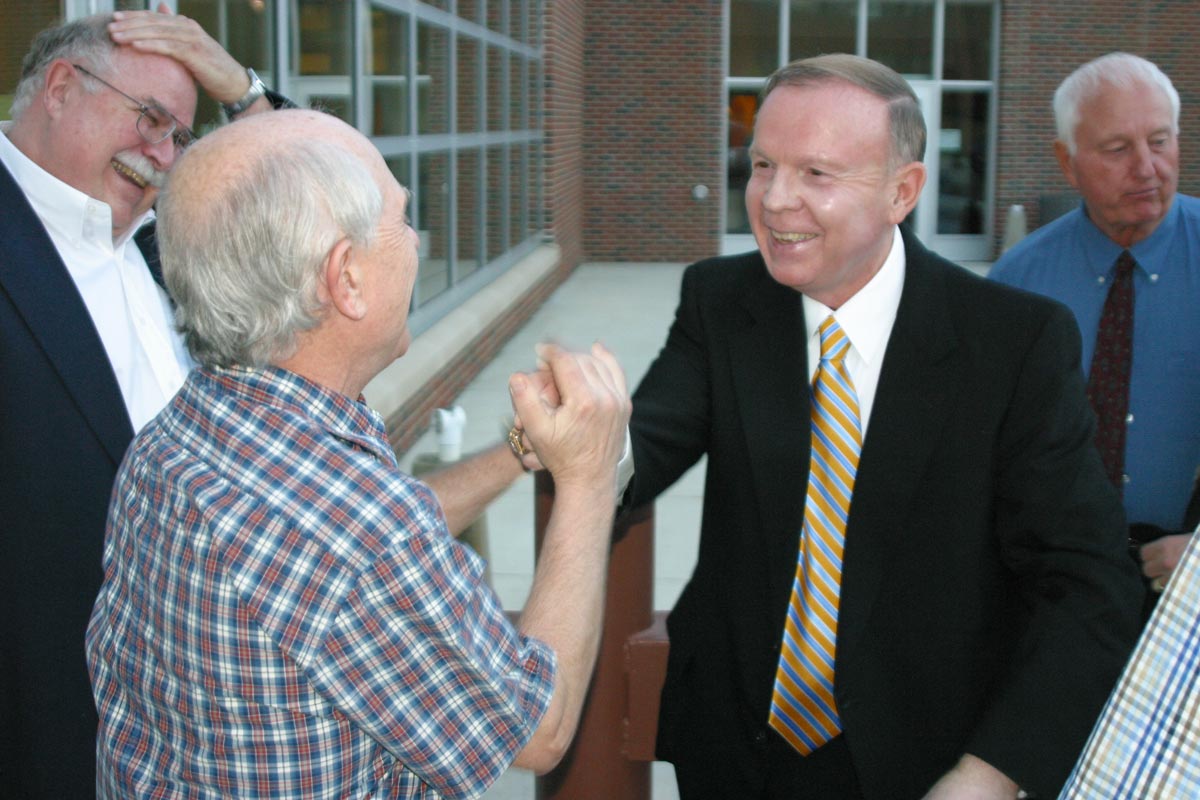 Jon Wefald greets Ed Carberry in 2007, with Jack Hickerson at left, and Bob Aufenthie at back, right.
Dr. Jon Wefald, who was president at Southwest Minnesota State from 1977-1982, passed on April 16 from a heart attack while at his Minnesota cabin on Bay Lake. He was 84.
The funeral will be held at All Faiths Chapel on the Kansas State University campus at 10 a.m. on Saturday, April 23.
Wefald was SMSU's third permanent president and is widely credited with "saving" the institution during a time of declining enrollment.
Upon his arrival in 1977, he made it a point to travel to regional high schools within a 90-mile radius and speak to students about attending SMSU. He also spoke to hundreds of civic groups like Rotary and Kiwanis clubs, and Chambers of Commerce. His legwork paid off, as the next fall, freshman enrollment was up over 30 percent.
He was born in Minneapolis and grew up in North Dakota. He came to SMSU after being appointed Commissioner of Agriculture by then-Minnesota Gov. Wendell R. Anderson. His tireless work ethic and commitment to the institution led to a resurgence of the University at a key point in its history.
He would go on to be the Chancellor of Minnesota's seven State Universities and, in 1986, was named the President of Kansas State University, a position he held until 2009. At Kansas State, he turned that land grant institution around much as he had at SMSU, only on a much larger scale.
He was the 2007 Commencement speaker at SMSU and was awarded an honorary doctorate degree. He also had a road, Wefald Lane, named in his honor.
"Jon worked hard to raise the profile of SMSU in the region and was heavily invested in personally sharing the message of the value of SMSU to local students and their families. He had a very distinguished career and always maintained a fondness for his time at SMSU," said SMSU President Kumara Jayasuriya.
Jon married Ruth Ann Joynt in June of 1963. This year would have been their 59th wedding anniversary. He is survived by sons, Skipp and Andrew, daughter-in-law Fani, and grandchildren Mikaela, Cassandra, Halle, Jonathan, Kayla, Carson, and Emma. He is also survived by two brothers and their wives, Knut and Joan Wefald and Bob and Susan Wefald, and their children.
The family requests no flowers, but memorials may be sent to the SMSU Foundation in memory of Jon Wefald, or to Kansas State University for the marching band.
Related Articles