MARL Class XII Selected
Published Thursday, June 30, 2022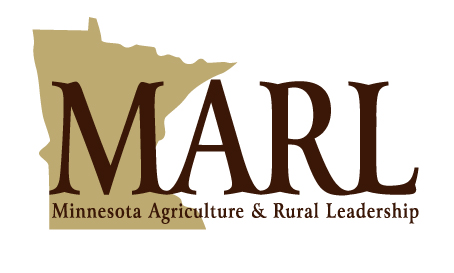 Minnesota Agriculture and Rural Leadership
Twenty-three individuals have been selected to participate in Minnesota Agriculture and Rural Leadership (MARL) Class XII. The class members will begin their two-year leadership journey on August 3, 2022, in conjunction with Farmfest in Morgan, Minn.
MARL is a rigorous and dynamic two-year educational experience featuring 11 in-state seminars—six in the first year and five in the second year. The program highlights include a national study seminar in Washington, D.C. and an international study seminar to a destination to be determined by the MARL Board of Directors.
Class XII is comprised of both agricultural producers and those involved in agribusiness or rural leadership positions.
"The quality of applicants to MARL is always very high and this class is no exception," said Executive Director Olga Brouwer. "The caliber and excitement of the participants in this class are beyond expectation. The board had a very difficult task in selecting MARL Class XII."
The following individuals have been selected for MARL Class XII:
David Beyerl, Murdock
Ali Bouta, Glenwood
Renee Brod, Forest Lake
Corey Cervin, Darwin
Katie Covino, Waseca
Cortney Duncanson, Rochester
Kate Ferguson, Duluth
Sue Gorman, West Concord
Bridget Guiza, Detroit Lakes
Nathan Hanel, Mankato
Heather Kelly, Marshall
Jakob Hicks, Walnut Grove
Megan Horsager, Clara City
Maria Kalyvaki, Mankato
Sagan King, Winnebago
Kevin Kruize, North Mankato
Dan Kuhns, Waseca
Kristy Mach, New Prague
Jason Robinson, Maple Grove
Scott Schoper, Kasota
Cody Suter, Kerkhoven
Rick Swenson, Underwood
Jacob Vlaminck, Lake Lillian
"We are excited for this class as it draws participants from communities across the state to bring a broad perspective to the program," Brouwer said. "The curriculum of MARL is designed to develop the leadership skills of engaged individuals who are eager to make a difference in agriculture at the local, state, and national levels."
The MARL seminar cycle is designed to accommodate the busy schedules of participants, which include many agricultural producers. Most activities occur over the winter months.
MARL is a partnership between Southwest Minnesota State University Foundation, which serves as the administrative host, and the University of Minnesota Extension, which develops and delivers the curriculum. The program is made possible by many generous investors and sponsors.
To learn more about the MARL Program visit www.MARLProgram.org.
Related Articles