Marcy Olson Begins Role as Senior Director of Communications and Marketing
Published Wednesday, August 03, 2022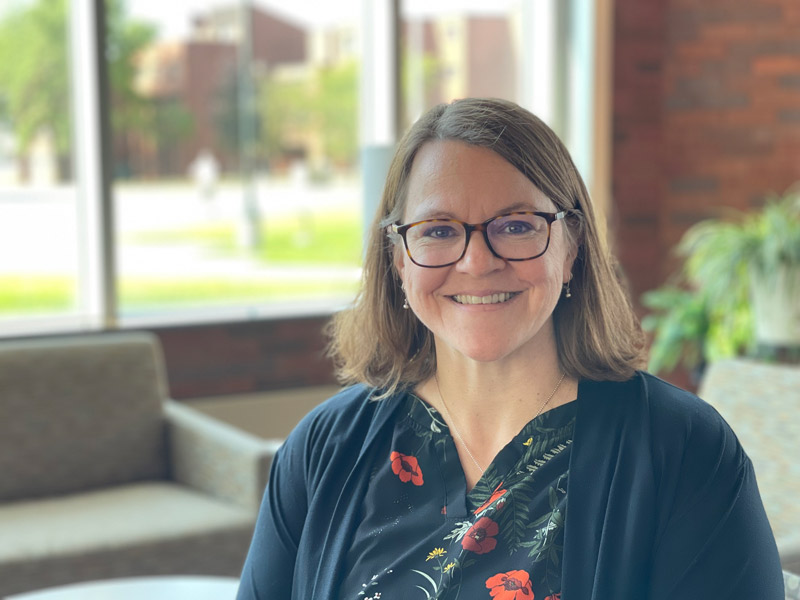 Marcy Olson
Southwest Minnesota State University recently announced that Marcy Olson has been selected to serve as the Senior Director of Communications and Marketing.
"I am excited to have Marcy take on this new leadership role," said Bill Mulso, SMSU Vice President for Government Relations, Communications and Marketing. "Her wealth of experience and passion for SMSU are invaluable when comes it comes to sharing the opportunities and great things happening at SMSU."
Olson has served in the Communications and Marketing office since 1993, first as Publications Editor and most recently as Assistant Director. She earned a Bachelor of Arts in English-Literature/Creative Writing with a minor in German from SMSU. She went on to earn a Master's degree in Business Administration in 2005, also from SMSU.   
"I am eager to serve SMSU in this position and I thank Bill Mulso and President Kumara Jayasuriya for this opportunity to elevate the visibility and media presence of SMSU," Olson said. "I am honored to work with an incredibly talented team in the Communications and Marketing Office and the Web Office and look forward to what we can achieve to support the mission of SMSU."
Olson's work at the University has involved all academic, service, and support offices as well as administration, alumni, athletics, and the SMSU Foundation. Her experience spans a wide range of communications efforts including graphic design, web support, social media, marketing, and writing. Her work has won awards for both design and illustration. She brings 29 years of higher education experience, institutional knowledge, and campus connections to this role.
"Southwest is an amazing place to learn and work. The impact we have on students is life-changing," she said. "I know firsthand what the SMSU experience can do. We have an amazing community of faculty and staff here who dedicate themselves to our students and their education. It is my goal to tell our story, to engage the campus, to help grow the University, and to attract students who are eager for the personal, transformative experience we can give them."
Olson begins her duties on August 3. She lives in Marshall with her husband, Ryan Wendland, and daughter, Abby.
Related Articles