SMSU Gold Rush Days, Aug. 18-21
Published Friday, August 12, 2022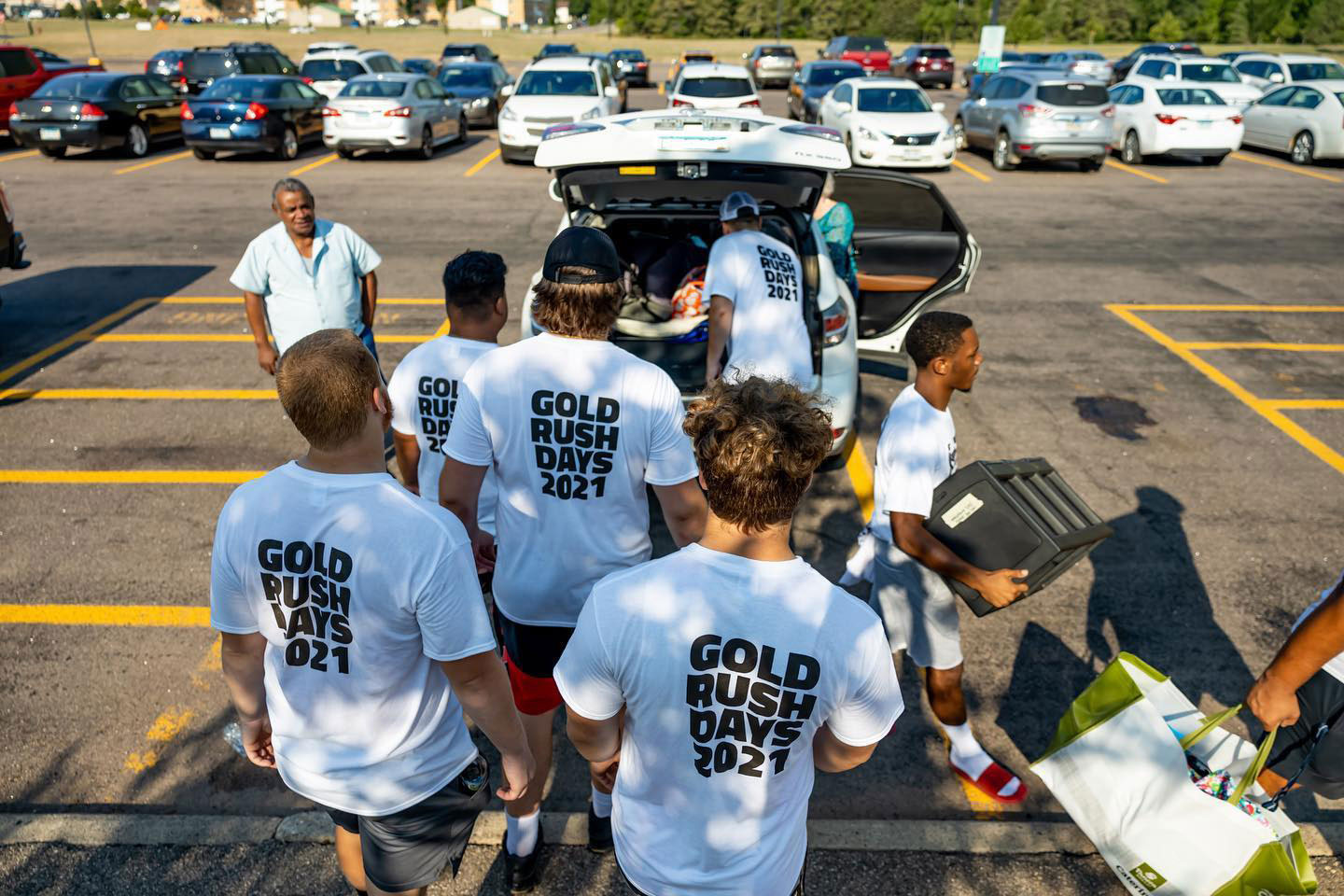 Mustang Movers at work in 2021
Everyone at SMSU is excited to welcome students back to campus next week. A new class of freshmen will arrive starting Aug. 18 for the start of the Fall semester. Our Gold Rush Days tradition serves as the new student orientation program and runs Aug. 18-21.
This comprehensive program provides first-year students the opportunity to meet classmates while participating in activities to help prepare them for college life at SMSU.
Gold Rush begins with Move In Day on Thursday, Aug. 18. Teams of volunteers known as 'Mustang Movers' will be on hand to help new students carry belongings into residence halls. SMSU athletic teams, students, faculty, staff, and community members continue this tradition started by the late president Doug Sweetland. 
Residence hall check-ins begin at 8 a.m. and continue through 5 p.m. Schwan's ice cream treats will be handed out by the SMSU Alumni Office from 10 a.m. until noon. A Move-In Day Campus Picnic will be held in the Alumni Plaza from 11 a.m.- 2 p.m. In the afternoon, students can tour the campus to familiarize themselves with the academic buildings before they begin on Monday, Aug. 22! 
Dr. Joe Martin, an academic motivational speaker, will give a presentation on Thursday at 8:15 p.m. geared toward helping all students be successful. Dr. Martin is also the featured speaker at convocation on Friday, Aug. 19 at 10 a.m. in the Central Courtyard. Following convocation, students meet their academic advisors. 
The afternoon is highlighted by PLAYFAIR, an engaging program to connect new students, promote campus unity, and ignite school spirit! A Campus Open House allows students to learn about a variety of services our campus offers. Friday evening, students are provided with a shuttle to downtown allowing them to take in the Marshall 150thBirthday Party, followed by a DJ Dance in the REC.
On Saturday, Aug. 20 there will be activities such as mud volleyball, wiffle ball, hammock hang, frisbee disk golf, laser tag, and amusement games. Student Alumni Association will host a bonfire starting at 8:30 p.m. Students will also have the option to hop on a shuttle downtown for the Sounds of Summer concert and Marshall 150th anniversary fireworks display.
Gold Rush Days wrap up on Sunday with yoga, a variety of games, scooter tours of Marshall's parks, a session on how to use the MAT Bus system, and a social for transfer and non-traditional students. Closing out the day is a Mustang Happy Hour program where students can learn more about campus involvement. 
For more information about Gold Rush Days, contact Scheduling and Events at 507-537-6549. To volunteer to be a Mustang Mover, call the Office of Admission at 507-537-6286.
Related Articles