Residence Life Team is Prepared for Fall
Published Thursday, August 18, 2022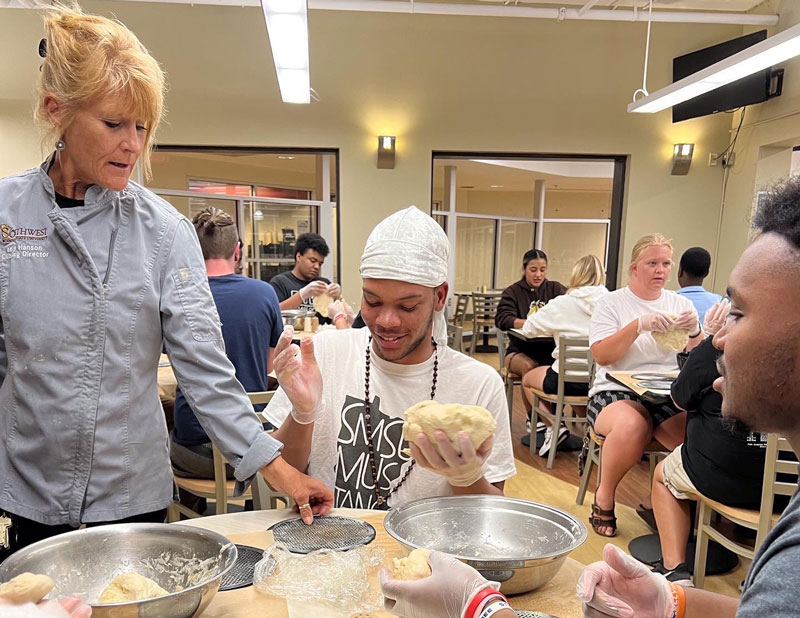 The Residence Life Team enjoying time in the Chartwells Test Kitchen during their August training.
The beginning of a new school year is a time of excitement, especially for Residence Life. After the busy summer, a great deal of work is done in preparation for the fall semester.
Jess Bentley, Director of Residence Life, appreciates the maintenance staff who play a huge role in the lead-up to the fall semester. Everyone from the GMWs to Res Life staff works hard to prepare for Move In Day.
"Cleaning the rooms after our summer camps is something that our GMWs are constantly doing," Bentley said. "They make sure the rooms are set up for the students, which isn't an easy task." 
Each spring, Bentley hires Resident Assistants (RA) and Living and Learning Program Assistants (LLPA). The RAs and LLPAs return for training in early August before the residents arrive. The Residence Life graduate assistant, Keaton Rommel, is involved in the RA training and planning social activities.
"COVID has shown us how much we take for granted, especially with programming. Students didn't realize that they missed the in-person events until we couldn't have them," said Rommel. Virtual events reached a new audience and allowed more students to participate, but in-person engagement is key to helping students successfully transition to college life. During their training, RAs and LLPAs learn more about SMSU, build on their leadership skills, and plan programs for the fall.
"I learned a lot during training, and I feel ready to take on the role of RA. I'm excited to meet residents and help them as they transition into college life," said Lexy Gilbert, sophomore Exercise Science major and RA in Sweetland Hall, 2nd floor South.
"Training these past few weeks was a long process. I would describe it as fulfilling as I learned more about SMSU and ResLife. I was able to tap into my creativity, and now am now well prepared to help residents as the school year is starting," said Ben Kraft, a sophomore Elementary Education major and RA in Aquarius.
Resident Assistants and LLPAs play a key role in providing opportunities for new students to connect with campus and with other members of the Mustang Family. Their rigorous training prepares them for their new leadership role. With Move In Day, the Residence Life team is ready to begin their work to support the new students at SMSU.
Related Articles