SMSU to Host Family Weekend, Sept. 9-11
Published Wednesday, August 31, 2022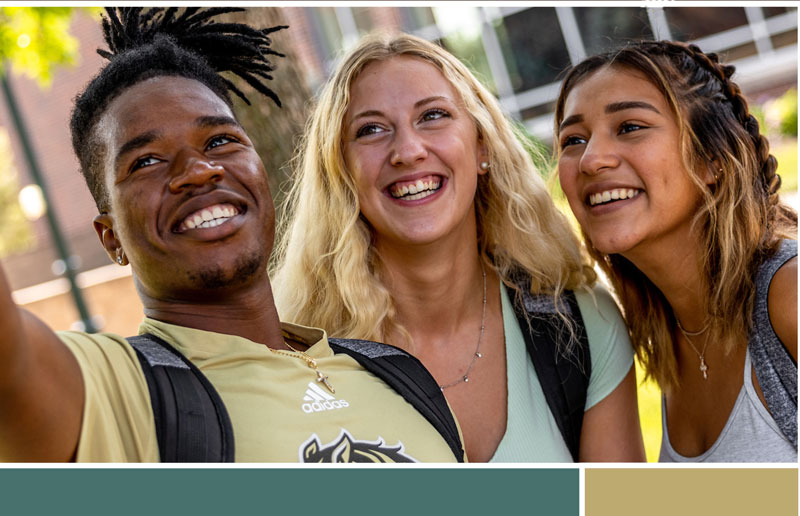 Celebrating Mustang Family
Southwest Minnesota State University is hosting its annual Family Weekend starting Friday, September 9, and running through Sunday, September 11. Parents, siblings, grandparents, and other family members of SMSU students are invited to participate.
Family Weekend is a tradition at Southwest Minnesota State University designed to bring family and friends to Marshall to enjoy time with their students, experience campus, and explore the community with them. It's also a weekend to celebrate the Mustang Family with students who have family far away and have made Marshall their home away from home.
Family Weekend will begin on Friday, Sept. 9 with home openers for SMSU Soccer and Volleyball. Rounding out the first day of activities is a planetarium show, nitrogen ice cream, and a performance by SMSU Drama Club's Take 2 Improv.
On Saturday, Sept. 10, families may attend a lunch in the Conference Center. A ventriloquist performance by James Wedgewood is a popular returning program.  Also on Saturday, the Residence Hall Association will host yard games like beanbag toss, badminton, yard dice, lawn Jenga, as well as popcorn and cotton candy in Central Field from 3-5 pm.
Families can take in the SMSU volleyball match, art exhibit, and free play in the Mustang Zone. Everyone is welcome to join in outdoor Ag Bowl activities including inflatables, a pedal pull contest, a petting zoo, face painting, mechanical bull riding, hayrides, and more. Mustang Football takes on Concordia-St. Paul at 5 pm in their first home game of the season.
The weekend comes to a close with SMSU Soccer facing Winona State at 1 pm. To learn more contact Student Activities and Leadership Development at 507-537-6394. To register for lunch, visit www.smsu.edu/family.
Friday, September 9
3:00 pm—Soccer vs. Upper Iowa, Mattke Field at the Schwan Regional Event Center
6:00 pm —Volleyball vs. Winona State, PE Gym

7:00 pm—Planetarium Show "From Earth, To The Universe," followed by Laser Light Show (Seating for 60) 

8:00 pm—Chemistry Club Liquid Nitrogen Ice Cream, SM Science & Math 107 – Natural History Museum
8:30 pm—Drama Club - Take 2 Improv, Fine Arts Building - Black Box Theatre
Saturday, September 10
10:00 am-4:00 pm —Student Center Coffeehouse hours

10:00 am-5:00 pm — Barnes & Noble Bookstore hours

10:00 am- Noon—Check-in at Student Center East Entrance, Schedules/Maps at CC Entrances, Lower Level Lobby

11:30 am — Family Weekend Lunch, CC Upper Level Ballroom
Welcome by President Kumara Jayasuriya
Greetings from Student Association President, Ashton Ayres 
RSVP deadline is Noon, September 8th www.smsu.edu/family
1:00-2:00 pm — Ventriloquist, James Wedgewood, CC 117, 1pm show time

2:00-5:00 pm — AgBowl Activities: Inflatables, Games, Animals, and more (Stadium Green Space and RA West Parking Lot) 

2:00 pm — Volleyball vs. Upper Iowa, PE Gym

2:00-4:00 pm — William Whipple Art Gallery, An exhibition of posters in support of Ukraine and peace: Stand With Ukraine, Bellows Academic, Use the SMSU Library Entrance. 

3:00-5:00 pm — RHA Yard Games (Corn Hole Toss, Badminton, Yard Dice, Jenga, and more
Popcorn and Cotton Candy), Central Field

3:00-5:00 pm —Student Center Mustang Zone (Free Play), Student Center Upper Level

5:00 pm —Football vs. Concordia-St. Paul (Kick-Off), Mattke Field at the Schwan Regional Event Center
                       
Sunday, September 11
10:00am-4:00 pm — Coffeehouse @ SMSU Hours — Student Center Lower Level
1:00 pm — Soccer vs. Winona State University
Related Articles