SMSU Alumni Association to Celebrate 2022 Award Recipients on Sept. 30
Published Wednesday, September 21, 2022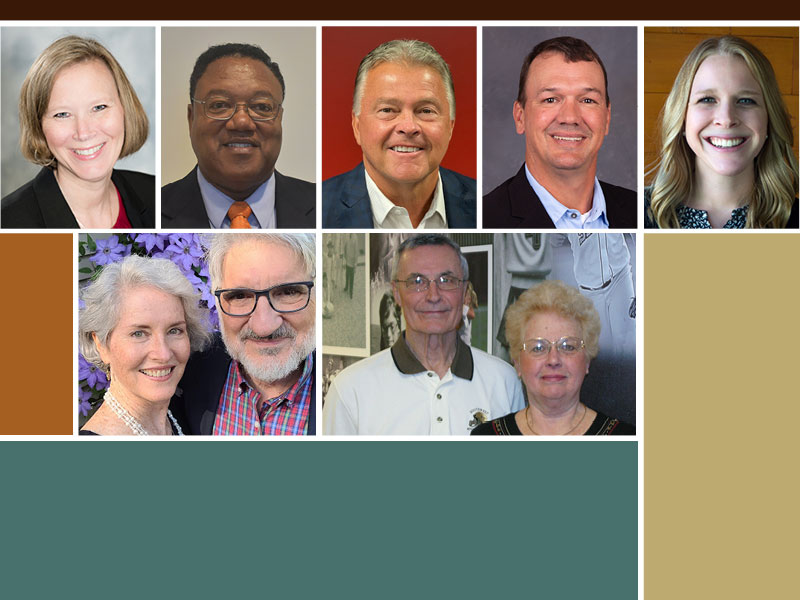 2022 Alumni Award Recipients
The Southwest Minnesota State University Alumni Association presents their annual awards during Homecoming. These include the alumni achievement awards, honorary lifetime memberships, and the GOLD award for young alumni. This year, a special award for outstanding service to the University will also be presented. Honorees will be celebrated by the Alumni Association on Friday, Sept. 30 at 4:00 p.m. in the SMSU Conference Center. The award recipients will be recognized at the Homecoming parade and SMSU football game on Saturday, Oct. 1.
This year's Alumni Achievement Award honorees include Mary (Reisdorfer) Fuhrman '95, Senior Vice President of Southeast Region and Non-Foods for Hy-Vee, Inc., Murfreesboro, Tenn.; Dr. Carl Harris '76, independent education consultant and retired superintendent, Chapel Hill, N.C.; Kyle McGowan '81, a lobbyist for Nebraska Council of School Administrators and retired superintendent, Crete, Neb.; and Clark Meyer '94, President of Knife River-South Dakota, Ellis & Eastern Railroad, and Rail to Road companies, Sioux Falls, S.D.
Honorary Lifetime Membership Awards will go to Dr. James (Jim) and Marianne Zarzana, retired SMSU English professors, South Bend, Ind.
Emily (Kremer) Jouwstra '15, Digital Marketing and Communications Lead at Cargill, Hamel, Minn. will also be honored with the GOLD (Graduate of Last Decade) Award.
The John and Kathy Paxton Alumni Service Award will be given to Ken and Gwen Mukomela and their family for lifelong contributions and service to SMSU.
A celebration honoring the award recipients will be held 4:00-6:00 p.m. on Friday, Sept. 30 in the Conference Center Upper Ballroom.  For tickets call 507-537-6266 or visit www.SMSUAlumni.com. Tickets are $15 per person and include heavy appetizers.
For complete Homecoming event information, visit www.SMSUAlumni.com
The 2022 Alumni Award recipients:
Alumni Achievement Awards:
Mary Fuhrman '95
Mary (Reisdorfer) Fuhrman, a 1995 alumna, believes in the power of relationships and the power of giving. That philosophy has served her well in her roles with the Hy-Vee grocery company. In many ways, Fuhrman has grown up with the Hy-Vee. She's been with them since 1988, when she was in high school in Adrian, Minn.
"I worked at the Hy-Vee in Worthington. When I went to college, I transferred to their Marshall store," she said.
She earned a Business Management degree and a Marketing minor at Southwest Minnesota State University, known at the time as Southwest State.
"I really came into my own at Southwest," said Fuhrman. "It shaped me and help me grow as a businessperson and a mother, and it opened my eyes to what I can do."
Fuhrman has held numerous positions during her years with Hy-Vee, each adding more responsibility. Hy-Vee is a growing, 88-year-old business, with over 285 stores, and based in Des Moines, Iowa. Each new challenge has meant more personal connections and more expectations from communities who look to Hy-Vee as a corporate and community leader.
In 2020, Fuhrman was recognized with the Hy-Vee Officer of the Year Award for her role in supporting communities in times of turmoil. In June 2020, she worked with Hy-Vee vendors and partners to secure and deliver food to the areas affected by protests following the death of George Floyd. Hy-Vee delivered 18 semi-loads of food to the Minneapolis areas impacted.
In August 2020, she dispatched Hy-Vee resources once again, this time providing food, water, and ice to residents of Cedar Rapids, Iowa following the derecho which left people without power in a widespread area. They also secured backup generators to keep the Hy-Vee stores in the area running smoothly.
"I never ordered so much ice in my life. We brought in ice from all over the country to help people save their perishable food," she said. "It was a way for Hy-Vee to show support for people in the communities we serve."
Today Fuhrman is the Senior Vice President of the Southeast Region and Non-Foods for Hy-Vee, a position she has held since March 2022. In late 2021, Hy-Vee decided to move to the southeast region of the U.S., which includes Tennessee, Alabama, and Mississippi. Her job is to get to know the communities, learn the nuances of the new market, and understand the wants and needs of the customers in the region. This is key to the success of Hy-Vee stores; they work hard to secure the products that customers want and connect with local vendors to provide them.
They anticipate breaking ground on new stores in early 2023. Prior to her role in the Southeast Region, she was Senior Regional Vice President, Northern Region, helping Hy-Vee expand into the Twin Cities market.
"I am so honored and thrilled to have been considered for this award," Fuhrman said. "I enjoyed my time at SSU (SMSU) and made lifelong friends."
"I also learned about the value of relationships—that makes all the difference," she said. "The commitment that Southwest makes to students is amazing. You really find your path there."
Fuhrman gave the Class of 2019 commencement address. In her speech, she told the class, "My advice to you is to be genuinely devoted to helping others and to making connections. It is so important to all of us as we navigate the ways that our society is changing. Be genuine in your desire to help, and in your desire to connect with others. Winston Churchill, who is often called the greatest statesman of the 20th century, said 'We make a living by what we get, but we make a life by what we give.' Give others your help and attention whenever you can and see how your life is made that much richer by doing it." 
Dr. Carl Harris '76
Dr. Carl Harris understands the transformational power of education. A North Carolina native, Harris came to SMSU to play basketball for the Mustangs. His former, Dale Honeck, was named the head coach at Southwest and recruited Harris to move halfway across the country.
Harris grew up in Louisburg, North Carolina, a very rural community in the South where he said he probably never traveled more than 75 to 100 miles from home. He didn't know a lot about the Midwest and was convinced by Honeck that this university was going to provide him with a great education and a support mechanism to help him succeed in life. 
"Dale Honeck was my basketball coach. I trusted and believed in him because I had already played two years with him," said Harris. "I followed Coach Honeck in 1974 and spent two years at Southwest."
"The faculty, the leadership at the university, and the student body embrace you with unbelievable support. I was a basketball player and the community really embraced and supported me," said Harris. "I remember the breaks throughout the year, and it was not always possible to fly home. I distinctly remember RA Colvin. He was a personal inspiration because he and his family really supported me. It's just unbelievable and to this day I have great admiration and respect for him.
"RA and Glenn Mattke knew that I was a long way from home, but they made you feel like you were at home," he continued. "I had great teammates, that even today if we run into each other, we still have like great relationships, Neil Kruse, Clarence Hightower, Sam Leggett.  I can just go on and on, they were not only teammates but became lifelong friends. 
What Harris remembers most about Dale Honeck was his philosophy that if his athletes didn't prioritize academics, they weren't going to use their athletic skills. He always encouraged students to believe that academics were the top priority. Basketball was something that came second. 
His passion for education came from being a first-generation college student. Like so many other young people, he believed that college was for someone else. Fortunately, he was able to play basketball, and through that, financial support paved the way.
"All of a sudden I have this wonderful opportunity to go to college, and I started to see that college was a possibility," he said. "That's where my passion for education came from."
Harris' experience and accolades for contributions to education are extensive. He began his career in the Elizabeth City, N.C. parks and rec program. He soon became a teacher and coach. He moved on to become a principal and superintendent in school districts in central North Carolina. His career took an exciting turn when we became involved in incorporating technology into the Durham Public Schools.
In 2010-2011 he was appointed as Deputy Assistant Secretary of Education in the U.S. Department of Education under the Obama Administration. It was in that role he conducted studies that saved school districts millions by implementing efficiencies in their operations.
In 2011, he became a partner in School Efficiency Consultants which was honored with many awards for their innovative work in assessment and efficiency implementation.
Harris served as president of the TE21 Inc., a company that provided tools for advancing training and education in the 21st century. He most recently worked as vice president of Certica Solutions. Since 2021 he has been an independent consultant working with the private education sector as well as administrative leadership programs. 
"I really believe Southwest propelled me to that long list of things that I've been able to do," he said.
Harris has been recognized as a distinguished alumnus of North Carolina State University, which is where he earned his doctorate. He also has two master's degrees from East Carolina University. 
"When I got the call about this award from Southwest, I was so excited because that was my true beginning.  That's where I finished my undergraduate degree. That's what propelled me to be ready to go into the workforce where I started my career," Harris said. "It's a little more special coming from here."
"I've had an unbelievable life transformation. The thing that drives me most is the power and knowledge. Over the years I've come to believe that we are all products of what we know. To know more means to find ways to expand your knowledge base," he continued. "Because the more knowledge you have the more tools you have to inform decisions about your career, and your personal life." 
"I've spent years and years trying to encourage and support people to take advantage of their opportunities to gain more knowledge, how to use knowledge to better themselves and better the environments where they live, as well as play some small role in making this world a better place to live. 
"I'm incredibly appreciative of the recognition," he said. 
Kyle McGowan '81
To his friends, Kyle McGowan always calls his alma mater the Harvard of the
Midwest. People in Nebraska don't know where Southwest (Minnesota) State is located so that's what he tells them.
"My best friend and I visited and really liked the campus and the people we met. Coming from Alta Iowa, you don't go to college close to home," McGowan said. "I was the cliché first-generation college student. My dad worked at a packing plant and wondered why I was going to college. I did work at the packing plant during the summers and that was my motivation to go to college."
He paid every penny out of his own pocket, so was determined to finish in four years. "I finished with only one credit more than required," he said.
"I spent my first two years getting all my generals done. I spent a lot of time trying to find something that I could get rich and famous for, then just decided I'm going to commit to education," McGowan said. "All my friends were going into business, so I thought I'd be a high school business teacher. But I loved the energy of small kids. (Professor) Doris Olson said to me, you can't be both a secondary and an elementary major."
Doris, Molly Person, and Lon Moon were three people who kept trying to nurture McGowan. He was able to student-teach in schools right away. Upon graduation in 1981, the teaching jobs were attracting hundreds of applicants. He found that he had opportunities because he was a male teacher who was willing to coach. His first job was in Ceresco, Neb.
Before long, he started a master's degree program and became an assistant principal. He worked hard and eventually became assistant principal, transportation director, and activities director in the district.
"I wasn't home much, and we had a baby, so I looked around and took an assistant principal position in Crete, Neb.," he said. "Nebraska isn't big population-wise, but in the early 2000s, Saline County was the fastest growing county in America in terms of Hispanic growth."
"That really impacted our little community, and fortunately, you can embrace the change and the many positives that come along with new members in the community, or you can go the other way," said McGowan. "It was important to me and a lot of the leaders in the community, that we had a strong environment that embraced education, work ethic, and economic growth, those are the pillars that we moved forward with."
In small rural Nebraska, the school is the heart of the community. He spearheaded the effort to think beyond serving children K-12 and change their mission to include the entire family. They increased the number of early childhood and home visits, as well as enhanced GED and adult services. After serving in a few roles, he served as superintendent of the Crete school district for ten years.
"I had the advantage coming in 1989 when we had less than 1% minority students in our school. When I left in 2016, we had more than 50% minority and students of color in our district," he said. "If you think you make a change in four years, you can't. You have to commit to change over the long haul."
After his retirement, the Nebraska Council of School Administrators hired him to lobby at the state legislature, where they were able to secure a grant to promote public education. McGowan was one of three school ambassadors who traveled throughout the state to meet with civic organizations about what was happening in their communities and having positive discussions about public education. Nebraska is one of six states that does not have charter schools and 48th in the country in school funding. He's proud of the work they do to promote public education.
"It's been the centerpiece of my career," he said, "Education is the key to any growth intellectually or socially for our country. You either believe in helping everyone and giving everyone an equal chance or you have a more divided society."
"When I first heard about the recognition, I thought they must have spelled the name wrong and someone is missing an award," he said. "But honestly, I'm grateful and humbled."
McGowan and his wife, Lori, who met in high school, have three grown children, Morgan, Conner, and Ian, and two grandchildren. He and Lori live in Crete, Neb.
Clark Meyer '94
Clark Meyer knows how to find opportunities and make the most of them. 
Meyer grew up on a farm just outside of Lester, a small town in northwest Iowa. He was counted on to work on the farm, but Meyer also excelled in school – particularly with computers and in math, and also as a wrestler.
When it came time to start planning for life after high school, Meyer visited Southwest with a friend. The third of eight children, he was the first in the family to pursue a four-year degree. It was important to him that he find the right fit.
Meyer liked the campus and the university's proximity to his home because he was still sometimes asked to return to the farm to help his parents. The strong computer science program at Southwest sealed the deal for him. That was Opportunity 1. And it didn't take long for Opportunity 2 to knock.
"Within the first week, I ran into one of the wrestlers and they said, 'Why don't you join the wrestling team?' I said yes and just walked on," he said. "I hadn't planned on wrestling in college, but I had such a great experience with the team and Coach Mike Sterner. He was a great mentor, and the wrestling team was an unbelievable support group. They are still some of my very good friends to this day."
Wrestling was a big part of Meyer's college experience, with winter meets as well as spring workouts and fall practice. This meant a year-round commitment, and yet he maintained a full course load. Meyer went on to become an All-American his senior year, placing third in the national tournament. He takes a lot of pride in the fact that he was able to wrestle and still earn his degree in four years, thanks in part to Dr. Joe Van Wie, a math professor, and Meyer's advisor. Opportunity 3.
"Joe Van Wie helped me become the best I could be," Meyer recalled. "When you get to college, you have to be self-driven and self-motivated. And I was. But when he saw that I wasn't performing as well as he thought I could – and he was right – he cornered me and said, 'Hey, you can do better than this.' That's a lesson that has stayed with me."
Meyer is grateful for the encouragement he was able to get at a smaller school like Southwest. Being around people who care and who set a high bar has served Meyer well for his entire career. 
He graduated from Southwest in 1994 with a computer science degree and minors in math and business. He began working for Sweetman Const. Co., a major construction materials business in Sioux Falls, right after graduation. He was a computer systems manager, where he built his knowledge of the organization before advancing to manage the company's aggregate sales and transportation division in 1997. In 2005, he led the acquisition of Harrisburg block plant and was named Division Manager. He then started the company's Hardscapes Outlet division and, in 2016, was named president of Ellis & Eastern, a short-line railroad owned by the company.
"I always joked that after a few years, I didn't think computers were going to stick around very long so I got out of the IT world," he said. "But I've been with the same company since 1994 in a variety of roles, under different names or divisions. The education and background I got at Southwest – including the motivation to always try to do things better – has absolutely helped me in my career."
In 2018, Sweetman Const. Co. was purchased by Knife River Corporation, and Meyer was named president. He oversees the company's operations in South Dakota, Iowa, and southwestern Minnesota, including Ellis & Eastern and Rail to Road, a transloading business Meyer helped form while with Sweetman.
"I have been fortunate enough to have opportunities," Meyer said. "I loved the company and the Sweetman family, who have been very good to me. I worked with Jerry and Pat Sweetman for a long time. Jerry was a mentor of mine and still is. He encouraged me to be innovative, creative, and bold. If I had an idea, he would hear me out. It was an atmosphere that really helped foster opportunities and growth."
The "needle" throughout Meyer's career has moved immensely, but the thread has been seeing opportunities and saying yes to them. Some people might call it luck, but hard work and the courage to be bold are the materials that build a solid career. 
"I was pretty humbled by earning the Alumni Achievement Award," Meyer said. "I didn't know much about it and it's really quite an honor. Southwest continues to play an important part in my life."
When he's not running his businesses, Meyer enjoys his family time, which usually involves some type of sporting activity. He and his wife, Toni, live in Sioux Falls with their boys Colby (18), Parker (17), and Bradyn (15).
Honorary Lifetime Membership:
Dr. James and Marianne Zarzana
Dr. James (Jim) and Marianne Zarzana are the recipients of this year's 2022 Honorary Lifetime membership to the SMSU Alumni Association. But with as much brown and gold apparel as they have in their wardrobes, this step is just a formality in what is already clear—their dedication to SMSU.
Jim grew up in Sacramento, Cali., earning his undergraduate degree in English at Saint Mary's College of California, and a Master of Arts in English at California State University, Sacramento. He taught high school in Sacramento for four years before going on to earn his Ph.D. in English, specializing in British Literature at the University of Notre Dame in South Bend, Ind. Here he met Marianne (Murphy), a Chicago-area native who was working at the university at the time. Marianne had earned her undergraduate degree at the University of Notre Dame and spent time as a journalist in Pueblo, Colorado before returning to Notre Dame to work in the publications and graphic services office.
Upon completion of Jim's doctorate, and the beginning of their marriage, the Zarzanas came to SMSU (then Southwest State) in 1989. Jim applied for a position in the English Department and felt a little out of place with the faculty members interviewing him. The faculty at the time included poets and writers like Bill Holm, Philip Dacey, David Pichaske, Leo Dangel, and Jack and Mary Hickerson. He won them over when he mentioned the Silver Dollar in Ghent when he learned that the interview included dinner with his soon-to-be colleagues. 
Jim, Marianne, and their daughter, Elaine, moved to Marshall for what they expected would be a three-year stay. Thirty years and six months later, Jim and Marianne had both served on the faculty and were able to look back on their fulfilling careers.
As Jim began his teaching job at Southwest, Marianne became involved in public relations, advocacy work, and freelance writing in their early years in Marshall.  She spent six years working with the Admission Office on public relations and recruitment projects at Southwest. When that position took a turn toward graphic design, she shifted to exploring her own pursuits and went on to earn her Master of Fine Arts from Minnesota State University-Mankato. She joined the faculty at SMSU in August 2004, first as a fixed-term faculty member, and finally as an assistant professor teaching public relations, creative writing, journalism, and freshman academic writing. It was there she found that despite being a shy introvert, she had a passion for sharing her love for words. She especially enjoyed reaching students who didn't think they liked poetry by sharing the work of Leo Dangel and Philip Dacey. Marianne had been in the third class allowed into the University of Notre Dame after the school first opened its doors and athletics to women. That experience helped her connect with students who were the first college attendees their families and part of a minority in their classes.
She taught in the English and Communications Studies programs from 2004-2019 and served as Director of Creative Writing for an interim semester in 2011, then permanently from 2012-2018. She is a widely published poet, giving readings, presentations, and workshops.
Jim made a name for himself among students as tough but fair professor. Students were introduced to the classics of British Literature such as Charles Dickens' Great Expectations and Jane Austen's Pride and Prejudice through his classes. He also taught courses on short fiction and the novel. Jim was a quiet, effective leader on campus. He was the faculty coordinator of the Advising Center when it was formed; led the conversion from the quarter system to the semester system; served on the task force that led the transition from the Liberal Arts Core to the current Liberal Education Program; was chair of the English Department; served on the Academic Affairs Committee; and for years made his "Famous Zarzana" spaghetti sauce for fundraisers at the Campus Religious Center.
Both Jim and Marianne became involved with the Global Studies program and participated in study travel programs to England and France. This allowed them to introduce students to the places and stories behind the material they were learning about in classes.
Jim also connected to what was lovingly known as the Lunch Bunch, a group of faculty members who came to Southwest in the late 1980s and brown-bagged in the Student Center almost every day. This connected the Zarzana family deeply with faculty and students alike.
"We've seen a lot over the years at SMSU, ups and downs, fires on campus, and loss— like Cathy Cowan, who was a dear friend," said Jim.  Jim was a recipient of the Cowan Award in May 2014. "But I look back and can't imagine being anywhere else."
They both believe deeply in the power and responsibility of teaching having had excellent teachers throughout their own educations. Facebook has become a means for them to connect and realize the impact they've had when former students reach out.
"Teaching has been our way of paying it forward," said Marianne.
When the time came for them to look at 'what's next' in their careers, Jim took the leap first and retired with emeritus status in 2015. He shifted easily to full-time writing on his science fiction novel series The Marsco Saga. The series includes The Marsco Dissident (2013), Marsco Triumphant (2016), and the Marsco Sustainability Project (2019). The Marsco Saga is set in Sac City, Calif., in 2092. The storyline revolves around an all-powerful company, Marsco, which controls the world because it controls computers, and determines who may use them.
Jim is currently at work on book four, which he refers to as a mosaic, and technically, metafiction. In addition to writing poetry, Marianne is knee-deep in a documentary film on Sister Jean Lenz, an influential nun and former assistant vice president for student affairs at the University of Notre Dame, who changed the lives of so many of the young women who were the first to join the Notre Dame student body and women's athletic teams.
The Zarzanas are incredibly honored and humbled by the award. They are especially delighted to be inducted together because SMSU has been so much a part of their 39-year marriage. And though, they may not have planned it, they are Mustangs forever.  
"SMSU gave us everything and we are so grateful," said Marianne. "I was just flabbergasted and grateful to share the good news with Jim. And that it wasn't Jim, it wasn't me, it was both of us. I mean, that was just over the top." 
"Our license plate doesn't have Notre Dame on it, it has SMSU," added Jim. "We have no regrets. It was great to be able to put down roots in a place like Marshall, raise a family, and make a life."
Jim and Marianne live in South Bend, Ind. to be near Marianne's parents. They spend as much time as possible visiting their daughter Elaine, son-in-law Fin Madden, and grandson Torne in Simlångsdalen, Sweden.
GOLD Award:
Emily Jouwstra '15
Emily (Kremer) Jouwstra came to SMSU from northeast Minneapolis and chose SMSU for the just-right class size and low faculty-to-student ratio. She also wanted an education that was affordable so she could pay most of her own way. She graduated in 2015 with a degree in marketing.
"I started SMSU as an education major and I switched at the end of my freshman year," Jouwstra explained. "The Career Services office had a lot to do with that. I spent time understanding my strengths and things I'm passionate about."
She also credits being able to meet professors who would take the time to talk to you about what you're good at and what different career paths might look like. Faculty members like Dr. Denise Gochenouer and Dr. Mike Rich are two faculty members who made an impact.
"Denise is one who has really been and continues to be a mentor for me today," she said. "Mike Rich was the one who probably spent the most time with me at the beginning. He asked a lot of questions, like what was I most excited about after graduating?  What was I looking forward to being able to do? How are my classes going?"
 "Then the conversation was starting to pivot—this is what marketing could look like for you. This is what career paths could look like," she said. After a few of those conversations, Jouwstra switched her major and started taking courses toward a marketing degree.
She cut her marketing chops on her involvement in the SMSU Marketing Club, which joined the national organization, American Marketing Association (AMA), in her junior year. She also worked extensively in the Southwest Marketing Advisory Center (SMAC) and was able to work directly on different projects and learn how to communicate professionally via e-mail, talk to different clients, and present ideas, metrics, and risks.
She spent summers working in the SMAC office, planning summer marketing campaigns for local businesses involving a coupon program. She was able to work on a variety of marketing research programs and business development plans with the Small Business Development Center, which has offices on the SMSU campus.
In her later experience at SMAC, she moved into a business operations manager position, focused on working with the clients, delivering what was promised, and getting the student staff paid. She participated in Enactus, as part of a volunteer project in Jamaica supporting a school and a group of small business owners.
"For me, it just really opened my eyes to the things that are fundamentally lacking in other parts of the world. It was great to see how come our group could come together and make a difference."
Today, Jouwstra leads a digital marketing team at Cargill, where she has worked in a variety of roles for the past five and half years.
"I'm really focused on people, development, governance, and the marketing and technology platforms that make us successful," she explained. "I'm responsible for bringing campaigns and brands to life through a variety of online channels, including social, e-mail, websites, the whole gamut."
Jouwstra hadn't planned on a career with Cargill. She had spent some time with the SuperValu grocery store company as their digital project manager. She was exploring new opportunities and applied for a position they ultimately didn't fill. But her resume stood out and she was hired for a new position in global communications.
"The culture and the people felt like a really good fit," said Jouwstra. "I grew up in the Cities and knew nothing about ag but the fact that I had attended SMSU gave me some rural experience that I could relay to other incoming employees and leaders of the business: we don't have to grow up in agriculture to be successful in a company like Cargill."
She enjoys the company culture at Cargill. It's a place where people stay for 20-plus years, and she sees a bright future for herself.
"What I am looking forward to most is building a stronger capability around digital marketing for our business and empowering my team to lead the spaces that they own," she said. I'm really excited about where I am right now in my career and what's on the horizon."
"SMSU was a huge cornerstone for my career. It gave me the tools and the exposure needed to think critically and to consider the brand that I'm building for myself and how I want to use that in the world," she said. "I am humbled and honored to have been even considered for this award."
Emily Jouwstra is married to Devin, a 2015 SMSU graduate. They live with their 3-1/2-year-old twins in Hamel, Minn.
The John and Kathy Paxton Alumni Service Award:
Ken and Gwen Mukomela and the Mukomela Family
Southwest has always been the second home for the Mukomela family. This year they are being awarded the John and Kathy Paxton Alumni Service Award. The honor celebrates the contributions by Ken and Gwen Mukomela and the Mukomela Family. The Paxton Award recognizes individuals for outstanding service to the University.
"It's really an honor," said Gwen Mukomela, Ken's wife of almost 65 years. "Someone from the college brought the plaque over to the McLaughlin House where Ken was in hospice. My nephew, Matt Mukomela, who earned his master's online from SMSU, presented it. Ken knew right before he passed that this recognition was being given to our family."
The award is a tribute to all the things that Ken along with Gwen and their children Kristi, Richard, Mark, Kari, and Karla have done for the university. Ken joined the faculty in 1968– the second year of the University. He retired as a professor of Business and Office Education in 1997. He died peacefully on March 12, 2022 in Marshall after a courageous and hard-fought battle with cancer.  Originally from Langon, N.Dak., he received his bachelor's degree from Mayville State University and went on to receive both master's and doctoral degrees from the University of North Dakota.  A proud American, he entered the US Army in 1954 and served his country with honor throughout his 40-year military career, retiring in 1996 with the rank of Colonel.  He earned 14 military awards including the Legion of Merit Medal, the Department of the Army's highest peace-time honor. Ken was a long-time member and officer, also serving in the Honor Guard of American Legion Post 113.
"We came in 1968. This was Ken's third interview after he left North Dakota with his doctorate. He interviewed at St. Cloud, Mankato, and then here," Gwen said. "The kids just fell in love with Marshall, they liked the small town and thought it would be kind of cool to live close to a Dairy Queen."
"Ken told us, 'I think a new college would be fun!' so I guess that's why we're here," Gwen recalled. "It's a good town to raise the kids in. We were all new on Elaine Street and we had a great time living out there. The street wasn't even finished; kind of like the university, everything was still under construction. Ken really enjoyed that. He'd go out to the college and talk to the construction workers."
"I was going into 5th grade when we moved here," said Kristi. "We all remember as kids and in junior high going to those basketball games and sitting behind him. Dad would run the clock and Glenn Mattke would run the timer."
"Dad was always involved with athletics, then later the Foundation Board. I've been on the Foundation Board now for 17 years and he was on it 20-plus years when I joined."
The family recently established the Ken and Gwen Mukomela Scholarship to give back to the University. It was important to Ken that it would be given to a student-athlete who was majoring in business.
"He just had so much pride in his students," said Gwen. "He really was a student-oriented professor, which is like most professors at SMSU and what makes it so unique."
"He enjoyed helping however he could," said Kristi. "And I think the students liked him because he had a good sense of humor."
"We met at a small school, Mayville State in North Dakota, where you know everybody, all 700 students," said Gwen. "He knew everybody there. And he just carried that on from there to Southwest."
Whatever Ken was doing, Gwen was often right there with him, and vice versa. "I just love the theatre, the plays, the musicals, Gold College, and of course the sports. We tried to take in as much as we could."
"He was active in Gold Rush Raffle in the winter. He made it his mission to sell more tickets every year. He loved that, and he would offer to deliver the prizes," Gwen said. Ken was the top seller of tickets for many years.
"He had the gift of gab and was quite a salesman too. He like visiting with people and that's what really made him such an important part of SMSU and the community," added Kristi.
"He could sell you a vacuum cleaner even if you didn't have a rug," laughed Gwen.
When asked what Ken would have to say about this honor, "He'd probably say, 'Oh, I don't need this publicity. They don't need to do that for me. I just like doing what I was doing,'" said Gwen, who was thankful he knew about this award before he passed.
"He always wanted to do these things, but he never expected anything in return," said Kristi. "He did whatever he could to help the university."
"There are so many proud moments of Dad just interacting with students and other faculty and staff. He just knew everybody at the university. He was also super proud of his military career and his family. Proud of everything he did," she continued. "He's just one of these people who lived by strong principles and wasn't ever looking for recognition, but he certainly was humbled by like receiving this award."
Ken received many accolades and awards for his service to SMSU including being inducted into the Athletic Hall of Honor, the Honorary Alumni Lifetime Membership award, and the NSIC Noel Olson Volunteer of the Year award.
"My Dad was really committed to the success of the university. I think that's why he wanted to help, to donate financially and contribute in any way, to give his time and talent," said Kristi. "His example is what inspired me to be involved."
"My first job out of college at school was as an admissions counselor, which was probably the most fun job I ever had. While it wasn't fun driving around in 1980s state cars with no air conditioning," said Kristi "South Dakota was part of my territory, which people kind of laughed at me like it wasn't that glamorous, but actually it was."
"It was pretty successful because we had just begun reciprocity with South Dakota and we were doing well in attracting students to come to SSU [sic], especially from those border towns," Kristi continued. "I started attending Southwest in 1976, enrollment was way down, so it was great to see it build back up."
"Ken joined the faculty in 1968, charter plus one, so he was just really invested in all aspects of the university and in the community, and he was dedicated to seeing SMSU and Marshall grow," said Gwen. Ken was on the founding board of the YMCA, just a sample of how well he was involved in the community and not just SMSU.
"I think he was a person that was a real glue between SMSU and Marshall. He knew people in all parts of the community and the university, so I feel like he was instrumental in bringing the two closer together," said Gwen. "He was well respected. Ken would make a point to get to know the new presidents and help bridge the relationships between SMSU and the community."
"You come in young, and you watch everything grow and it's nice to see," Kristi said.
"But seeing the growth and prosperity is one thing, knowing you are part of that success is another," said Kristi. "It's such a gift to know that Dad is being recognized for his life's work, his dedication to SMSU, and its success. He was and would still be so proud."
Related Articles