University Gala Set for November 5
Published Friday, October 14, 2022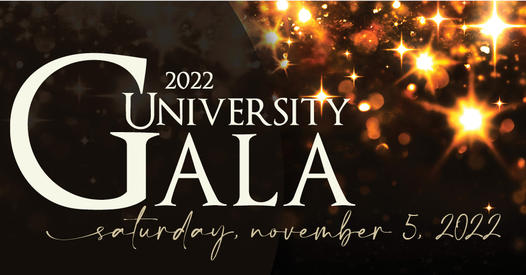 University Gala Set for Nov. 5, 2022
The 33rd annual University Gala will be held Saturday, November 5 in the SMSU Conference Center.
The SMSU Foundation will host the University Gala for the first time since 2019. The event was held virtually in 2020 and 2021. The social will begin at 5:00 p.m. with appetizers created and served by students of the SMSU Culinology® & Hospitality Management Programs.  There also will be opportunities to interact with SMSU students during the social.
The evening will continue with dinner starting at 6:30 p.m. The meal prepared by Chartwells will feature the following menu options:
Meat: Tenderloin medallions, crab stuffed salmon with rustic Yukon gold and sweet potato mash, roasted green beans, and an apple, bacon, cranberry salad with maple dressing.
Vegetarian:

 

Seared cauliflower steak with creamy polenta and ratatouille vegetables with a coconut turmeric relish.
Both entrees are gluten-free and include a flourless Chocolate Mustang Cake with Sugared Berries for dessert.
There will be an in-person live auction and an online silent auction. The silent auction will open for bidding on Sunday, Oct. 30 at smsugala.givesmart.com. The silent auction will close at 9:00 p.m. on November 5.
The University Gala has been a major fundraiser since its inception in 1989. Proceeds from the event fund scholarships and programs for SMSU students. To date, nearly 1 million dollars has been raised, and 1,480 scholarships awarded.
The move to November is a departure from the previous affiliation with Homecoming. And while the date and location may have changed, the mission and purpose of the University Gala remain the same—supporting SMSU student scholarships and academic programs.
Tickets are available online and cost $100 per person. Opportunities to become a sponsor or to reserve a table for 8-10 guests are also available. For more details about this unique evening and to register, visit www.smsufoundation.org/gala.  The last day to register for the event is October 27.
Related Articles