Celebrating Our Transfer Students
Published Friday, October 21, 2022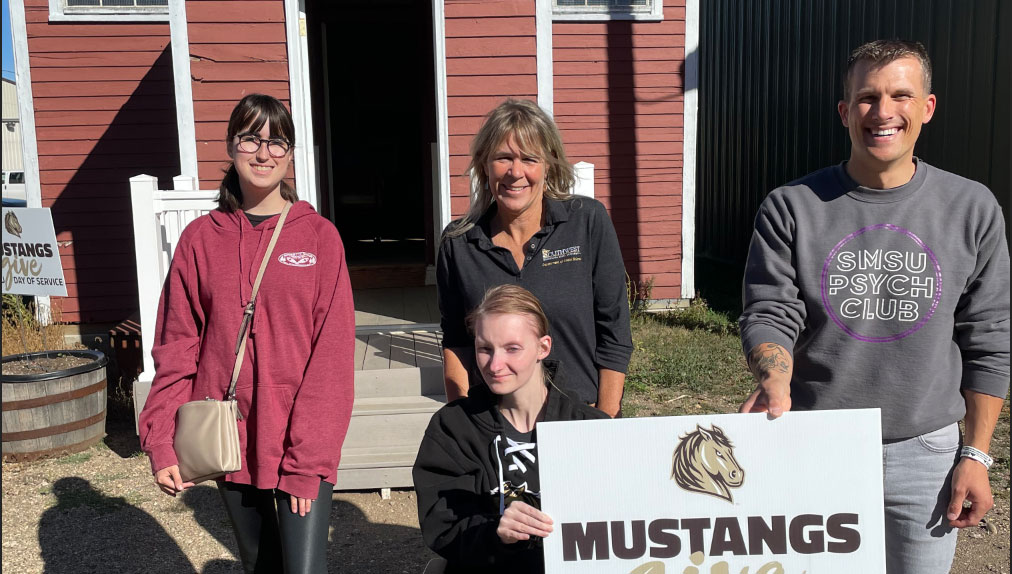 Matthew Maloney, pictured on the right, with his volunteer team on Mustangs Give: Day of Service.
October 17-21 is National Transfer Student Week. We celebrate our transfer students this week and every week, students like Matthew Maloney.
Matthew is a senior online student with two Psychology majors from Zumbrota, Minn. He came to SMSU with a 2-year degree and was excited for the opportunity to study online while working full-time. His experience has been more than he could have hoped for.
"What I didn't prepare myself for was how the faculty and students would embrace an online student," Matthew said. "The amazing faculty really stood out for me. I don't know what I would do without them."
Even as an online student, he was able to engage in classes and connect with classmates so well that he was elected president of the Psychology Club. He's been to campus several times, including a trip to participate in Mustangs Give: Day of Service on Sept. 28.
"In simple terms, it's made me a better person and improved my self-growth beyond anything I thought possible," he said.
This week we shine a spotlight on Matthew and all the students who transferred to SMSU. You may have started elsewhere but choose SMSU to finish your degree. We love our transfer students.
Photo submitted by Matthew Maloney from Mustangs Give on Sept. 28. He's pictured on the right with (clockwise) Jessica Stai, Emily Weigand and Dr. Christine Olson, psychology professor.
Related Articles