Faith Mwasha: SMSU's Sole Tanzanian Student
Published Friday, October 21, 2022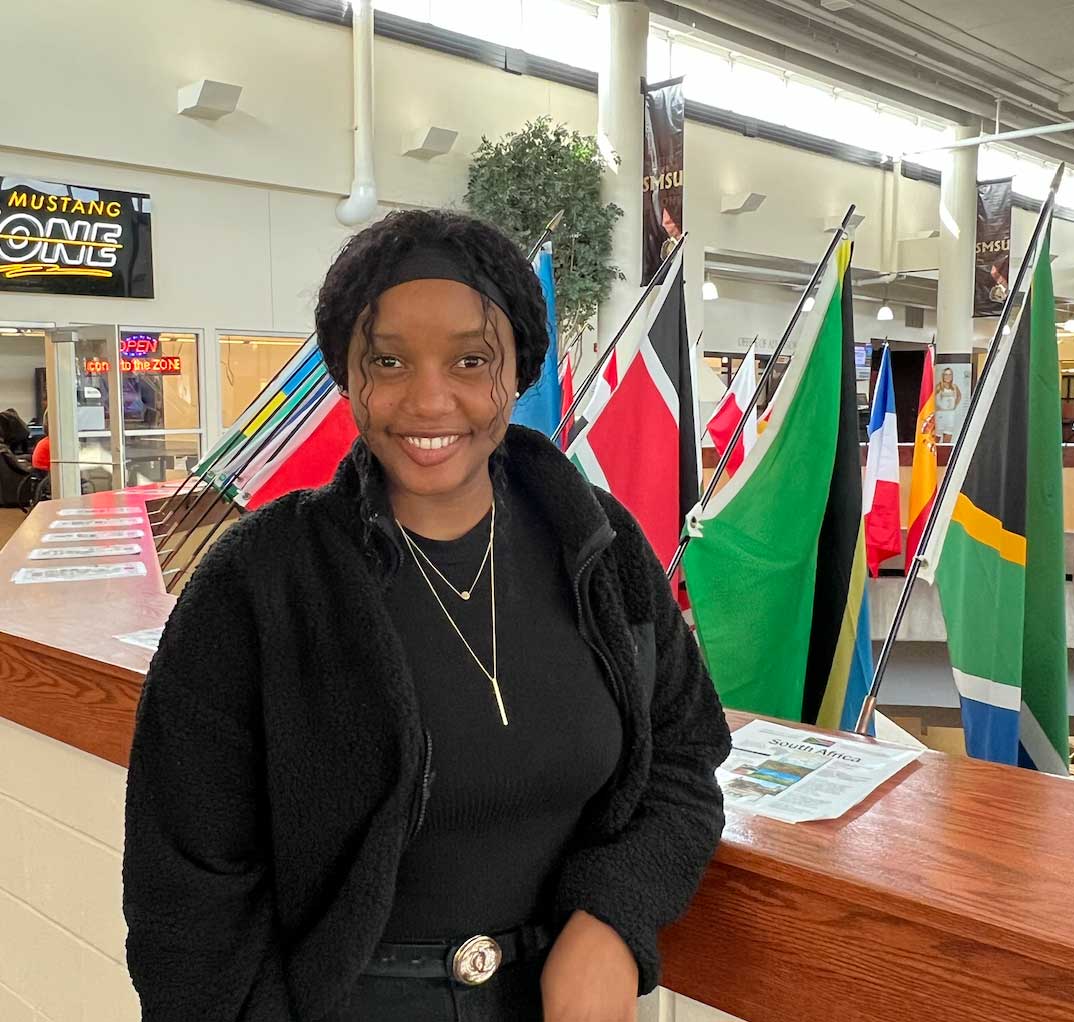 Faith Mwasha from Tanzania
Tanzania, the home of Mount Kilimanjaro and Serengeti National Park, is also home to one Southwest Minnesota State University student, Faith Mwasha. A senior this year, Mwasha will be graduating soon with a degree in finance. She is the only student at SMSU who comes from the East African country just south of the equator.  
 "After looking for a university to finish my undergraduate degree, I came across SMSU in a search," she said. "The affordability really drew me in. The tuition rates were inexpensive; I applied and committed to coming here!"
In comparison to her previous institution, she appreciates the size of SMSU. "The classes were large, and I never felt like I could have a personal relationship with my professors. That isn't the case here, I am in smaller and more intimate class sizes."
Mwasha is involved in the student senate, the student government group on campus. She is the public relations coordinator and enjoys planning events like the blood drive and elections. "I think the university experience is better here. I enjoyed going to Gold Rush Days especially; there are a lot of things to do on campus."
She enjoys the small, calm vibe of Marshall. It isn't too hectic, but large enough to still meet new people.
"The environment of Marshall makes it easy to stay focused on my studies," she said. It's a far cry from her hometown, Dar-es-salaam, which she describes as crowded. Tanzania has 61 million people. The coastal city of Dar-es-salaam, with over 6 million people, is the largest in the country, and one of the fastest growing cities in the world.
"It's hot and there are always a lot of people in the streets. They also aren't as friendly as the people I've met in Minnesota! You can have a conversation with anyone, even at Walmart. At home, people tend to keep to themselves." As the largest city in Tanzania, it is known for beaches, islands, seafood, and music.
"I really miss my family and the beaches," she said. "We have safari tours and the movie The Lion King's scenery was loosely based on Tanzania!"
Her favorite food from Tanzania is chipsi mayai, which is a french-fried omelet. It is a popular street food item, and she says almost everyone enjoys this. "I think the only people that don't like it are health conscious." It is sometimes served with kachumbari, a tomato and onion salad dish.
After graduation, Mwasha hopes to find work in Minneapolis. "I think that there are more opportunities here for me to be successful."
Mwasha doesn't mind being the only student from Tanzania thanks to the friendly atmosphere here. She hopes her experience will inspire other students from her country to consider SMSU.
Related Articles