SMSU Students Place in Culinology Fight Night
Published Friday, October 28, 2022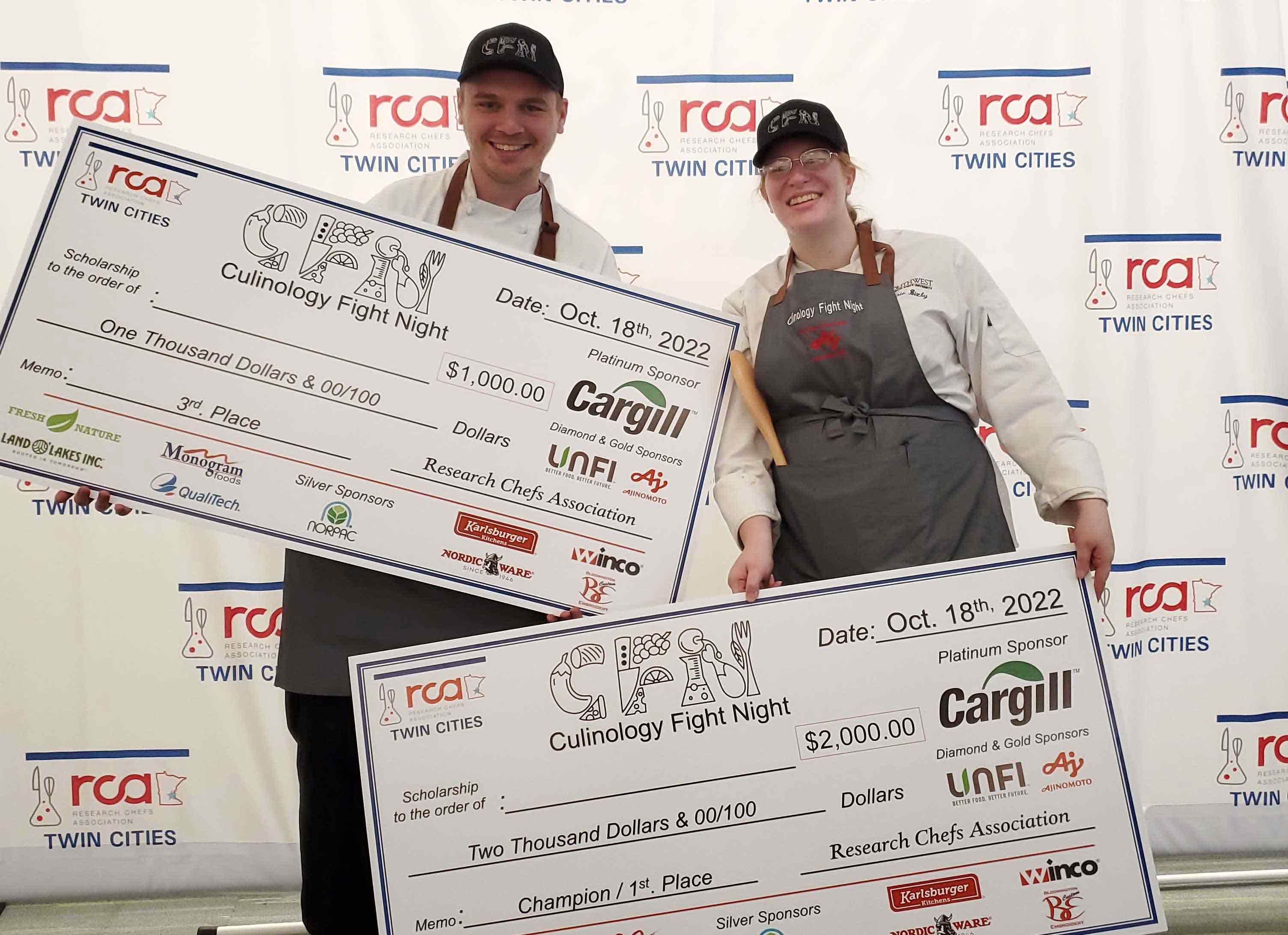 Evan Steinhauser and Eudora Bixby
Two SMSU Culinology Club students competed in Culinology Fight Night on Tuesday, October 18 in Hopkins, Minn. The challenge was sponsored by the Research Chef Association (RCA), Twin Cities Region. SMSU students took home two of the top prizes in a hands-on challenge for scholarships. Eudora Bixby won the first-place prize of $2,000 and Evan Steinhauser took third place with $1,000 prize.
The two SMSU students competed against two students from the University of Minnesota Food Science Program. Each student was paired with a professional from one of the corporate sponsors which included: Cargill, United Natural Foods, Inc., Ajinomoto, Fresh Nature, Norpac, Land O' Lakes, Karlsburger, Qualitech, Monogram Foods, Winco, NordicWare, and Bloomington Custom Embroidery.
The Culinology Fight Night presents students with a mystery box of ingredients to utilize and best showcase in the preparation of three dishes. The rounds included appetizers, entrée, and dessert. The boxes contained the following ingredients for use in each round: extra virgin olive oil, goat cheese, MSG, green chickpeas, and fire-roasted corn for the appetizer; tri-tip steak, jumbo frozen shrimp, MSG, extra-melt white cheese sauce, and Three Amigos flavor base for the entree; and semi-sweet chocolate, frozen banana slices, roasted sesame oil, raspberry pell-ettes, and bacon for the dessert round.
Eudora Bixby is a senior Culinology major and nutrition minor from Excelsior, Minn. She claimed the top prize. For the appetizer round, she made savory goat cheese and roasted corn latkes with green chickpea pesto and pickled red onions. Her entrée was a surf n' turf "protein bowl" with grilled steak, shrimp, and yellow zucchini sauteed in a spicy honey butter sauce, queso with fire-roasted jalapeno over seasoned rice and fiesta veggies. She created a banana cheesecake mousse on a sesame chocolate-raspberry cake base, choco-raspberry sauce, sesame-brown sugar candied bacon, and Brulee banana.
"It was thrilling to apply the skills I've been learning at SMSU to a competitive format. I was amazed by what we were all able to do within the 30-minute rounds. It helped that I was paired up with an awesome professional — Nate Berg, a corporate chef at UNFI — who did a tremendous job taking my vision, splitting up our tasks, and offering advice. I couldn't have done it without him," said Bixby. "It was also cool to see the U of M students and their work, as our two programs don't interact otherwise. I'm really proud of my work that day, and happy that my family and friends were there to see it."
Evan Steinhauser, a junior Culinology major from Plymouth, Minn., captured the third-place prize with his creations. He is a non-traditional undergraduate transfer student with a Culinary Arts AAS degree from Saint Paul College, and 3.5 years of experience in kitchens and bakeries.
In his appetizer round, he breaded and fried a green chickpea patty with fire-roasted corn inside, caramelized onions, and a side salad. In the entree competition, he made a Southwest skillet with grilled shrimp and tri-tip. His dessert was called "Eton mess," a trifle of meringue bits with raspberry pell-ettes baked in, macerated fruit, candied sesame bacon bits, and chocolate shavings.
"It was stressful, but also rewarding. It's one of those experiences that takes a lot of courage to put yourself out there," he said. "But those experiences often yield better exposure to professionals and I'm really glad I did it."
Dr. Yumi Lim, Associate Professor and Interim Director of the Culinology and Hospitality Management programs at SMSU, explained that the students were chosen for the competition through a selection process.
"One of the Culinology Program's advisory council members, Mark Alan Chura, RCA Twin Cities Chair & Executive R&D Chef at Burley Foods, was the competition organizer. He contacted us with information about the competition," she said. "Four of our students voluntarily submitted their applications and two were selected by the competition organizers."
"Our entire department congratulates Eudora Bixby and Evan Steinhauser for their 1st and 3rd place finishes," said Dr. Gerald Toland, Chair of the Agriculture, Culinology, and Hospitality Management Department. "We also want to thank our faculty, David Simonson and Yumi Lim, and our Culinology Club members, for their guidance and support." 
"SMSU's Culinology Program and our students continue to earn high honors," said SMSU President Kumara Jayasuriya. "We are incredibly proud of their performance, creativity, and professionalism in representing SMSU in this competition."
The Culinology Program at SMSU offers students many opportunities for hands-on learning, competitions through the RCA, and catering experiences, such as preparing appetizers for the University Gala on November 5th. The Culinology facilities are state-of-the-art and provide a professional environment for students to hone their culinary arts and food development skills. Interested in the Culinology Program? Visit www.smsu.edu/go/culinology
Related Articles