SMSU Welcomed Dakota 38+2 Riders
Published Tuesday, December 20, 2022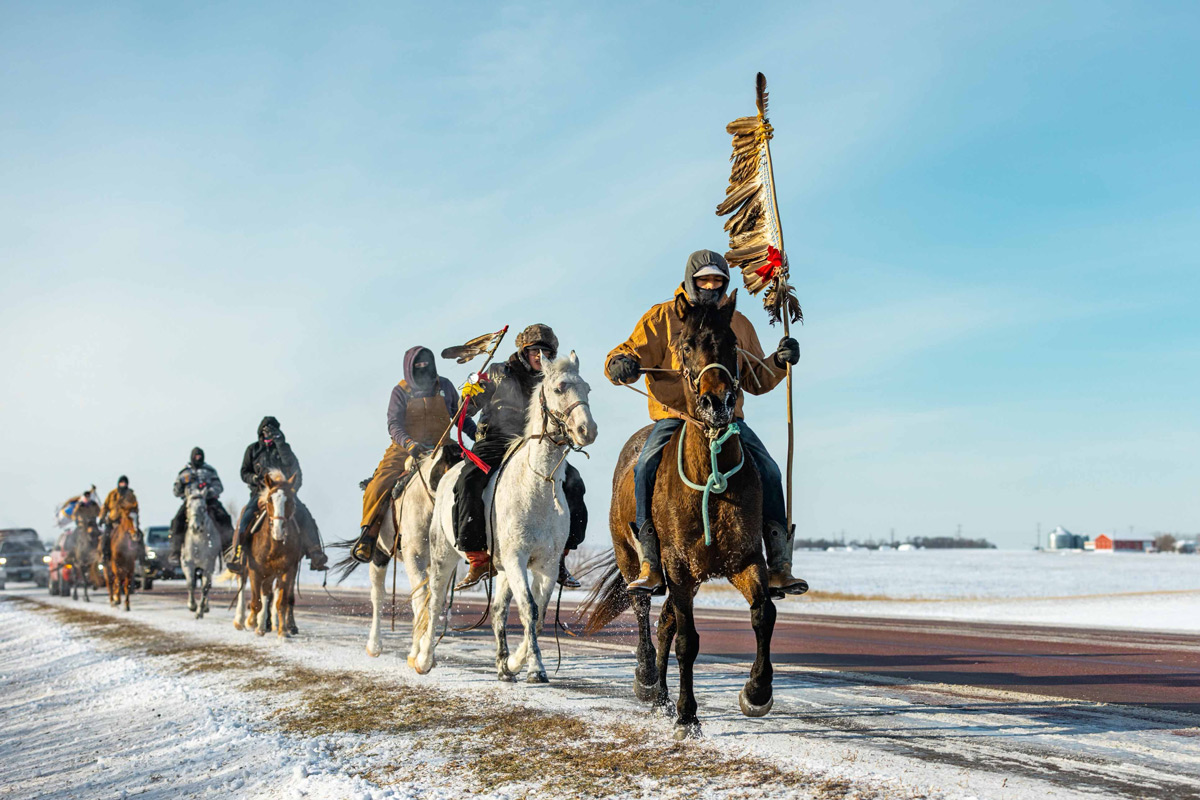 The Dakota 38+2 Riders. Photo by Adam Henning.
Southwest Minnesota State University was honored to host the Dakota 38+2 Wokiksuye Ride on their stop in Marshall on Dec. 20-21. SMSU was but one stop on the 330-mile journey that began on Dec. 9 in Lower Brule, So. Dak., and ends on Dec. 26 in Mankato, Minn. Wokiksuye means to remember.
The Dakota 38+2 Wokiksuye Ride began in 2005 following a dream of Jim Miller of Porcupine, So. Dak., to ride to the site where 38 Dakota men were hanged on Dec. 26, 1862, the largest mass execution in U.S. history. The '+2' refers to the two Dakota chiefs who fled to Canada and were tracked down for execution. The purpose of the sacred horse ride is to carry the message of reconciliation and healing through love, forgiveness for the trauma caused by the mass execution, and exile of the Dakota people from their homeland. 
The journey is long and the weather is brutal. Temperatures in the Marshall area on Dec. 20 were +3°F at midday with wind chills of -21°F. The horses and their riders traveled along the roadside moving across the vast prairie, as their ancestors did 160 years ago. People of the Oceti Sakowin, or People of the Seven Council Fires, make up the majority of the riders.
This is the final year as the riders and support staff will retire at the conclusion of this sacred journey. In a statement from the Dakota 38+2 Wokiksuye Ride, "The decision to end the ride under this staff came through long periods of prayer and understanding that the sacrifice of the riders and the horse nation has been accepted."
For the last nine years, the SMSU and Marshall community have come together to provide meals and lodging for the Dakota 38 +2 Wokiksuye Ride. SMSU hosted the riders and support team for dinner on Tuesday, Dec. 20 and breakfast on Wednesday, Dec. 21. Tuesday's meal was sponsored by Marshall Public Schools MATEC campus and Dr. Jeffrey Bell, dean from Bemidji State University and until 2022, a professor and dean at SMSU. The breakfast was sponsored by SMSU and members of the Marshall community.
Related Articles