Enactus Launches Compost Project
Published Wednesday, January 11, 2023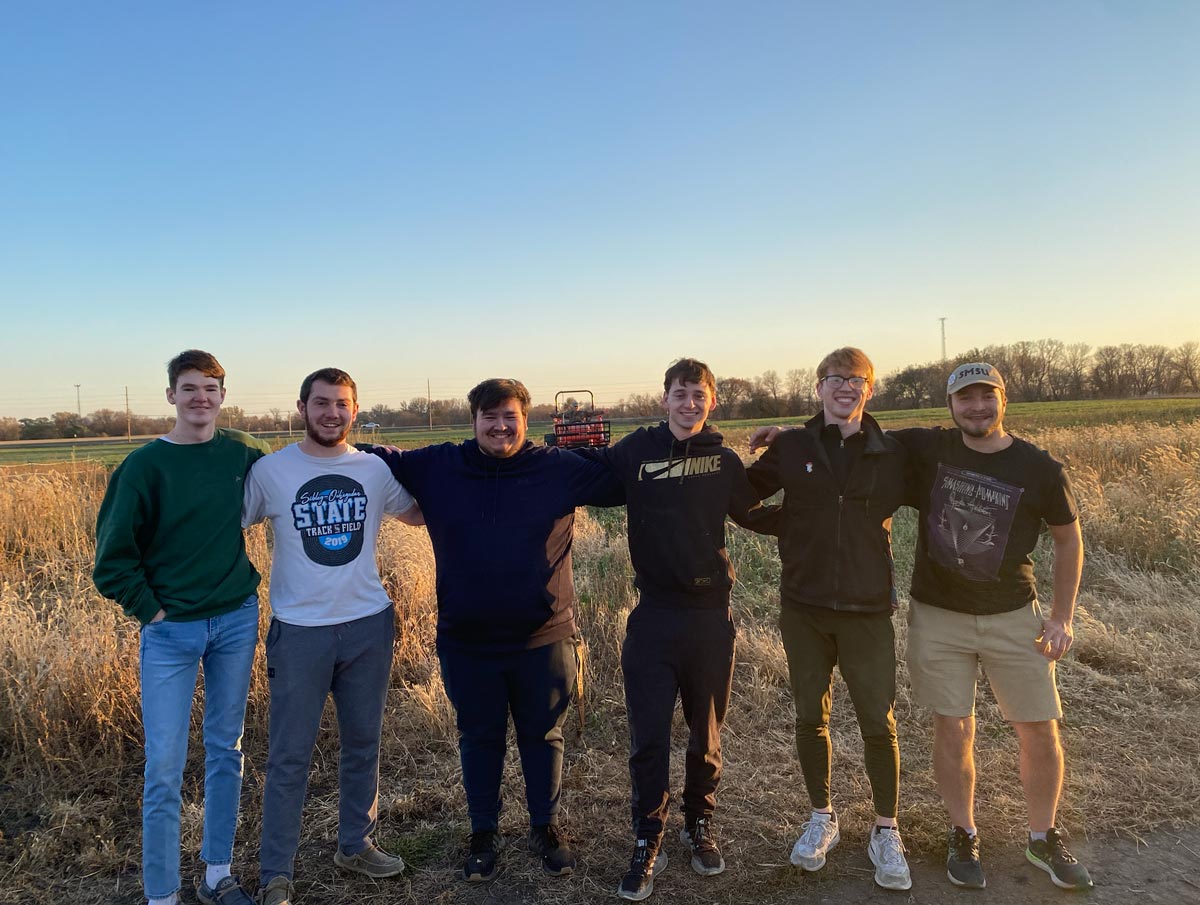 Enactus Compost Project Team
The SMSU Enactus student organization is literally starting a new project from the ground up. The Compost Project is their latest effort, with Sam Lund and Joe Anderson as project leaders.
Composting is a process that converts organic materials into nutrient-rich mulch through natural decomposition. The decayed waste enriches soil which can be used for a variety of soil-based applications. Examples of compost use may include growing produce, landscaping, or farming. 
"Our idea was to be able to repurpose food waste. We've seen a lot of it—just from our own experiences around campus and in the town," said Anderson.
The Compost Project takes leftover food waste and transports it to a compost site outside Marshall. Initially, compost will be taken and used to enrich the soil used for the growing of produce for Enactus' Mindful Meals initiative. "In the last phase of the project, we hope to be selling it [compost] at local farmer's markets," said Anderson.
"It's cool to see the projects being able to benefit each other," said Lund. This idea was one from previous years. The faculty advisor, Dr. George Taylor, approached Lund and Anderson about leading it. "We all saw this as a great opportunity to get involved and make a difference."
The impact of the compost project is focused on food waste and sustainability. "We see items being thrown away because they've been out too long in the dining hall. We felt it's about time we do something about it," said Anderson.
A key goal of Enactus is to develop initiatives that can scale to become independent entities that make a positive impact in the communities they serve. "The team hopes to continue the growth and awareness of this project and food waste. The future of this project goes beyond the compost we produce- it comes full circle back to the food we consume," said Lund.
Story by Annika Freiburger, Communications and Marketing Office Graduate Assistant
Related Articles