2023 MLK Humanitarian Award Recipients
Published Monday, January 16, 2023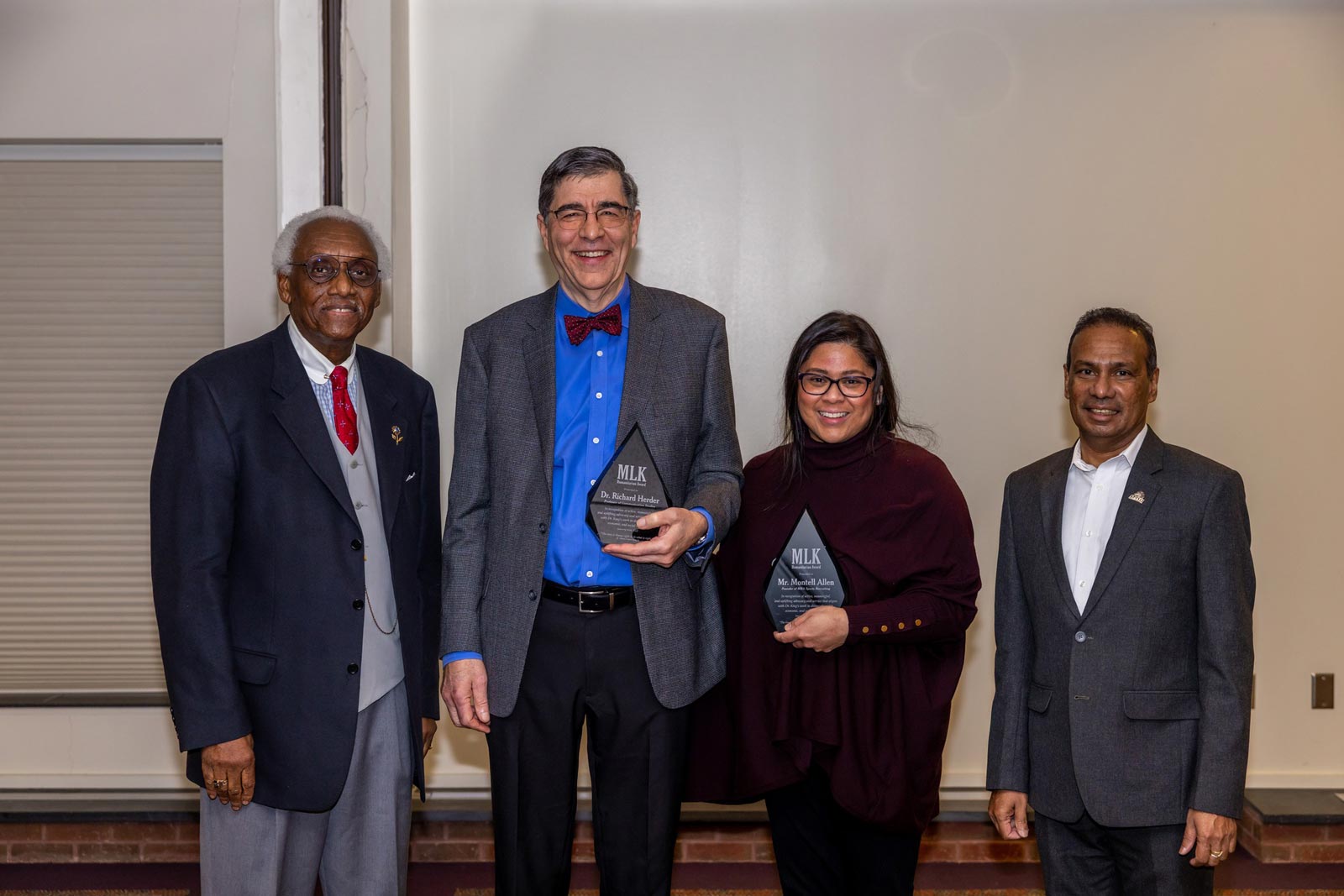 Dr. Leslie McLemore, Dr. Rick Herder, Jasmine Allen, and President Kumara Jayasuriya
The SMSU Office of Diversity and Inclusion presented two individuals with this year's Martin Luther King, Jr. Humanitarian Award at the annual MLK Day of Service program on Monday, Jan. 16, 2023.
This year's recipients included Dr. Rick Herder, professor of communications studies at SMSU, and Mr. Montell Allen, founder of MBA Sports.
Dr. Rick Herder grew up near Brainerd in Central Minnesota where he first learned about the importance of anti-racism work from his mother, Jewel. He worked as a high school Language Arts teacher and speech and debate coach for more than twenty years in Minnesota and Florida before accepting a faculty position in the Communication Studies Program at SMSU in 2010. He is the recipient of four teaching awards from his time as a high school Language Arts teacher. He earned a Bachelor of Science in English Education from Bemidji State University, a Master of Arts in Communication Studies from the University of Miami, and a PhD in Public Communication with an emphasis in Rhetoric from Georgia State University. He wrote a dissertation on corporate protest rhetoric that included a case study of the anti-slavery work of the Florida-based Coalition of Immokalee Workers (CIW). He has published journal articles and book chapters and given several academic presentations on the work of the CIW. He taught a 400-level Special Issues Seminar course on Human Trafficking for three years at SMSU. He is the lead author of a book on the CIW and the fight against slavery in global supply chains to be published by Routledge academic publishers in 2024. He taught a series of courses in the SMSU AOS Summer Bridge program for ten years. For most of that time, he also taught the Communication 110 course for students in the AOS Scholars and Mustang Pathway programs. He has also been actively involved in several civic and human rights organizations in the Marshall community including Marshall Area Peace Seekers. Rick will retire from SMSU at the end of the spring semester. He and his wife Marsha are planning to move to Chattanooga, Tennessee to be closer to their three children and their spouses, and their nine grandchildren.
Montell Allen is the founder of MBA Sports, an independent institution dedicated to providing support for minority and underprivileged student-athletes in their efforts to pursue college aspirations. The goal is to bridge the gap for these student-athletes to help them achieve a college education using sports as the hybrid platform. MBA Sports provides young students and student-athletes with a service that will allow them to maximize their ambition, grow their self-esteem, identify a path to play their sport in college, and ultimately, achieve their educational goals. MBA Sports' goal is to help young men and women get through the process and achieve a higher level of education. Montell's wife, Jasmine, accepted the award on his behalf.
This marks the third year the Office of Diversity and Inclusion has presented the MLK Humanitarian Award. Previous recipients include Dr. Jeff Kolnick, professor of history, in 2021 and Jefferson Lee IV, director of the Office of Diversity and Inclusions in 2022.  Lee was not involved in the selection process or voting that year. The nomination process begins with the MLK Planning Committee, and the final selection is made by the directors of ODI and AOS. The selection is voted on by the committee.
The MLK Day of Service Program also featured keynote speaker Dr. Leslie McLemore and singer Kimberly Brown. For more information on the MLK Humanitarian Award and the annual MLK Day of Service, contact the Office of Diversity and Inclusion.
Related Articles