SMSU Announces Fall 2022 Dean's List
Published Thursday, February 02, 2023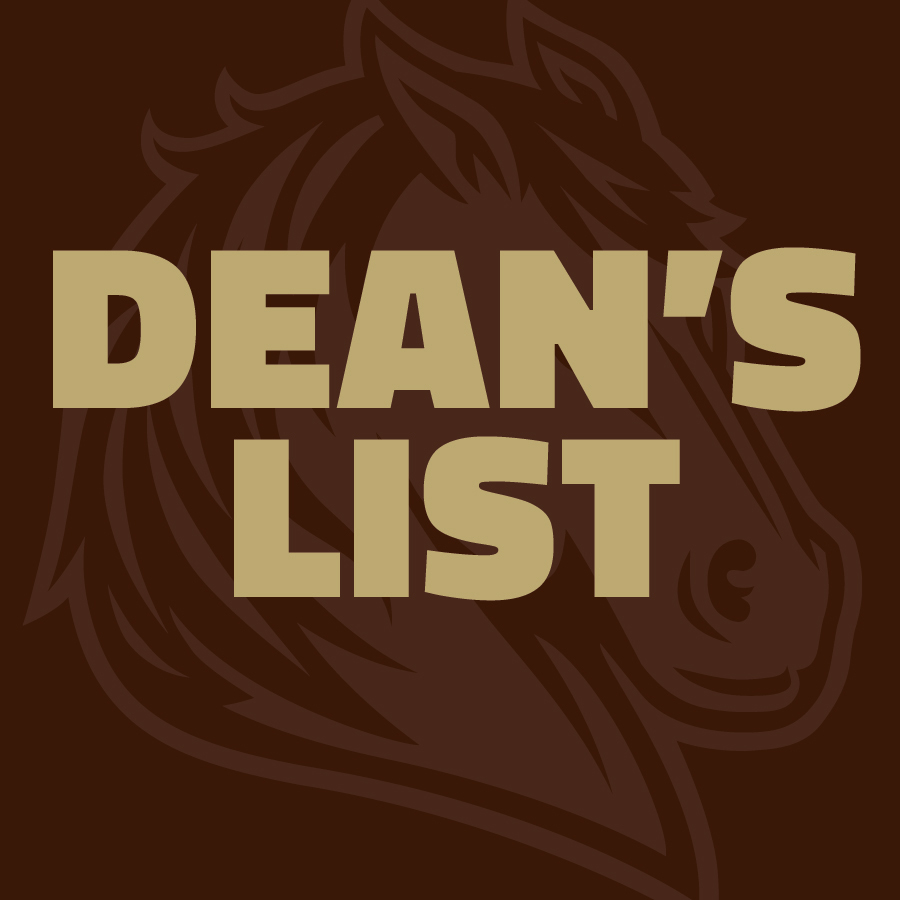 SMSU Dean's List, Fall 2022
Southwest Minnesota State University announces the students recognized for academic achievement during the Fall 2022 semester.
An undergraduate student who completes 12 or more A-F graded credits and achieves a grade point average of 3.5 or higher will be considered for the Honors Dean's List. If a 4.0 grade point average is achieved the student will be on the High Honors Dean's List.
Following are the "High Honors" and "Honors" lists.
HIGH HONORS
MINNESOTA
Aitkin MN: Breena Burgstaler
Albany MN: Isaac Nett
Alexandria MN: Heather Brewster
Andover MN: Elkanah Osiemo
Annandale MN: Katelyn Lancaster
Apple Valley MN: Mikayla Walters
Arlington MN: Alivia Strack
Atwater MN: Troy Nelson
Austin MN: Megan Schleicher
Balaton MN: Sabrina Condelli
Battle Lake MN: Tessa Kortlever
Bertha MN: Gail Kyar
Big Lake MN: Lauren Jones
Big Lake MN: Melissa Peterson
Blooming Prairie MN: Allison Krohnberg
Brainerd MN: Avery Anakkala
Brewster MN: Taylor Haberman
Brooklyn Park MN: Nchane Egbe
Brownton MN: Melanie Lindeman
Buffalo MN: Bronwyn Jackola
Calumet MN: Krista Steele
Ceylon MN: Vanessa Munich
Chaska MN: Nicole Steele
Clara City MN: LaTia Swoyer
Cleveland MN: Briana Stoltzman
Coon Rapids MN: Danette Moos
Cottonwood MN: Jamie Timmerman
Dayton MN: Ashley Malecha
Dexter MN: Benjamin Kraft
Duluth MN: Elizabeth Richardson
Eagan MN: Kyra Kusnierek
Eden Prairie MN: Whitney Weyer
Edgerton MN: Paityn Berghorst
Ellendale MN: Madison Gehloff
Elysian MN: Kaitlyn Schroer
Faribault MN: Krystal Hanson
Farmington MN: Courtney Beranek
Farmington MN: Ava Bitterman
Farmington MN: Michaela Leko
Fulda MN: Susan Collin
Fulda MN: Logan Erdmann
Glencoe MN: Austin Simons
Glencoe MN: Jordan Wildey
Glenwood MN: Jessica Stai
Green Isle MN: Teresa Ehrich
Grove City MN: Savannah Stafford
Hancock MN: Alexis Staples
Hayward MN: Eric Maier
Hugo MN: Zoie Centers
Hutchinson MN: Tyler Grutt
Hutchinson MN: Kylie Huls
Hutchinson MN: Ashley Olson
Hutchinson MN: Audrey Seifert
Ivanhoe MN: Alyssa Engels
Ivanhoe MN: Jeren Rost
Jasper MN: Elsie O'Neil
Kandiyohi MN: Halle Egge
Kimball MN: Luci Schiefelbein
Lake City MN: Michelle Seydel
Lake Lillian MN: Meghan McClain
Lake Wilson MN: Elle Lupkes
Lakefield MN: Olivia Blaskey
Lamberton MN: Karli Arkell
Lamberton MN: Noah Pankonin
Little Canada MN: Kevin Oyaro
Luverne MN: Morgan Stratton
Madelia MN: Dora Facundo
Magnolia MN: Meagan Hansen
Mankato MN: Allysa Bruns
Mankato MN: Dunwa Omot
Maple Grove MN: Kara Groff
Marshall MN: Nankling Andrew
Marshall MN: Anthony Costello
Marshall MN: Rebecca Friskey
Marshall MN: Leilt Gebremedhin
Marshall MN: Abygail Goldtrap
Marshall MN: Aron Haileyesus
Marshall MN: Georgia Rabaey
Marshall MN: Addison Schroeder
Marshall MN: Brenna Springborg
Marshall MN: Tiffany Vannostrand
Marshall MN: Landon Wherry
Marshall MN: Stephen Zimmer
Milroy MN: Lesly Her
Milroy MN: Carl Swedzinski
Minneapolis MN: Lindsey Gekonge
Minneota MN: Natalee Rolbiecki
Minneota MN: McKenzie Tolk
New London MN: Ian Schmidt
New Ulm MN: Ethan Kirchberg
New Ulm MN: Lillian Lewandowski
North Mankato MN: Alyssa Enevold
Northfield MN: Sydney Noel
Norwood Young Am MN: Kaylee Kemnitz
Oak Grove MN: Nadia Sanford
Oak Park MN: Christopher Bemis
Olivia MN: Paige Plumley
Owatonna MN: Maria Versteeg
Parkers Prairie MN: Laura Westad
Pipestone MN: Paige Ahrendt
Plattsmouth NE: Hunter Smith
Plymouth MN: TJ Tjeerdsma
Redwood Falls MN: Jenna Vick
Richfield MN: Andrew Scheiber
Richmond MN: Megan Laughlin
Rochester MN: Krista Laughlin
Rochester MN: Karen Mulvihill-Petri
Rochester MN: Lily Snow
Roseville MN: Hamdi Abdihoosh
Roseville MN: Regina Ongaro
Rushmore MN: Jackie Rondoni
Ruthton MN: Emily Vos
Saint Michael MN: Audrey Hoffman
Sartell MN: Sara Yarand
Sauk Centre MN: Marie Bromenshenkel
Sleepy Eye MN: Cassidy Hoffmann
Sleepy Eye MN: Mason Sellner
South Saint Paul MN: Rachel Steffen
Starbuck MN: Amanda Wevley
Taylors Falls MN: Ashley Peltier
Tyler MN: Emily Kern
Vesta MN: Jamison Rohlik
Waconia MN: Aaron Flieth
Waconia MN: Samantha Gerdowsky
Waconia MN: Ella Swanson
Welcome MN: Samantha Hecht
Willmar MN: Hailey Eischens
Willmar MN: Kaylee Nelson
Windom MN: Amy Joyce
Woodbury MN: Carrie Garcia
Worthington MN: Alec Langerud
Worthington MN: Dalen Shultz
Zumbrota MN: Tyler Soltau
ARIZONA
Yuma AZ: Adrian Tolbert
ILLINOIS
New Lenox IL: Catherine Ihrke
IOWA
Alta IA: Maria Kueny
State Center IA: Hunter Pfantz
FLORIDA
Alva FL: Kyle Ouverson
MARYLAND
Savage MD: Camryn Eberline
NEBRASKA
Thurston NE: Jessica Krueger
NEW YORK
Tonawanda NY: Francesca Coniglio
SOUTH DAKOTA
Brandon SD: Olivia Mullin
Canton SD: Kelsey Jansen
De Smet SD: Kennadi Buchholz
Flandreau SD: Hannah Parsley
Pierre SD: Margot Pearson
Sioux Falls SD: Morgan Hughes
Sioux Falls SD: Anna Johnson
Sioux Falls SD: Abby Meister
Sioux Falls SD: Katelynn Urness
TEXAS
El Paso TX: Kira Berglund
UTAH
Kamas UT: Bradley Gould
WISCONSIN
Chippewa Falls WI: Ash Henrichs
Ellsworth WI: Ashley Stacey
WYOMING
Cheyenne WY: Heidi Weaver
HONORS
MINNESOTA
Adrian MN: Marisa Lehnhoff
Afton MN: Molly Green
Alexandria MN: Nicole Witt
Alpha MN: Baltimore Clymer
Altura MN: Lafe Aarsvold
Andover MN: Jackson Bates
Andover MN: Mya Mochinski
Ankeny IA: Macie Langstraat
Ashby MN: Hayley Stevens
Aurora MN: Rian Aune
Austin MN: Maisy Bothun
Avon MN: Megan Buttweiler
Balaton MN: Jolene Nelson
Belgrade MN: Claire Eckstein
Belgrade MN: Katelyn Weller
Belview MN: Corey Diekmann
Benson MN: Josie Connelly
Benson MN: Alan Winters
Big Lake MN: Josie Lentz
Bigfork MN: Natalie Haley
Bird Island MN: Cole Visser
Blooming Prairie MN: Matthew Seykora
Bloomington MN: Kevin Bowles
Bloomington MN: Andrew Miller
Boyd MN: Paige Clausen
Brainerd MN: Candace Raske
Brewster MN: Kailee Haberman
Browerville MN: Nye Becker
Browerville MN: Macy Murch
Buffalo Lake MN: Emma Radloff
Buffalo Lake MN: Nicholas Taylor
Butterfield MN: McKenna Steinbrink
Caledonia MN: Jailah Smith
Cambridge MN: Jake Heard
Carlos MN: Krista Justice
Champlin MN: Alex Lotts
Chaska MN: Connor Hogen
Circle Pines MN: Robin Clark
Clarkfield MN: Lucas Hodges
Clarkfield MN: Slade Irvine
Cokato MN: Owen Colline
Columbia Heights MN: Victoria Simon
Comfrey MN: Emma Windschitl
Cottage Grove MN: Alec Ashby
Cottonwood MN: Bailey Herigon
Cottonwood MN: Shelby Lawrence
Cottonwood MN: Brooklyn Sogge
Culver MN: Deekon Anvid
Currie MN: Katelyn Danielson
Danube MN: Leslie Gonzalez
Dawson MN: Vanessa Simpson
Delano MN: Tiara Boisselier
Delano MN: Leanna May
Donnelly MN: Alan Uphoff
Dundee MN: Jace Paplow
Eagle Bend MN: Hailey Mousseau
East Bethel MN: Joslyn Jacobson
East Bethel MN: Grace Kolb
Echo MN: Caleb Boyum
Eden Prairie MN: Elija Kneringer
Elgin MN: Andrea Hynes
Ellsworth MN: McKenna Hinrichs
Ellsworth WI: Logan Benson
Estelline SD: Alyle Hendricks
Excelsior MN: Eudora Bixby
Fairfax MN: Treay Taylor
Fairmont MN: Megan Marushin
Fairmont MN: Samantha Moeller
Faribault MN: Josiah Hedensten
Faribault MN: MacKenzie Klett
Farmington MN: Kaitlyn Weeks
Freeport MN: Meghan Pundsack
Fulda MN: Rebecca Funk
Garvin MN: Jessica Miller
Garvin MN: Sarena Schwartz
Gibbon MN: Kylie Unger
Glencoe MN: Kaylee Lemke
Glenville MN: Kiana Gumbusky
Glenwood MN: Michele Stai
Glenwood MN: Berkley Steffen
Glenwood MN: Maddie Thorfinnson
Grand Rapids MN: Lauren Hidde
Granite Falls MN: Justine Angulo
Granite Falls MN: Taylor Bakkelund
Granite Falls MN: Ean Clarke
Granite Falls MN: Megan Nordaune
Green Isle MN: Alexa Kramer
Green Isle MN: Morgan Kroells
Grimes IA: Jenna Borchers
Hadley MN: Mason Johnson
Hancock MN: Jordan Hausmann
Hancock MN: Valerie Messner
Hardwick MN: Zach Ahrendt
Herman MN: Lillian Olson
Hibbing MN: Alyssa Aho
Hills MN: Michaela Abels
Hills MN: Leeanna Gaugler
Howard Lake MN: Hailey Bogema
Howard Lake MN: Kendra Johnson
Hutchinson MN: Trista Novy
Inver Grove Heights MN: Daniel Hewitt
Ivanhoe MN: Benjamin Engels
Ivanhoe MN: Lacey Popowski
Jackson MN: Samuel Duncan
Janesville MN: Kayla Jordan
Jordan MN: Sam Burke
Kenneth MN: Sarah Lenz
Kiester MN: Hannah Meyer
Kimball MN: Madi Leyendecker
La Crescent MN: Celia Rose
Lake Benton MN: Jacqueline Gossen
Lake Lillian MN: Selestia Nissen
Lakeville MN: Kate Battaforyen
Lakeville MN: John Ziemkowski
Laporte MN: Zachary Stute
Litchfield MN: Zachery Hornburg
Litchfield MN: Halle Jansen
Litchfield MN: Whitney Rick
Little Falls MN: Amber Struchen
Lonsdale MN: Sydney Walters
Luverne MN: Caitria Bjorkman
Luverne MN: Rozilyn Oye
Lynd MN: Jim Radloff
Madelia MN: Jennifer Aguilar
Madelia MN: Melissa Roe
Madison Lake MN: Lindsey Schmitt
Mankato MN: Luke Hennis
Maple Lake MN: Caleb Beneke
Maple Lake MN: Jordyn Demarais
Maple Lake MN: Isaac Greenhagen
Maple Lake MN: Olivia Paumen
Maple Lake MN: Isaac Wagner
Mapleton MN: Saari Kuehl
Mapleton MN: Elyse Maxwell
Marshall MN: Jonathan Alvarez
Marshall MN: Avery Anderson
Marshall MN: Henok Wossen Asfaw
Marshall MN: Jennifer Beek
Marshall MN: Rebecca Brown
Marshall MN: Gabriel Camargo
Marshall MN: Alex Castor
Marshall MN: Richard Chong
Marshall MN: Ifrah Dahir
Marshall MN: Eliette Dembele
Marshall MN: Noah Dunn
Marshall MN: Samuel Fischer
Marshall MN: Brooklyn Gossen
Marshall MN: Dana Groebner
Marshall MN: Melka Hailu
Marshall MN: Nathnael Herpa
Marshall MN: Katherine Holcomb
Marshall MN: Jizreel Jeudy
Marshall MN: Jessica Kruk
Marshall MN: Jordyn Lanoye-Guerrero
Marshall MN: Samuel Lund
Marshall MN: Selihom Mengesha
Marshall MN: Zain Mian
Marshall MN: Natalia Mila Florez
Marshall MN: Naseem Mohammed
Marshall MN: Seth Morgan
Marshall MN: Bria Morris
marshall MN: Moses Mugugu
Marshall MN: Ali Muhammad Nathani
Marshall MN: Jenna Nemeth
Marshall MN: Jonah Nielsen
Marshall MN: Martin Olsen
Marshall MN: Abdullahi Omar
Marshall MN: Vrusha Patel
Marshall MN: Cesar Portillo Rachadell
Marshall MN: Franklin Roa Guerrero
Marshall MN: Hamlet Santana Cruz
Marshall MN: Nolan Schultz
Marshall MN: Lay Shell
Marshall MN: Tessa Steinkraus
Marshall MN: Sena Tadesse
Marshall MN: Abenezer Tefera
Marshall MN: Ashley Wall
Marshall MN: Christopher Wersal
Marshall MN: Jenna Zeug
Maynard MN: Kara Baker
Maynard MN: Samantha Halvorson
Milroy MN: John Schmitt
Minneota MN: Braeden Panka
Minneota MN: Cale Sorensen
Minneota MN: Lydia Sussner
Montevideo MN: Lexi Dietz
Montevideo MN: Sarrah Haynes
Montevideo MN: Danielle Hiepler
Montevideo MN: RJ Hogrefe
Montevideo MN: Brooklyn Nelson
Montevideo MN: Kassey Pauling
Nashwauk MN: Jamie Drewlow
Nashwauk MN: Daniel Olson
New London MN: Ashley Grimsley
New Prague MN: Ellie Hintgen
New Prague MN: Sami Theis
New Prague MN: Sarah Westphal
New Ulm MN: Sean Howk
New Ulm MN: Jonathan Zinniel
Nicollet MN: Emily Lorentz
North Mankato MN: Destiny Owens
Northfield MN: Jillian Noel
Northfield MN: Madison Warner
Oak Grove MN: Courtney Medenwaldt
Olivia MN: Ella Mages
Olivia MN: Tristan Scharlemann
Ortonville MN: Ashton Ayres
Osakis MN: Averie Mounsdon
Otsego MN: Riley Anderson
Otsego MN: Emma VanHeel
Owatonna MN: Maggie Biegert
Owatonna MN: Machayla Millhouse
Paynesville MN: Taylor Haines
Paynesville MN: Amanda Meyer
Paynesville MN: Shelby Ruhoff
Pennock MN: Gavin Rohner Erickson
Pipestone MN: Brianna Chatterton
Plainview MN: Carter Marx
Plymouth MN: Noah Karschnik
Prior Lake MN: Sarah McDonald
Randolph MN: Morgyn Otte
Red Wing MN: Abby Boxrud
Redwood Falls MN: Jahger Bill
Redwood Falls MN: Luke Hammerschmidt
Redwood Falls MN: Sara Heiderscheidt
Redwood Falls MN: Gina Huhnerkoch
Redwood Falls MN: Isaac Louwagie
Redwood Falls MN: Nolan Menz
Redwood Falls MN: Dylan Raddatz
Redwood Falls MN: Levi Stoneberg
Redwood Falls MN: Hannah Sturgeon
Rice MN: Mason Lund
Rochester MN: Iasiah Cernohous
Rochester MN: Rachel Fink
Rochester MN: Arath Martinez
Rochester MN: Renae Moger
Rochester MN: Acacia Ward
Rockford MN: Jonathan Strumbel
Rogers MN: Morgan Palmer
Rose Creek MN: Brianna Klouse
Rosemount MN: TJ Edminson
Roseville MN: Haley Blasiak
Roseville MN: Agwa Watba
Royalton MN: Kaylee Rudolph
Rushmore MN: Aaron Rojas
Rushmore MN: Tyler Wolford
Saint Cloud MN: Amy King
Saint Francis MN: Matthew Dullnig
Saint James MN: Korryn Karau
Saint Peter MN: Sarah Conlon
Saint Peter MN: Hannah Marcus
Sanborn MN: Mandy Morin
Sauk Centre MN: Drew Middendorf
Sauk Centre MN: Sarah Schrantz
Sauk Rapids MN: Ellie Fleming
Savage MN: Dana Stephensen
Shakopee MN: Devyn Cote
Shakopee MN: Jessica Jacobson
Sherburn MN: Leah Amborn
Slayton MN: Emma Johnson
Slayton MN: Emily Rohrer
Sleepy Eye MN: Kyle Goblirsch
Sleepy Eye MN: Mackenzie Helget
South Lyon MI: Meghan Raisanen
Springfield MN: Anna Reiner
St. James MN: Sebastian Flores
St. James MN: Daniel Olson
St. Michael MN: Nick Polfliet
Stanchfield MN: Daniel Huesman
Stewart MN: Emily Burns
Stillwater MN: Kahlan Gergen
Storden MN: Shane Rogers
Taunton MN: Tara Sterzinger
Tracy MN: Hailey Caron
Tracy MN: Ian Her
Tracy MN: Lindsey Horner
Tracy MN: Trayton Radke
Tracy MN: Jacob Tauer
Twin Valley MN: Courtney Stueness
Vesta MN: Jayden Goblish
Vesta MN: Morgan Swedzinski
Victoria MN: Elora Olson
Waconia MN: Max Kalenberg
Walnut Grove MN: Brittany Andree
Walnut Grove MN: Samuel Kleven
Walnut Grove MN: Houa Yang
Waseca MN: Justin Sampson
Watertown MN: Lydia Meyer
Wells MN: Brady Berg
Westbrook MN: Hannah Colbert
Westbrook MN: Alyster Schmidt
Westbrook MN: Halle Steen
White Bear Lake MN: Madeleine McCollough
Willmar MN: Yesenia Gomez Ciriaco
Willmar MN: Chelsie Laue
Willmar MN: Laura Nagel
Willmar MN: Anthony Reyes Jimenez
Willmar MN: Savannah Walz
Wilmont MN: Macy Joens
Wood Lake MN: Kiana Imes
Woodbury MN: Quincie Klein
Woodbury MN: Emily Nalipinski
Worthington MN: TahSoGhay Collah
Worthington MN: Makayla Ebbers
Worthington MN: Presley Eggers
Zumbro Falls MN: Thomas Mergen
Zumbrota MN: Matthew Maloney
ARIZONA
Surprise AZ: Izzy Blanco
CALIFORNIA
Brea CA: Shealyn Tom
La Quinta CA: Colin Maher
Visalia CA: Omar Abouel Maaty
COLORADO
Commerce City CO: Madison Foutz
FLORIDA
Fort Myers FL: Brian Raphael
Lehigh Acres FL: Renald Pierre
Palm Harbor FL: MacKenzie Kallevig
IDAHO
Rexburg ID: Rachel Hicks
ILLINOIS
Plainfield IL: Nicholas Cosentino
Rock Island IL: Livy Sholl
INDIANA
Petersburg IN: Natalie Bohnert
IOWA
Cherokee IA: Mason Carver
Delhi IA: Samantha Wall
Hartley IA: Jackson Byers
Haverhill IA: Loran Nicholson
Janesville IA: Alisa Bengen
Nevada IA: Tessa Borwick
KANSAS
Olathe KS: Brooke Wetterstrom
Olathe KS: Kirsten Wetterstrom
MICHIGAN
Canadian Lakes MI: Alayna Squires
NEBRASKA
Ames NE: Logan Booth
Lincoln NE: Ella Culhane
Lincoln NE: Karli Symonsbergen
Norfolk NE: Makenna Waldow
Plattsmouth NE: Katherine Oatman
NEVADA
Pahrump NV: Chase McDaniel
NEW MEXICO
Albuquerque NM: Courtenay Leonard
NORTH CAROLINA
Newport NC: Abbey Agra
NORTH DAKOTA
Fargo ND: Jessie Haman
SOUTH DAKOTA
Brandon SD: Kylie Birath
Brandon SD: Grace Heiberger
Brandon SD: Brock Van Oort
Brandon SD: Emily Van Roekel
Chester SD: Jada Becker
Dell Rapids SD: Tori Lodmell
Harrisburg SD: Shandon Boe
Harrisburg SD: Cassy Herding
Huron SD: Killian Malley
Rapid City SD: Jamie Snyder
Rapid City SD: Hayleigh Young
Sherman SD: Mataya Trower
Sioux Falls SD: Brooklyn Kusler
Summerset SD: Kylee Bennett
Tea SD: Cameron Jensen
Vermillion SD: Alisha Leber
Watertown SD: Jerod Cyrus
Watertown SD: Braeden Kluver
Watertown SD: Kennedy Kucera
Watertown SD: Jaiden Maag
Watertown SD: Ashley Renner
Watertown SD: Hannah Walburg
TEXAS
League City TX: Nathaniel Morrow
San Antonio TX: Abby Arnwine
UTAH
Lehi UT: Ciarra Valdez
WISCONSIN
Chippewa Falls WI: Haley Mason
Depere WI: Andrew Pelishek
Hayward WI: Sierra Clifford
Hudson WI: Briana Thill
Kewaunee WI: Kaaryna Smidel
Superior WI: Kaelyn DeRoche
OTHER LOCATIONS/Marshall MN
Bamlak Assaye
Josh Brown
Frederick Fermin Guzman
Abenezer Hailu
Shu Hsuan Lin
Vidhi Patel
Related Articles