Forensics Team Places 2nd, Zeug Takes 1st in Informative Speaking
Published Wednesday, March 15, 2023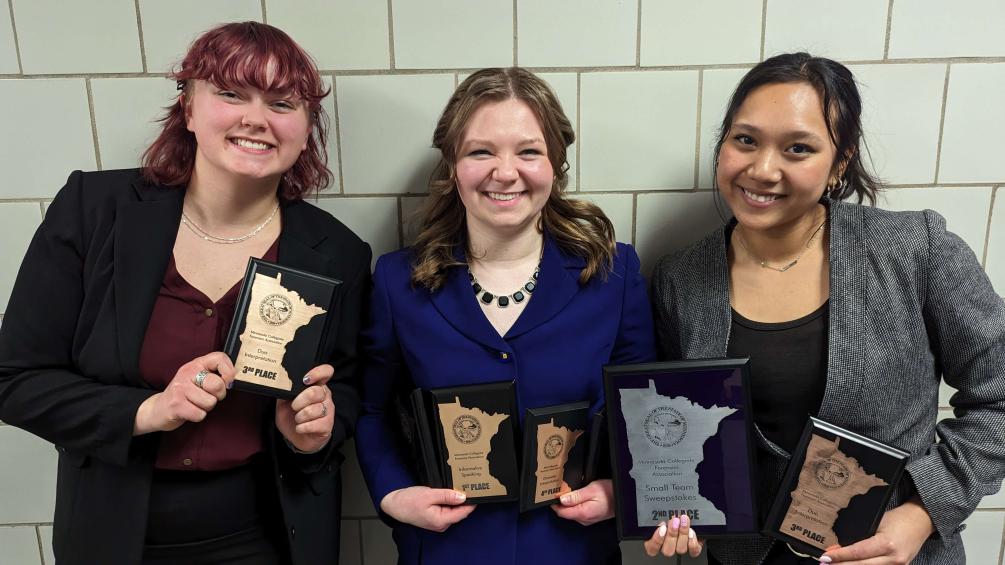 From left: Lexi Weber, Jenna Zeug, Nedoh Gyi
The SMSU Forensics (Speech) Team traveled to Mankato, Minn. for the annual Minnesota State Speech and Debate championship in late February. The students from SMSU earned 2nd place in the limited entry team sweepstakes. 
Jenna Zeug, a senior from Marshall, led the way, placing 4th in After Dinner Speaking, 4th in Dramatic Interpretation, and was the Minnesota State Champion in Informative Speaking. Nedoh Gyi, a sophomore from Worthington, and Lexi Weber, a freshman from Sanborn, also were finalists, taking 3rd in Duo Interpretation.
Zeug was also named to the Minnesota All-State Team, an honor given to students with demonstrated excellence in competition, scholarship, leadership, and service. 
"This has been a fun group of students," SMSU Director of Forensics Ben Walker said. "They have worked hard and speak from their hearts. It was amazing to see Jenna get the recognition she deserves. She has been a fantastic leader for us. We will miss her when she graduates this year." 
The Forensics Team wraps up their regular season competition and will be competing at the Asynchronous Speech Championship, March 22-25 and at the National Forensic Association Championship, April 13-17 at Bradley University in Peoria, Ill.
Related Articles