2023 Cowan Award Recipient: Sheila Tabaka
Published Monday, April 17, 2023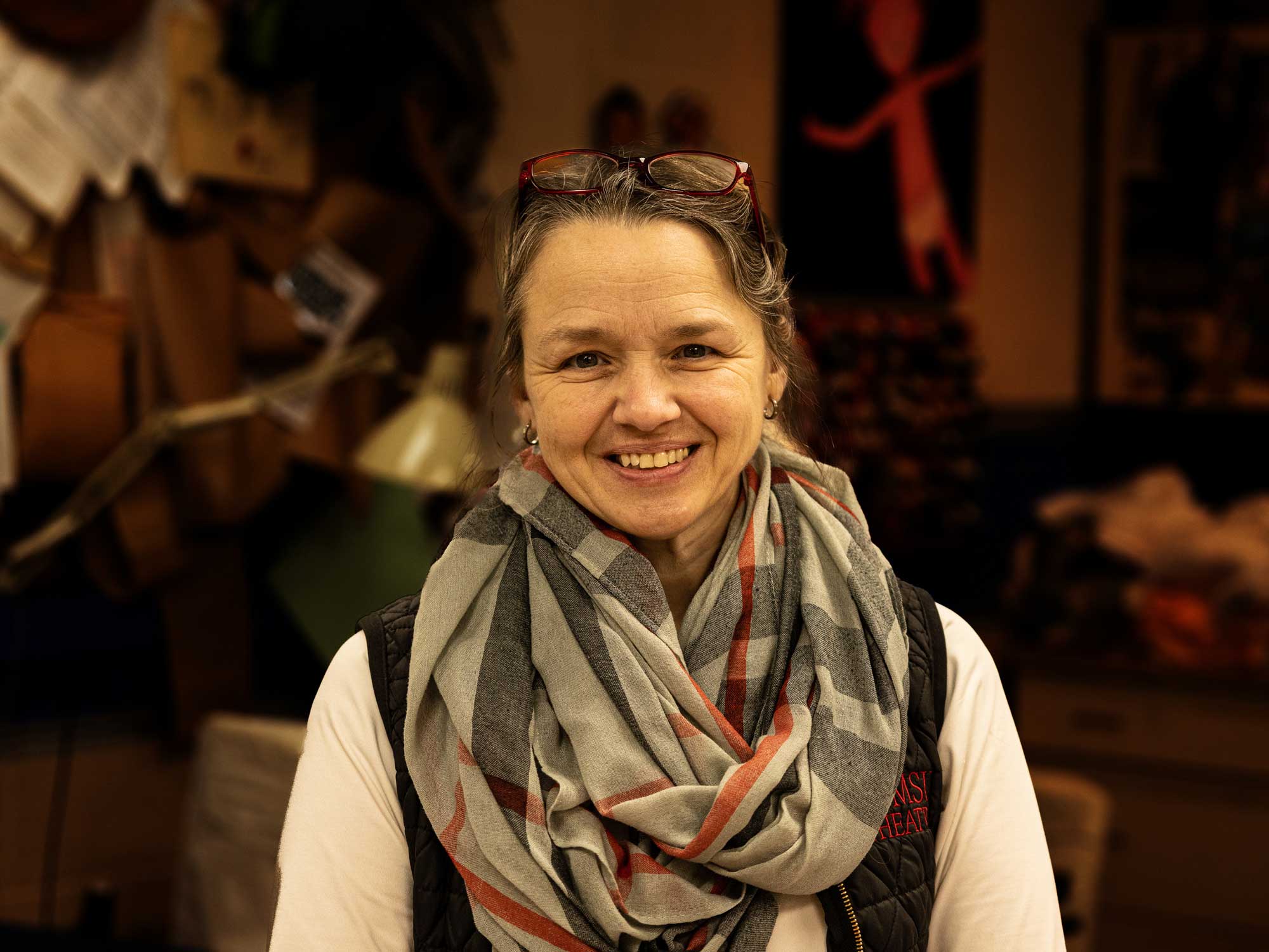 Professor Sheila Tabaka
When it comes to professors' impact on students, it's not a single moment with one student, but the cumulative effect that one person can have on hundreds of students as they go about their work.
Among those quietly and steadily doing good for others is Professor Sheila Tabaka, the 2023 recipient of the Cathy Cowan Award.
Recipients of the Cowan Award are selected for their service to SMSU, Marshall, and the region. The award is presented to a faculty or staff member and is the most prestigious annual award given at Southwest Minnesota State University. It is named for the late Cathy Cowan, a Psychology professor who died in an auto accident in December 2001. Cowan's example of service to SMSU students and the community was the inspiration for the award. A big criterion is 'doing good for others.'
Tabaka is in her 25th year at SMSU, starting in her role in 1998. She's a professor in the Theatre Program and the costumer for all the SMSU theatre productions.
Tabaka grew up in Merrill, Wisconsin, a small town not much different from Marshall. She attended UW-Marathon County Center, a two-year school that was part of the University of Wisconsin system but is no longer open. She transferred to UW-Stevens Point to enroll in the Bachelor of Arts program in theatre. She began the Master of Arts program at Southwest Texas State University for one semester, but the area didn't click for her. She went on to earn an MFA from Minnesota State University—Mankato.
Tabaka started her path in theatre while at the UW-Marathon campus. She had done mostly acting but liked the idea of directing too. The school did a production of two one-act plays that are presented together. They didn't have a costumer, so she was asked to do the costumes. At the time she didn't know how costumes and clothing went together, but she learned a lot. By the time she went to graduate school, she was working with classmates in the costume shop.
"Esther Iverson was the shop manager there and she was just a godsend. She was so patient with all of us, and she really knew how to work both with eager beginners and reluctant learners," said Tabaka. "I loved being part of the creative process and, in grad school, we did so many shows, which isn't great for actors, but for designers and technicians you had to learn to work fast and think on your feet. So, coming to SMSU where I'm the one, I'm the costumer, I knew, 'I totally got this.'"
Tabaka recalls the first production she worked on at Southwest was Arsenic and Old Lace.  A great show for jumping into her new role as costumer. She recalled some other fun productions from the costuming side including Sense and Sensibility, The Heiress, and Pinkalicious.
"Coming here in 1998, I was able to work with Ray Oster and Bill Hezlep. They were both incredible. Ray was a hoot, and Bill had a way of nurturing actors with that old-school tough love," said Tabaka. "And then he would get these amazing performances out of these students. He saw their potential. He knew they could to better and pushed them to achieve it."
Tabaka appreciates that she can have interactions with so many students from the intro to theatre students who are learning to sew buttons for the first time, to students who come in looking for a suit from the Professional Dress Closet that Tabaka launched with Career Services and Forensics to make available to students who need clothes for job interviews and speech competitions. She sees the transformation that students undergo, the confidence and pride they find in themselves.
"I know how it feels to send your kids off to college hoping that someone is taking care of them," Tabaka said. "These parents gave their child to us, to take care of, in all the things, right? We're supposed to feed them. We're supposed to teach them. We're supposed to care for them and nurture them so they can leave here and be successful adults. It's a big responsibility, but it's also a big honor."
Tabaka is always amazed when former students, even students who took one class, tell her about something she did that made a difference, something as simple as asking if they were okay.
"You realize that the little things can make a big difference."
Adding to the honor of the award, Tabaka reflected on her early years at SMSU, when Cathy Cowan invited her, her husband, and their baby to a gathering of faculty friends at her home. Cowan was warm and welcoming, 110-percent in all things. Tabaka remembered that Cathy didn't do anything halfway.
"She didn't yell at you halfway and she didn't hug you halfway," she said, and that left an impression on Tabaka as a young faculty member.
"I am so humbled by this award," she continued. "I don't really know what to say because I feel like I didn't do anything special. So many people I feel are more deserving, and I'm just doing my job. I feel so lucky and blessed to be able to do it."
Tabaka is involved across campus and the community serving on boards, teaching workshops, volunteering at church and various non-profit groups, and leading the SMSU Children's Theatre Workshop every summer. She has also held leadership positions in Region 5 of the Kennedy Center American College Theatre Festival (KCACTF). She regularly gives presentations on historical fashion and other topics.
"Her service to the university and the community over the last twenty-five years has been exemplary and a model for us all," said a colleague in just one of the nomination letters.
Tabaka and her husband, Jim — an adjunct music instructor at SMSU — are the parents of five children: Eukariah, Sally, Margaret, Lillian, and Jedidiah.
Related Articles