SMSU DECA Places Second at Nationals
Published Tuesday, April 25, 2023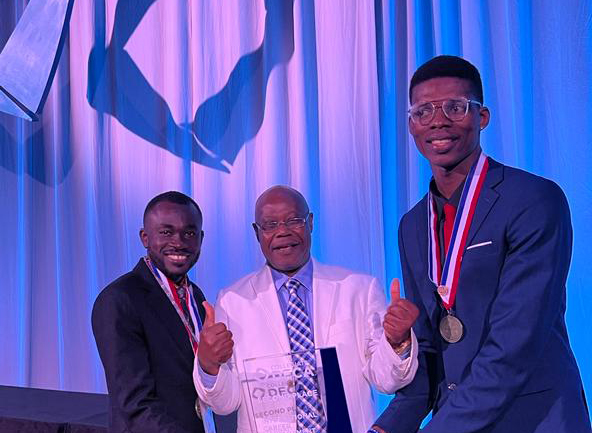 Yeboah, Chukwuba, and Emmanuel at DECA ICDC
SMSU students Ebuka Emmanuel and Isaac Yeboah took home second-place honors in the Emerging Technology Marketing Strategies competition at the Collegiate Distributive Education Clubs of America (DECA) International Career Development Conference (ICDC) in Orlando, Florida on April 15-19, 2023.
Emmanuel is from Nigeria and Yeboah is from Ghana. Both are students in the Master of Business Administration (MBA) program at SMSU. They took first place at the state level to earn the opportunity to compete at the national level. They made it to the finals having outperformed 21 teams from different universities and colleges.
"It was very nice to network and meet people from different universities," said Emmanuel. "It was my first international career development conference."
"This was a good experience to make SMSU proud," said Yeboah. "We hope to represent SMSU DECA at the conference and take first place next year."
DECA is an international association of high school and college students and teachers of marketing, management, and entrepreneurship in business, finance, hospitality, and marketing sales and service. The organization prepares leaders and entrepreneurs for careers and education in marketing, finance, hospitality, management, and other business areas. It is one of ten organizations listed as Career and Technical Student Organizations by the United States Department of Education.
Dr. Kenneth Chukwuba, an Associate Professor of Management and Director of the MBA program, is the SMSU DECA Collegiate Chapter advisor.
Related Articles