The Journey to Success is Online for Armando Aguirre
Published Wednesday, July 12, 2023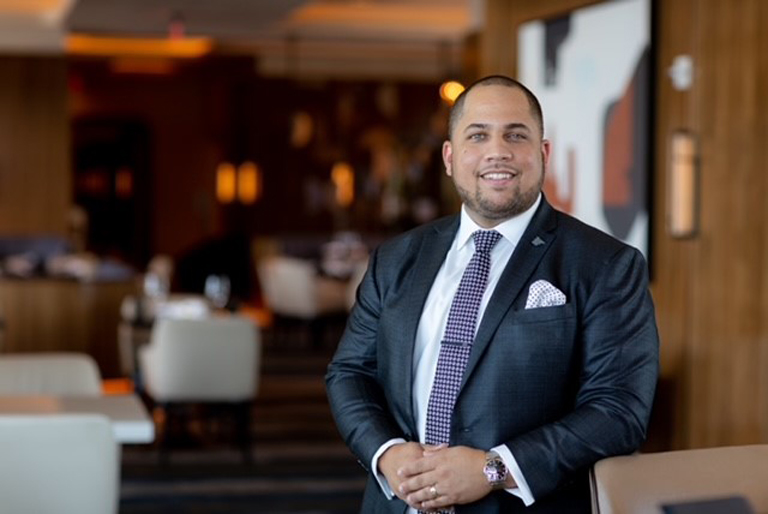 Armando Aguirre, an online student from Florida
Armando Aguirre was born and raised in Miami Beach, Florida. Studying at a university in southwest Minnesota was never on his radar. Yet, after overcoming hurdles and being open to opportunities, he found his way to the online management degree program offered by SMSU.
Aguirre graduated from Miami Beach Senior High in 2005. After high school, he attended Edward Waters University in Jacksonville, Fla. on an athletic scholarship. Family circumstances forced him to leave school after three semesters to care for his brother and sister. He started working in the hotel industry and worked his way to management in the Marriott hotel system. His general manager was moving to the Sheraton in Bloomington, Minnesota, and encouraged Aguirre to join him. He and his wife, Ashley, and their young family found that they were ill-prepared for the climate, so they relocated to Key West, Florida.
Then, the pandemic hit.
The same general manager was now a vice president of operations for a management company in Minnesota that worked with Marriott.
"He said, you can either sit home and wait for this thing to pass or you come back up here and work," said Aguirre. "The second time around we were prepared, and we really fell in love with it."
During his time at Sheraton Bloomington, he attended Inver Hills Community College to complete an associate degree which he completed in May 2022. He moved with his wife and kids to Nashville before making the return to Florida where he now works with a private country club.
"I'm an executive here. It's a great community and I really enjoy what I do," he said. "It's still hospitality and business-oriented but, with a country club, people live here so my work is about catering to the membership."
During his time at Inver Hills, he decided to continue his studies after he learned about the hospitality program at SMSU. As the director of food and beverage at the luxury country club, along with his years of experience in hotels, he already had extensive knowledge of the hospitality industry. He realized the management curriculum was a better fit for him both now and where he wants to move his career in the future.
"Your school has a great rapport out of all the universities in the state system; I would say one of the strongest. It made sense for me to join SMSU, that's how I ended up in the online program," said Aguirre. "Online has been great because of the opportunity to do it on your own time versus following a strict schedule."
"My personal experience has been fantastic because of Lori (Wynia). She has been absolutely amazing. I don't think that I would have the same approach [to online classes] if it wasn't for her," he said. "She's a great mentor and guides me in the right direction," Aguirre explained the best thing about Lori is that she's responsive. If she doesn't have an answer, she finds a way of getting you one.
"I really think she's an amazing asset to the university," Aguirre said.
He also credits Professor Marsha Grimes as a great resource. She helped connect him to a few other students who share his experience, being older and taking online courses. He is also a part of the SUCCESS Program working with Nicole Lewis.
"It's fantastic and so beneficial to know that you can talk to somebody twice a month. They follow up and help you keep things in perspective. Nicole has been a great rock for that. She checks in on me every couple of weeks so that program is fantastic, in my experience."
"And the fact that SMSU has opportunities for minority students, especially students who are also first-generation college students like me," he explained. "SMSU is taking steps in the right direction to give those individuals a platform to lift themselves up."
Another big benefit has been that SMSU doesn't charge out-of-state tuition. The cost per credit makes SMSU an affordable option. The ability to have courses available in the summer was another big draw for Aguirre.
"My goal is to finish strong. To know I've faced hurdles and had to give up that initial scholarship to take care of my family only to see where I stand today and how far I've come. I've got my wife and my kids, my career," said Aguirre. "I am an example of things coming full circle. I had to leave school at 19 and here I am, 17 years later, I'm going to graduate. I want other people to know that if you don't give up, if you have a goal in mind, you stick to it, and you have faith, eventually, with hard work—and it takes work—you'll make that dream happen."
"When you've been through things in life. You realize that life isn't all about you, so you care about people, and you help people. You can find yourself in a position where you're a better person" he said." I'm extremely grateful because adversity just made me have a different approach to life. Without going through some of the challenges that I faced, I don't think I would have appreciated going to school as much as I do now."
"I'm 36, and I'm excited about graduating. I'm excited about being a part of something bigger than myself," he said.
Aguirre gives the most credit to Ashley, his wife of ten years, for supporting his dream and making it possible for him to balance work and school as well as raising their three kids: Arianna (7), Alia (3), and Armando (1).
"My wife has been the best thing. She's my major support system," Aguirre said. "I couldn't do anything of this without her."  
Aguirre is enrolled in 15 credits during the summer and 15 in the fall. He is on track to graduate in December. He plans to start a master's program at a Florida university in January 2024.
Learn more about SMSU's online degree programs: www.SMSU.edu/online and the Scaling Up College Completion Efforts for Student Success (SUCCESS) program: www.smsu.edu/go/successprogram
Related Articles