Film on Late Bill Holm Nominated for Upper Midwest Emmy®
Published Friday, September 01, 2023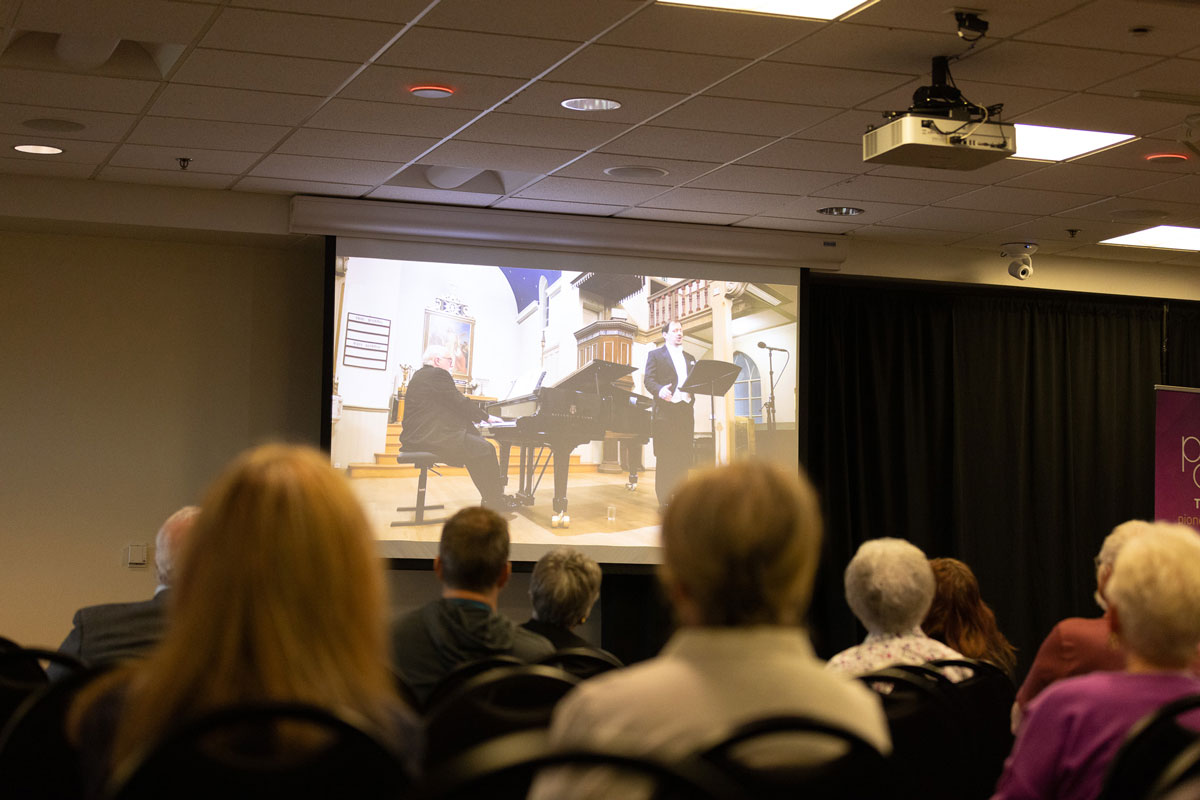 Documentary Premiere at SMSU on May 10, 2023
The Pioneer PBS documentary that celebrates the work of the late SMSU Professor Bill Holm and features Dr. Daniel Rieppel, SMSU Professor of Music, and Ryan Hugh Ross, baritone and 2008 SMSU alumnus, has been nominated for a 2023 Upper Midwest Emmy® Award.
The film centers around a project led by Dr. Daniel Rieppel to pair the work of one of Minnesota's most iconic poets and essayists, the late Bill Holm, to music. Holm's epic poem, "Playing Haydn for the Angel of Death," was set to music by Minnesota native Martha Helen Schmidt.
English Professor Bill Holm was a beloved faculty member at SMSU who passed away unexpectedly in 2009.
"The Emmy® nomination is a wonderful salute to Bill," said Rieppel. "We are delighted to have the documentary recognized and to bring his work to a wider audience."
The project began years ago when Rieppel and Ross envisioned some type of tribute to Bill. Led by Rieppel and Ross, the project was made possible with generous support from the SMSU Foundation, Kris and Brian Gruhot, and Milkweed Editions, Inc., which published many of Holm's books.
Ross is a protégé of Rieppel's based in Cardiff, Wales, and has received worldwide acclaim as a professional opera singer and champion of the works of Julius Berger. The Iowa native recently completed his Ph.D. and returned to Minnesota this month to perform the piece with Rieppel in Minneota on Friday, Sept. 8, Morris on Tuesday, Sept. 12, and St. Paul on Friday, Sept. 15.
The Minneota performance is Friday, Sept. 8 at 7:00 p.m. in St. Paul's Evangelical Lutheran Church. It will be followed by a special viewing of the Emmy®-nominated Pioneer PBS Postcards documentary, along with a Q&A with the film crew and artists.
The 2023 Upper Midwest Emmy® awards will be presented at the National Academy of Television Arts & Sciences Upper Midwest Chapter gala on Saturday, October 14. "Playing Haydn for the Angel of Death" and the other 21 Emmy® nominated stories by Pioneer PBS can be viewed at: www.pioneer.org/emmys.
Related Articles