Mustangs Give: Day of Service on Oct. 11
Published Tuesday, September 26, 2023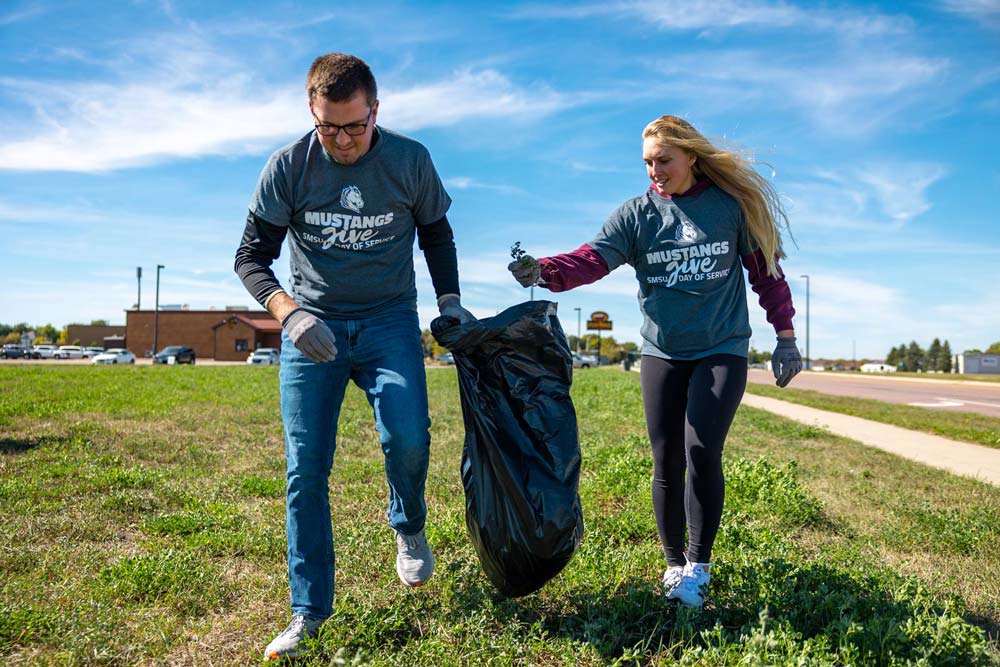 Clean-up efforts during 2022 Day of Service
SMSU will host the 3rd Annual Mustangs Give: Day of Service on Wednesday, October 11.
The day is an opportunity for faculty, staff, and students to sign up for volunteer opportunities available around Marshall and area communities.
Volunteers can sign-up to work on projects and clean-up activities and are encouraged to register by Wednesday, October 4, 2023 at 3:00 pm.  Locations for service projects will primarily be located in Marshall. Other projects will likely be added to this list as the date nears. There are several "clean-up" locations and other projects.
Volunteers will be contacted prior to the Day of Service with their assignment. Groups may sign up with one person as a contact and include the group member's names. Gloves, garbage bags, and any other project materials will be provided for the event at check-in beginning at 9:30 am on Oct. 11 in the Founders Hall lobby at SMSU. Some project materials will be located at the service site.
All volunteers will need to wear closed-toe shoes and be dressed appropriately for outdoor work. For clean-up projects, the City of Marshall will pick up garbage bags after the event is finished.
The University is fortunate to be a part of a community that generously supports SMSU. This Day of Service is one way for the Mustang Family to give back to Marshall and the region.
The event runs from 10 a.m. until 4 p.m. Oct. 11 and is a part of Homecoming week activities.
Groups and organizations within the community in need of volunteers for a project are asked to contact Melissa Scholten, Director of the Center for Civic and Community Engagement; melissa.scholten@SMSU.edu or sign-up by visiting www.smsu.edu/go/mustangsgive
Related Articles