Mission and Philosophy
WHO ARE WE AND WHAT ARE WE ALL ABOUT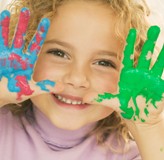 We have one goal at Southwest Minnesota State Day Care Center: to provide the kind of care and education you want for your child. This included helping teach children lessons that will last throughout their lives like sharing, cooperation, self-confidence, and respect for others. We are constantly researching to stay current on children development and early childhood education.
HOW AND WHAT WE TEACH
The first five years of childhood are the most important in development and learning. So we've designed programs where your child will grow and learn the most during that foundational period. This "Whole Child Development" philosophy features a full day of developmentally appropriate and fun activities where children will develop socially, emotionally, intellectually, and physically. And they will learn by DOING! We believe this positive feeling about education will last throughout their lives and builds foundations for more advanced and academic learning. Southwest Minnesota State University Child Day Care Center's educational programs are designed to give each child a chance to learn at his or her own pace and developmental level.