Family Weekend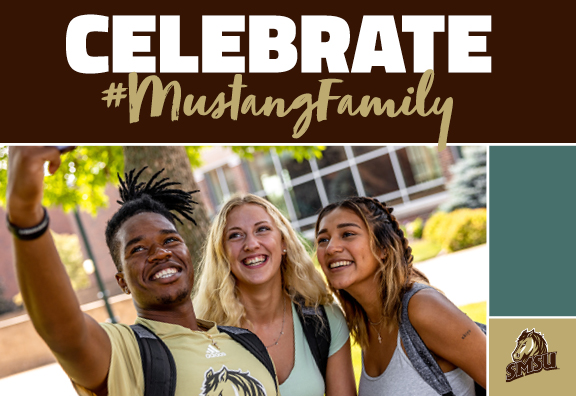 Family Weekend is a tradition at SMSU that brings
parents, siblings, grandparents, and family members to campus
to have fun with their student and experience campus with them.
Friday, September 9
3:00pm *Soccer vs. Upper Iowa, Mattke Field at the Schwan Regional Event Center

*Dinner On Your Own 
6:00pm *Volleyball vs. Winona State, PE Gym

7:00pm Planetarium Show "From Earth, To The Universe," followed by Laser Light Show (Seating for 60)

8:00pm Chemistry Club Liquid Nitrogen Ice Cream, SM Science & Math 107 – Natural History Museum
8:30pm Drama Club - Take 2 Improv, Fine Arts Building - Black Box Theatre
Saturday, September 10
*Breakfast On Your Own                               
10:00am-4:00pm *Student Center Coffeehouse hours

10:00am-5:00pm — *Barnes & Noble Bookstore hours

10:00am — Noon Check-in at Student Center East Entrance, Schedules/Maps at CC Entrances, Lower Level Lobby

11:30am — Family Weekend Brunch, CC Upper Level Ballroom
Welcome by President Kumara Jayasuriya
Greetings from Student Association President, Ashton Ayres
Menu: Burgers, Brats, beans, chips, fruit and salad
RSVP deadline is Noon, September 8th:  http://www.smsu.edu/family/forms/form529.html   
1:00-2:00pm — Entertainment TBA, CC 117, 1pm show time
2:00-5:00pm — AgBowl Activities: Inflatables, Games, Animals, and more (Stadium Green Space and RA West Parking Lot)
2:00pm — *Volleyball vs. Upper Iowa, PE Gym
2:00-4:00pm — William Whipple Art Gallery, An exhibition of posters in support of Ukraine and peace: Stand With Ukraine, Bellows Academic, Use the SMSU Library Entrance.
3:00-5:00pm — RHA Yard Games (Corn Hole Toss, Badminton, Yard Dice, Jenga, and more
Popcorn and Cotton Candy, Central Field
3:00-5:00pm —Student Center Mustang Zone (Free Play), SC Upper Level Game Room
5:00pm —*Mustang FB vs. Concordia-St. Paul (Kick-Off), Mattke Field at the Schwan Regional Event Center
*Dinner on your own.
Sunday, September 11
*Breakfast On Your Own
10:00am-4:00pm — *Coffeehouse @ SMSU Hours — Student Center Lower Level
1:00pm — *Soccer vs. Winona State University
 Thanks for joining us for SMSU Family Weekend 2022. Travel safely!

*denotes cost involved for this activity

Check back for schedule updates!

Celebrate family with students who have loved ones far away!
We are all a part of the #MustangFamily!
For questions, suggestions, and more information:
Contact Scott Ewing: scott.ewing@SMSU.edu or 507-537-6394.