Garry Mercer a Familiar, Helpful Face on Campus
Published
Monday, March 25, 2019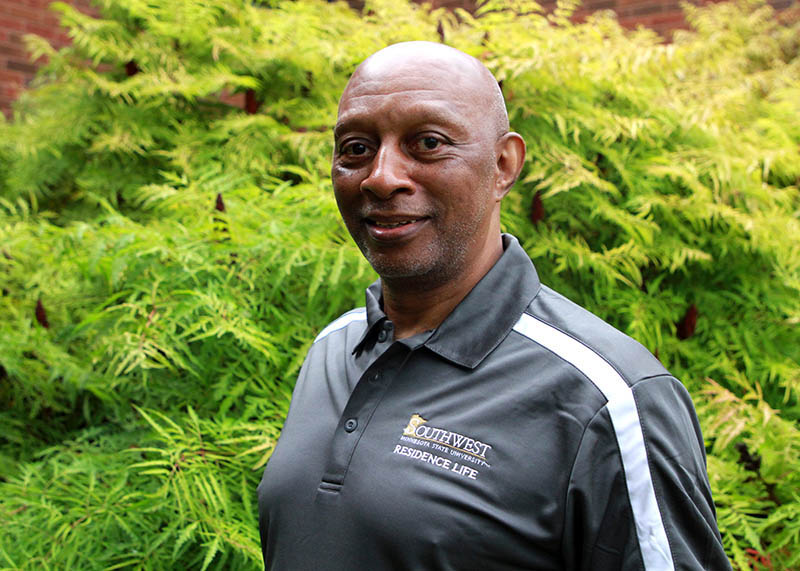 Garry Mercer
Garry Mercer came for the basketball. He stayed because of the people.
Mercer is the Building Services Supervisor at SMSU overseeing the custodial staff for the residence halls on campus.
A North Carolina native, Mercer came to SMSU to play basketball for the Mustangs. His former coach at the two-year College of the Albermarle — Dale Honeck — had been named the head coach at SMSU and recruited Mercer to move halfway across the country. "He also recruited Sam Leggett, Carl Harris, Peter James, Willie Bond and Hayward Boston from the same JC," said Mercer. "There was a nice pipeline of players that came out of that area.
"I did talk to a couple of guys that were already here and they told me a little bit more about the college. Coming here was basically a leap of faith. I don't think my parents wanted me to come this far away from home, but I decided to take that leap, and arrived for the 1976-77 year. I changed my major from electronic technology to health and PE."
And while he still hasn't adjusted to the winters,  he has found a home in Marshall. "I fell in love with the community," he said. "I've made a lot of friends here, and I decided to make this my home. I like everything about this place — except for the winters. It's big enough and small enough — you don't feel like an ant in a whole army of them."
He has been at SMSU for 22 years. "I came as a GMW (general maintenance worker)," he said. Just a couple of years after he started, he applied for, and got, his current position — Building Services Supervisor.
He oversees a team of 7 GMWs, and one, Tim Lundquist, works out of the office in Commons Central with him. "He's my right hand man," said Mercer of Lundquist. The GMWs do a little bit of everything in the residence halls, from general cleaning to repairs and everything in between.
If something needs to be repaired, it is logged into a book in the Residential Life office. "Or, some people just call me directly," he said. "Broken windows, broken knobs, heater problems, carpet, the whole nine yards," said Mercer. "Anything in the dorm rooms we repair.
"The beds are wood now — they used to be metal — so they break easier now, the side rails and plywood under the mattresses. We also replace mattresses."
There are approximately 900 residence hall rooms on campus, he said. That's a lot of area to cover during the year, and he's quick to give credit to his staff for their hard work.
Things don't let up a lot in the summer months, either. The crew does a deep clean of the residence halls, which can be logistically challenging due to the number of athletic camps hosted by SMSU annually.
He finds great satisfaction in his position. "I like meeting the students. You get to know people from all walks of life. You carry on conversations, and get to know some of them personally. I love my job, and I love this community."
Mercer is aware of the impact those relationships with students can be. When he was a student, he cites Joe Van Wie, Harry Jones and Mike Sterner as being influential in his life. "There were several people out there who kept an eye on me to make sure I was on the straight and narrow," he said with a chuckle.
He tries to make it back home to Moyock, N.C. each year to visit his mother, Geraldine. His father has passed.
It was his parents who put that extra 'r' in Garry. "It's  from the Garry Moore show they used to watch," he said. Moore hosted that variety show, as well as the game shows "I've Got a Secret" and "To Tell the Truth."
And while technology has changed the lives of students today from when he first began, "for the most part, they're all good kids, just like they have been," said Mercer. "Several years ago, I ran into a former student off campus and she came up to me and told me that I once stepped in to help her when she had a confrontation with a boyfriend. She thanked me. It's nice to know you affect their lives in some way, shape or form. You meet students from all walks of life here."
Mercer and his wife, Terri, live in Marshall.