SMSU Fishing Team Debuts in Kentucky
Published Friday, April 05, 2019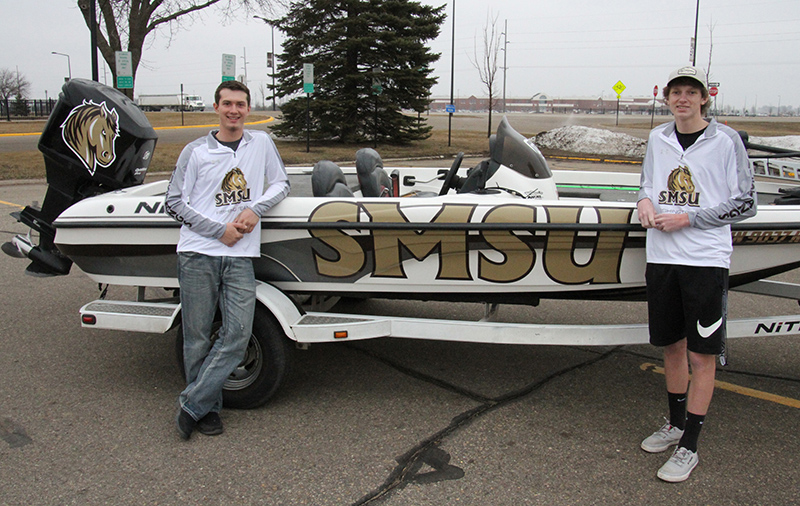 Tyler Domeier, left, and Payton Buboltz
The SMSU Fishing Team will make its debut in Kentucky on April 12, and they'll be a driving — and fishing — billboard of SMSU as they compete.
The team was started by Tyler Domeier, a junior Agricultural Education major from Redwood Falls, Minn. His fishing partner in Kentucky will by Payton Buboltz, a freshman Finance major from Fairfax, Minnesota.
Domeier, a transfer from Bemidji State, started the team last fall. "There were no tournaments when I started it so we got things ready last fall, so this will be our first tournament," he explained.
The two applied for funds from the Student Activity Fee Allocation Committee (SAFEC). SAFAC recommended they receive some money, and that request was later approved by the Student Senate. Together with their other sponsors, they are ready to compete in a trio of events in the coming months.
Along the way, they'll be conspicuous by the SMSU decals on the truck that pulls their bass boat, and the boat itself. The truck and boat belong to Domeier.
They will compete in three, one-day tournaments: April 12 in Cumberland, Kentucky; July 19 in Wabasha, Minnesota; and Oct. 18 at Osage Beach, Missouri.
Domeier fished for the Bemidji State team before transferring to SMSU. His past experience propelled him to form the SMSU Fishing Team. "SAFAC gave us some money, and together with some other sponsors, we are able to compete. The decals we have on the truck and boat will draw a lot of attention to SMSU, and we're happy to tell the story of this university," said Domeier.
Their other sponsors include Hails and Hens Boutique, Redwood Falls; Fairfax Agency LLC Insurance, Fairfax; Borch's, Marshall; and 13 Fishing, a tackle business in Florida.
The campus club itself has two members right now. "We could have a ton, but not many people have boats," said Domeier. "We want to get more people involved. We plan on doing some ice fishing events next winter. You don't have to have a boat to be a member, and we've had a lot of interest in the past few weeks."
The two have fished some local/regional events together, but what they're embarking on now takes it to a completely different level.
There are four geographic divisions at each tournament — Northern, Central, Western and Southeastern. There will be approximately 125 teams competing at their April 12 competition. They will pre-fish the event for 3 days before the actual competition.
They've done their research on the lake, much of it online. "You Tube videos, blogs, there's a lot out there," said Buboltz.
Their April 12 tournament on Lake Cumberland will be a challenge. It's over 100 miles long, with 1,255 miles of shoreline. In perfect conditions, said Buboltz, "it takes an hour to get across the lake."
The two met, indirectly, over a "21" table at Jackpot Junction in Morton, Minn. "I was dealing blackjack there and ran into his parents. They gave me his number," said Domeier. He made the call, and the two fishing aficionados connected.
"I'm nervous about this first competition," said Domeier. "We have gotten a lot of looks from people around campus and we want to show people that we are going down there to compete."
No matter how they fare in the competition, they'll be sure to spread the word of SMSU along the way.
Related Articles