Campus Compact Winners: Bible, Deaver, Thomas
Published Friday, April 05, 2019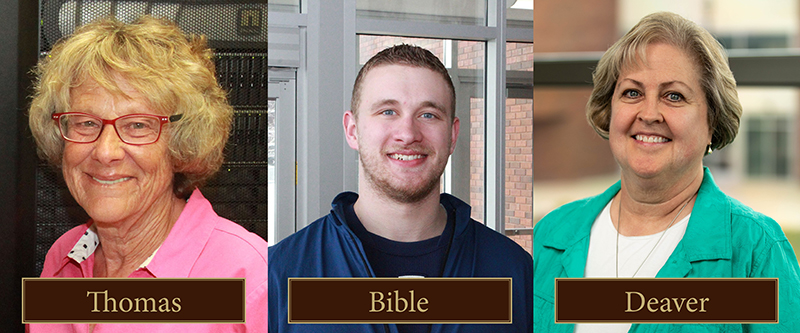 From the left: Pat Thomas, Aaron Bible, Dr. Emily Dreaver
Three individuals have been selected to receive Campus Compact Presidents' Awards at Southwest Minnesota State University.
The three, and their awards, include senior Aaron Bible, Presidents' Student Leadership Award; Environmental Science Professor Dr. Emily Deaver, Presidents' Civic Engagement Steward Award; and Pat Thomas, former Adult Basic Education Program Director, Presidents' Community Partner Award.
The Minnesota Campus Compact Presidents' Awards provide an opportunity for member presidents and chancellors to give statewide recognition to effective leaders in the development of campus-community partnerships.
The awards will presented at a statewide summit on April 10 at St. Catherine University in St. Paul.
Aaron Bible: A senior Interdisciplinary major (Exercise Science, Sports Management and Broadcasting), Bible is one of the most involved students on campus. The St. Cloud native is an Orientation Leader, an Admissions Ambassador, on the Residential Life staff, trains Schwan Company employees as part of the company's health initiative with Exercise Science, is active in the Exercise Science Club, is a member of the Student Association Executive Board, and is an announcer on most Mustang football and basketball broadcasts.
His nomination says he "displays a passion for bringing the students of SMSU together and exemplifies what it means to be inclusive and welcoming on campus. Aaron knows how to get even the most hesitant students engaged in community and team-building activities."
"I realize I have one chance at this, and I don't want to regret anything. I want to get involved to try and better myself personally, professionally and academically," said Bible about his college experience at SMSU.
He is thinking about pursuing his MBA after graduation, and would like to eventually "Work within the business side of pro sports, or as an analyst or something in entertainment, news anchor, sports anchor, something like that."
Dr. Emily Deaver: The Environmental Science professor has been at SMSU since 2003 and has made a lasting impact on the University.
Thirteen years ago, she initiated and continues to coordinate the annual Undergraduate Research Conference, where students from across numerous academic areas display their research. She also takes some of the best of those to the annual Posters in St. Paul event, an opportunity to show legislators some of the research being done by Minnesota State institutions. She also takes SMSU students to Minnesota State Undergraduate Scholars Conference.
She initiated and has led the annual Redwood River Monitoring Project for 14 years. That project is a collaboration between SMSU students, and Marshall High School and Middle School students. It tests the water of the Redwood River at 3 spots, twice a year, and involves SMSU students teaching high school students, who in turn teach junior high students about the testing process.
She also initiated a partnership with ADM for a DNR Adopt-A-River program. SMSU students team with ADM personnel to annually clean a 3-mile stretch of the river.
Most recently, she earned a Minnesota Environmental and Natural Resources Trust Fund Grant, which expands the Redwood River Monitoring Project to include SMSU Agricultural Education students mentoring high school FFA students.
She's a past Cowan Award recipient — the University's most prestigious award — and is an Alumni Association Honorary Lifetime Member award winner.
Her nomination reads, in part, "Emily works tirelessly to create a culture and practice of engagement among her students and colleagues by forming strong partnerships …"
Pat Thomas: She retired in December of 2018 but not before working with Dan Baun of SMSU to make Adult Basic Education (ABE) services available to a broader number of clients within the region.
ABE provides a variety of free literacy services to adults.
Baun, SMSU's Chief Information Officer and the Southwest/West Central Higher Education Organization for Telecommunications and Technology (SHOT) Regional Director, first met Thomas when ABE was housed on campus 20 years ago. It later moved to the Government Center, before returning to campus several years ago. Baun authored a $29,000 grant for ABE which allows the program to access 300 Adobe Connect licenses, so those seeking ABE services no longer have to travel to Marshall to attend classes. They can do it online, in their homes.
 "This type of thing has never been done before, and it would not have happened had we not moved back onto campus," said Thomas. "There's so many talented students here who have gotten involved as a result."
Her nomination includes, in part, "Southwest ABE is a welcoming and affirming support network that has collaborated to develop educational enrichment opportunities for the community, emerging immigrant adult learners and SMSU students."
As part of the collaboration, SMSU students can participate in internships and tutoring in an effort to increase knowledge about the services provided to ABE clients.
Founded in 1994, Minnesota Campus Compact aims to integrate civic work and learning into the curriculum and operations of its diverse network of colleges and universities, so students graduate with the determination and capacity to contribute to the public good throughout their lives. It consists of member institutions — public and private — across Minnesota.
Related Articles