McKnight Grant to Support Unique Partnership That Seeks to Increase Number of Minority Teachers
Published Tuesday, July 02, 2019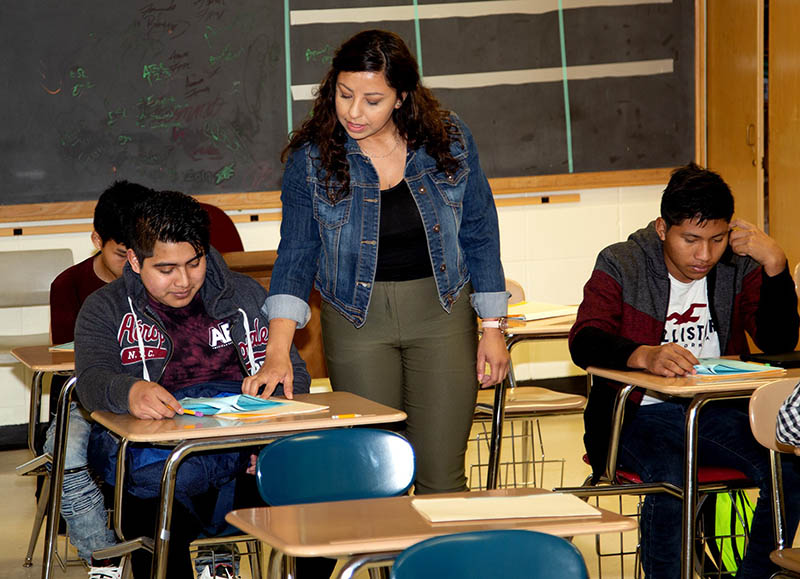 Photo: www.McKnight.org Photo Credit: Ric Stewart, Rickers Photography Studio.
The McKnight Foundation has awarded a $600,000 grant over two years to support the Southwest Minnesota Teacher Preparation Partnership, a unique career pathway model created by Worthington Public School District, Minnesota West Community and Technical College, Southwest Minnesota State University and Southwest Initiative Foundation.
This partnership aims to increase the diverse pool of quality teacher candidates in the region. It is also focused on what it takes to support students who want to teach, especially students of color who aren't often seeing teachers who look like them in their classrooms. According to the Worthington Public School District, more than 68 percent of its high school students are from one of over 40 cultures in the area. And more than 78 percent of elementary students in the district are students of color. Only about 7 percent of their teachers are people of color.
According to the 2019 Biennial Minnesota Teacher Supply and Demand Report, a similar diversity gap appears across the state, where students of color make up 34 percent and teachers of color make up 4 percent of Minnesota schools. The report also notes teacher shortages are a problem. Nearly 90 percent of school districts reported fewer teachers are available compared to five years ago.
"Greater Minnesota needs more diverse teachers and better pathways for them, and this effort shows that the most forward-thinking school districts can work together to better prepare their students for a global economy," said Debby Landesman, McKnight Foundation board chair.
The primary focus of the program is to meet the changing educational needs of southwest Minnesota, which has had a large influx of immigrants and refugees the past 20 years. The children of these immigrants and refugees are now in the K-12 school system and ready to begin their post-secondary experiences. It is hoped that more of these students will enter post-secondary education, specifically in teacher preparation pathways.
Previous grants from McKnight Foundation and Southwest Initiative Foundation supported planning efforts and the launch of a Future Teachers of America Club at Worthington High School. About 40 students participated in the 2018-2019 school year. 
McKnight's new investment will allow the partnership to implement a place-based pathway to teaching for current Worthington high school students, paraprofessional staff or anyone interested in pursuing a teaching career. Participants will have opportunities to complete all their coursework to earn credits toward a degree in teaching without leaving Worthington. The partnership is also providing intercultural competency training to current teachers and faculty, as well as establishing a community advisory committee that includes educators, families and residents to ensure perspectives of Worthington's racially and culturally diverse community members help shape the program's future.
Students have the opportunity to pursue their two-year degree through Minnesota West, and transfer those credits to SMSU and earn a four-year education degree, offered on the Minnesota West-Worthington campus.
 "At the heart of it, the partnership is an opportunity to lead people on a career path that will provide higher earning potential for their families, address the teacher shortage in rural communities, and have a positive impact on students who will finally see their reflection at the front of the classroom," says Nancy Fasching, community impact director at Southwest Initiative Foundation. "All the partners are devoted to making this happen. We see what a difference this will make in the lives of students and future educators. It's bigger than all of us, and a look to the long term."
 "We have a critical shortage of teachers," said SMSU Provost Dr. Dwight Watson. "We have an emerging immigrant and refugee population within the region, and this will bring opportunities to those students who may want to pursue education as a career goal. This program will also be more representative of teacher candidates that will look like the students in the Worthington classrooms."
Related Articles