SMSU Hosts Inaugural Agronomy Field Day
Published Thursday, July 18, 2019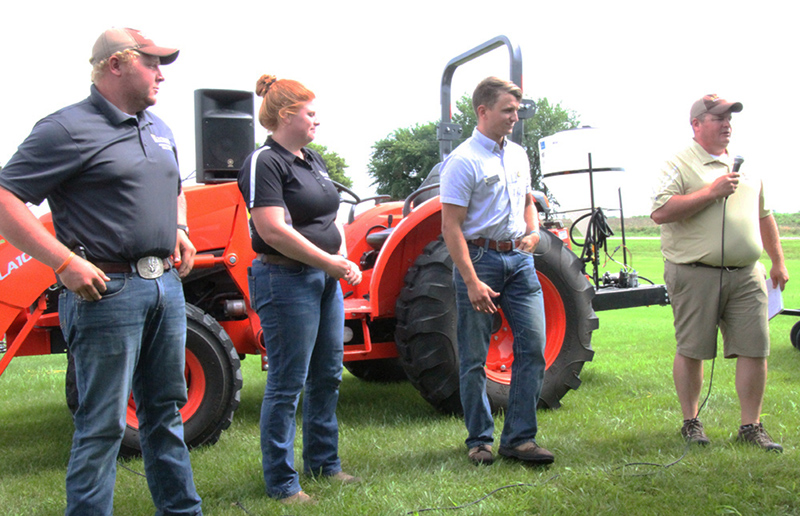 Agronomy Field Day
The inaugural Agronomy Field Day on Thursday, July 18 was an opportunity to learn more about the "outdoor classroom" that gives Southwest Minnesota State University students hands-on ag experience.
The test plots cover 25 acres as part of a cooperative agreement between SMSU and McLaughlin Farms, and are located just north of Skunk Hollow Road, north of Marshall. This is the fifth year of the test plots, said Dr. Gerry Toland, Professor of Economics and department chair.
"(Assistant Professor of Agronomy) Lee French is the one who came up with the idea," said Toland. "It gives the students hands-on learning. We do some contract research (for ag companies), too," he said.
Small plots of corn and beans are planted, along with other crops such as wheat, alfalfa, oats, squash, pumpkins and sunflowers.
The crops change annually, said Tim Moline, a 2001 alumnus and the Director of Field Research, who has been involved with the test plots for several years. He also works for Centrol Crop Consulting in Marshall.
SMSU has been designated a Non-Land Grant College of Agriculture by the U.S. Department of Agriculture, which allows the School of Agriculture to apply for ag grants similar to land-grant institutions.
SMSU has greatly increased its ag-related majors to six, and the test plots are part of the total educational experience.
Some crops are deliberately planted late, also, so that fall semester students in the Pest Management class can study the effects of pests on the crops as they grow.
Ag companies also contract with SMSU for a particular type of research. "They have protocols they need tested, and they want it done by a neutral party," said Toland. He could not give too many specifics, as the contract work is proprietary.
As part of his involvement with the test plots, Moline oversees the work of a trio of interns. They are Brock Fox, Justin Buysse and Melissa Downing, all Minneota natives and all with ag-related majors. "They do a lot of the day-to-day work," said Moline. "They plant, maintain and harvest the crops, and help with data, too."
"They learn a lot — how to do protocols and write research," said Toland. "They like the idea of getting out of the classroom, and into the field."
The plots are an opportunity to test different corn and soybean varieties, as well as how pesticides and nutrient packages work with those crops.
In the fall, the crops are harvested by a two-row Almaco Research Combine, a specialized piece of equipment. "The results are a true report card of the products we test," said Moline.
Fox, a junior Agricultural Education major, said the "outdoor classroom" has been an enhanced learning environment for himself and the other two interns.
"One of the coolest things I've done is inoculated (corn) with corn rootworm eggs," he said. "We'll see how different varieties of crops hold up to the stress."
That project is just one of several individual projects the interns are working on this summer.
Their research will allow them to attend an international pest resistance conference in March 2020 in Mexico City. "I know of students who have attended that conference who've been offered a scholarship into a grad program. I'd consider that," said Fox.
Moline gave an overview of the test plot research being done, and his colleague Ken Franzky talked about the myriad of variables that go into the decision-making of today's farmer. This year, especially, said Fransky, citing the unusual amount of rain, especially during a 'normal' planting season.
The trio of interns were introduced and gave remarks about internships, also.
Sam Tutt, a Charter Class (1971) member and an adjunct Agronomy instructor, boiled the test plots down during his remarks: "It's all about the students," he said. "The classroom is here."
Related Articles