GMW Wayne Mitzner Has Seen Much of SMSU's History
Published Tuesday, September 17, 2019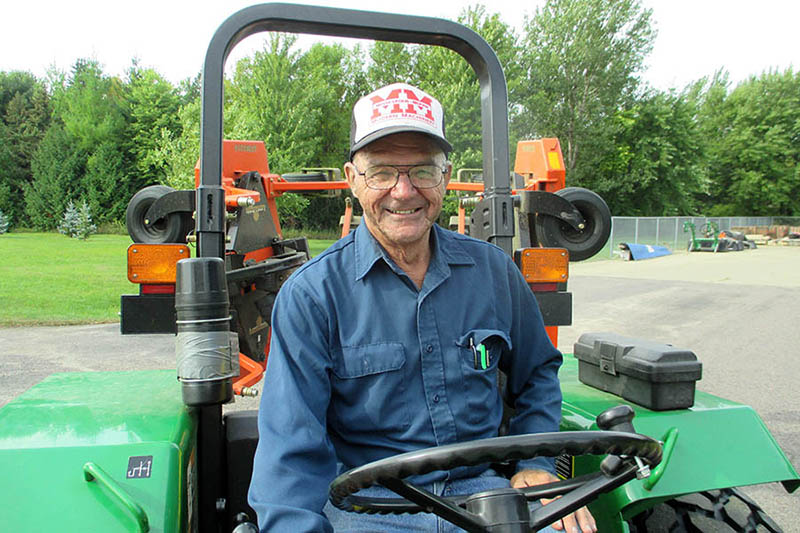 Wayne Mitzner
Wayne Mitzner was in a retrospective mood.
"You know, it just goes by so fast," said the SMSU General Maintenance Worker (GMW), who retired on Sept. 17 after 39 years and 8 months at Southwest Minnesota State University.
That's just about 77 percent of the life of the institution.
"I always said I wasn't going to miss moving snow, but now, I may miss it," he said. "I won't miss those 4 a.m. mornings, but when you put that (snow) blade down, and you start to move the snow, you have a sense of satisfaction when it's 9 a.m. and the students can get around to classes."
He grew up on a farm just north of Garvin and graduated from Balaton High School in 1972. He worked on the farm, at the Amiret Elevator and at BH Electronics in Marshall for a time before learning about an opening at SMSU. He was hired in December of 1979 and his first day on the job was Jan. 2, 1980.
Then-Facilities Director Willard Isfeld and Physical Plant Director Bill Como interviewed Mitzner for the position, and he had high praise for them, along with grounds crew supervisor Jim Henline, and GMW's Doug Christopherson and Richard Lyons.
"We had a small crew, and had a lot of fun," he said.
It's funny, over time, what you remember, he said.  "I remember so well the fire in the storage room of the R/A Facility when that was being built. I remember that more than the (Food Service) fire on Jan. 2, 2002. I don't know why, but that one stands out for me."
The winter of 1996-97 is etched in his mind, also. "We had so much snow, and it seemed like daily we would have some sort of announcement about being closed or classes delayed. You'd move the snow and the wind would blow it back in, and it kept piling up. It seemed never-ending."
When the football team played at old Mattke Field — now site of the track and field facility — the grass had to be cut, and yard markers and numbers painted on the field before each game, a two-day process.
When he started, too, the ADM & SMSU Environmental Learning Center was mostly grass and the tennis courts "sat in a really low area" near the jog in the road along Mustang Trail, north of the R/A Facility entrance. "We'd have to repair that every year, it sat so low," he said. "Gene Verschelde and Lew Spinner from the carpenter shop would help each year."
He remembers, too, putting up the wooden-slat snow fence in the outfield of the old softball field, which was located at the north end of what is now the Schwan Regional Event Center. "Glenn Mattke was the softball coach and athletic director, he was a wonderful person," said Mitzner.
A lifelong bachelor, he plans on going to more flea markets when he retires. "I collect antique tractors, and also 1/16th scale toy tractors," he said. "I love flea markets, but most of them are in the winter months and I'd be on call for snow duty," he said.
What will he miss? "Interactions with people," he said. "I remember so well that first day, and here it is, retirement. It went in a flash."
Related Articles