Chorale to Perform at American Choral Directors Association Convention
Published
Tuesday, October 22, 2019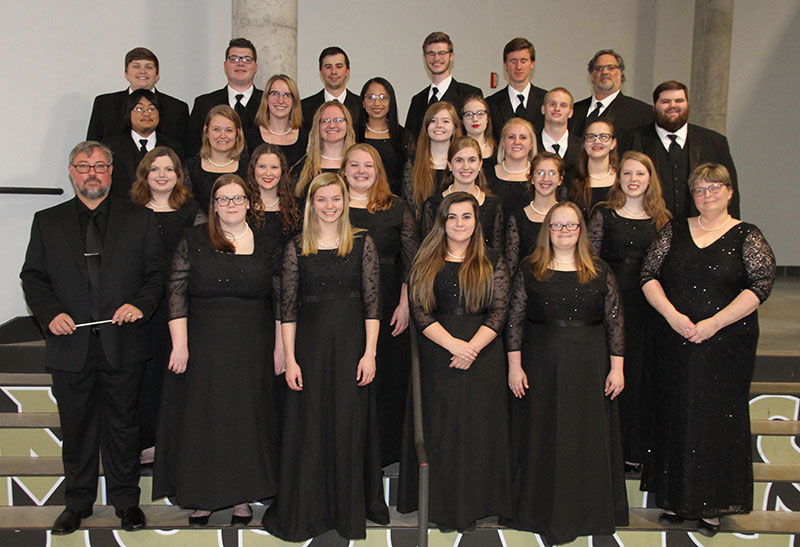 The SMSU Chorale
The Southwest Minnesota State University Chorale will perform at the upcoming fall convention of the American Choral Directors Association of Minnesota.
The group will perform on Friday afternoon, Nov. 15 at St. Andrews Lutheran Church in Mahtomedi, Minn.
"I believe this is the first time in the history of SMSU that one of our choirs has been invited to perform," said Dr. Stephen Kingsbury, Associate Professor of Music and Director of Choral Activities. "Next to our performance a couple of years ago at Carnegie Hall, this is the highest profile performance that we've ever been asked to give, and certainly the highest profile performance that we've given in our home state."
The Chorale is SMSU's elite mixed choral ensemble, specializing in the performance of a wide range of sacred and secular choral literature of all historic periods, voicings and nationalities. Its repertoire includes unaccompanied works for a cappella choir, as well as works performed with professional instrumental ensembles.
The Chorale is open to all students, regardless of major. "About a third of our members are not majoring or minoring in music," said Kingsbury. "They just love to sing."
He said part of the mission of the Music program is to offer opportunities for everyone wanting to participate in music.
The American Choral Directors Association of Minnesota was founded in 1959 and is a non-profit organization whose active membership is composed of choral musicians from schools, colleges and universities, community, industrial organizations, churches and professional groups. Its mission is to inspire and support the community of choral musicians in Minnesota.
"Receiving this invitation is really a big honor," said Kingsbury. "It's an acknowledgement of the work our students do, and the quality and high level of performance they aspire to, and achieve."