Meet International Student Services Director May Lee Moua-Vue
Published Monday, January 27, 2020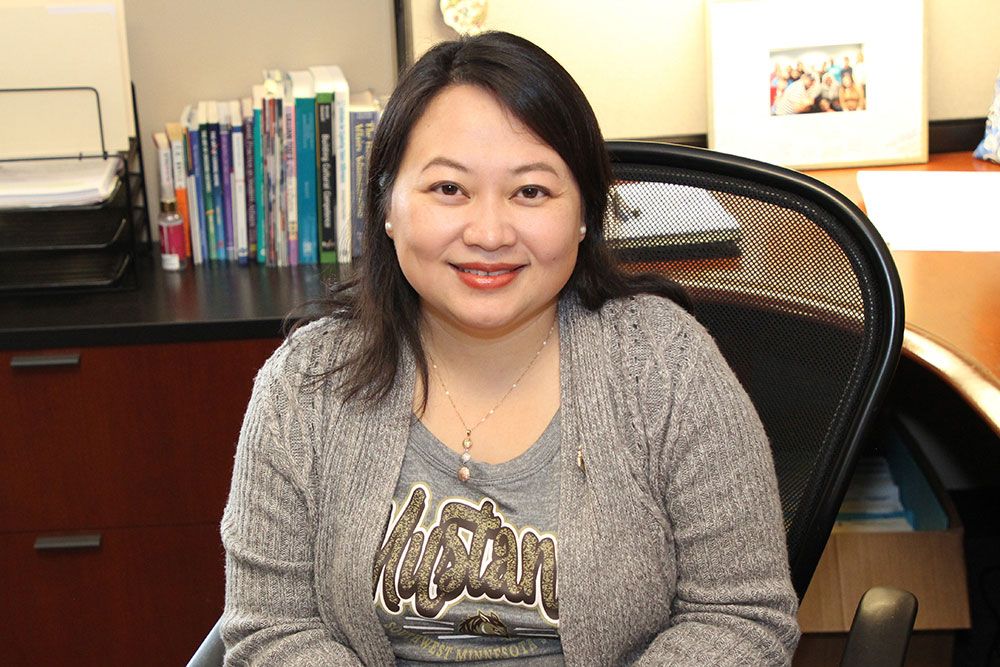 May Lee Moua-Vue
May Lee Moua-Vue, new Director for International Student Services and Global Studies, is excited to "bring the world to campus" by creating an environment where international and domestic students can thrive and become comfortable with one another at Southwest Minnesota State University.
 "At many schools there can at times be a divide between the international and domestic students — the international students don't know how to interact with the domestic students, and the domestic students are unsure about how to interact with students from other countries," she said. 
Establishing mentor programs and holding events where all students and community members are welcome should help eliminate potential awkwardness and show domestic SMSU students the possibilities — and advantages — of studying abroad.
She looks forward to the International Food Festival where students and and the Marshall community can come together and celebrate diversity. She wants the international students to get to know their fellow domestic students, but also others in the greater Marshall area, tool.
She also plans on starting a weekly gathering for international and domestic students that will offer the opportunity for them to gather, get to know one another and discover the things they have in common while learning more about various aspects of SMSU.
As the Director for International Student Services and Global Studies, Moua-Vue has many duties, including accurately reporting paperwork, helping students with their Visa status, risk management, and thoroughly understanding state and Federal regulations for students coming to SMSU from other countries, or students looking to study abroad. She also wants to make the transition to U.S. college life an easy one for the 200 international students at SMSU, representing 27 countries.
Moua-Vue worked hard to discover her calling and get her dream job.
 "I came from a poor and humble Hmong family, where no one had ever been to college. When I was in high school, I had teachers and counselors tell me I should go to college. I thought to myself, 'what is that?' No one in my family had gone to college before. I enjoy being independent, so I decided to go," Moua-Vue explained.  
Before coming to SMSU, she got a bachelor's degree in Business Administration at the University of Wisconsin-Platteville as well as a Master's in Adult Education focusing on higher education. She worked for the University of Wisconsin-Madison for 13 years in the International Student Services Office.
 "I got my start at UW-Madison in the summer when I was working on my practicum during my master's program. I was told by my advisor to pick an office at a university and go talk to them. With my diverse cultural background, I decided to go to the International Student Services office and talk to the director. The office was inundated with paperwork processing and the director didn't know what I could do.  I offered to dust and clean for no payment, as long as they allowed me to learn more about their office. The next day, the director tasked me with a welcoming party for new students arriving in the fall. I had a small budget, but I went down the famous State Street in Madison looking for donations for students. The welcoming party was a success, and everyone left with a take-home whether it was a pen, a free dinner at a fancy restaurant, or the grand prize of a shiny red scooter from a local business."
Moua-Vue soon realized had a future in international student services. "I was able to see myself in the international students' shoes because I was in their shoes many years ago when my family and I were trying to navigate all the things an international student goes through. By the end of summer, there was an opening in the office, and the director asked if I was planning on applying, so I applied and got it," Moua-Vue said.
After many years at the University of Wisconsin-Madison she moved on to Xavier. While there she earned her doctorate.
"At Xavier we were expected to deliver high-touch, high-impact, student support services, which means you help students as much as possible because they are paying a lot of money for their education. I was surprised that SMSU does this as well, without the requirement and high price point while being a public institution, I love that," she said.   
 "I noticed right away that SMSU was very welcoming. It may be cold outside, but it is warm and hospitable inside. People are so kind, respectful, and it feels like family. I even found family in Tracy, Minn. In the Hmong culture, there are only 18 last names which means those with the same last name are always related. In the Hmong culture, even if someone is three-times removed, we are still close and consider them family. I look forward to visiting with them more, as well as venturing to other small towns in the area to find more family," Moua-Vue said.
Moua-Vue enjoys the interconnected campus because it is convenient, but also symbolic of how connected everyone is at SMSU. She is also excited to be closer to home. She grew up in Wisconsin and her parents live in Madison.
She looks forward to making connection with regional high schools that have international students looking to further their education at a four-year institution. She also plans on updating the International Student Services space with new furniture, and making connections with the community, and with domestic students on campus. She wants to help educate the campus about international students, and what they bring to SMSU.
"I plan on doing my own research into the strong connections SMSU already has with countries, and strengthen those. I also plan on looking at the economies around the world to narrow down which countries we should focus on for recruitment to ensure we have a diverse pool of students. When you rely too heavily on one country to supply students, you will run into problems. It is also important that I find students willing to come to Marshall who love this rural setting and special environment," she said.
Moua-Vue looks forward to experiencing her first Hawaiian Night, watching the SMSU football team play in the fall, and bringing family to events on campus to help them experience SMSU and what it has to offer. She is also excited to bring new twists to successful annual events like the International Food Festival. 
 "I'm a small person, with a big heart, and big dreams. I like to make things happen." 
Related Articles