SMSU Student Fatou MS Kinteh Starts Non-profit in The Gambia
Published Wednesday, February 19, 2020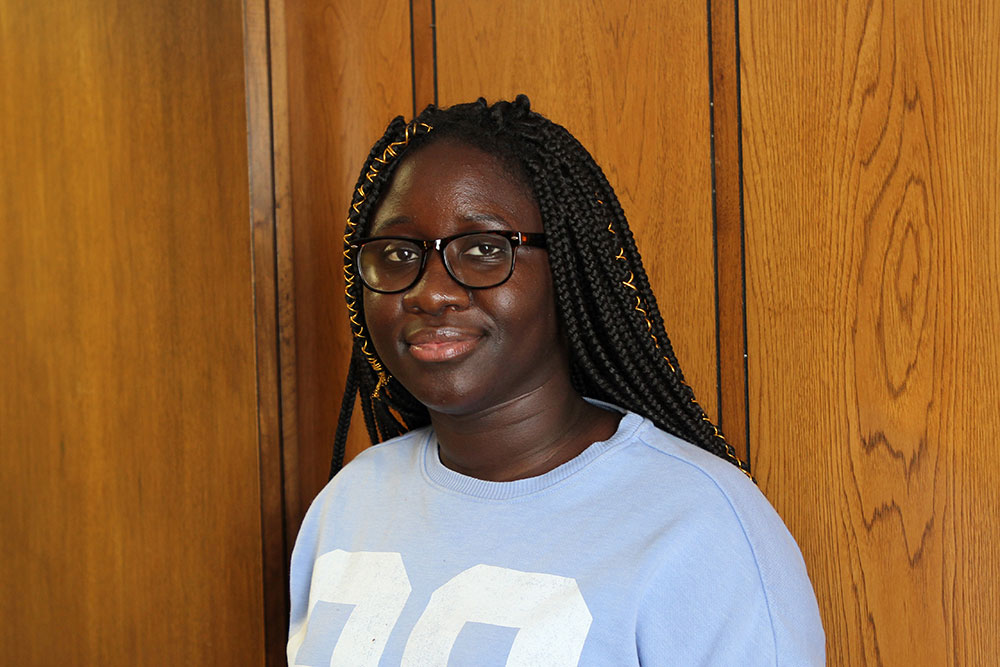 Fatou MS Kinteh
Fatou MS Kinteh, a senior Political Science major from The Gambia, has started a non-profit called Fatou Gaye's Memorial Foundation in memory of her grandmother.
"I have always had the passion to start a non-profit. I had the idea, and had it all planned out in 2016, but it got put on hold because of time constraints. When my grandmother recently passed away, I knew it was the right time to start it. The main purpose of my non-profit is to promote literacy and empower communities through education and resources that will allow them to rise out of poverty. Every student should have access to education resources no matter the social class of their families," Kinteh said.
Kinteh is highly involved on campus. She is a student ambassador, part of Students United, Black Student Union, the Honor's Program, the Academic Appeals Committee, and the most influential role for her, being a Resident Assistant (RA).
"Being an RA really motivated me a lot to start this non-profit because I have had the opportunity to work with a variety of different cultures in my dorm and they were all so encouraging," she explained.  
"In December I traveled back to The Gambia, to deliver the first round of donations to a village my father grew up in. I bought school supplies, clothes, and shoes with my own money to help the low-income children in this rural area. I distributed the products to classrooms instead of individuals so that the products can be shared. Most of the time there are only just a couple of textbooks per classroom. I do not plan on getting a textbook for everyone but providing them with enough to share. Some classrooms only have a board to put posters on and no chalk board to write on," Kinteh said.
In the future, she hopes to donate other new or used items to help the whole community — health-related items, and more educational items to improve the conditions for the community. She is currently managing various social media accounts for the organization and hopes to soon get a website to increase the presence online and bring in more donations.
"I would love to spread awareness through discussions both in the U.S. and in The Gambia about the non-profit," she said.
"I also hope to raise money to give as scholarships for students going to high school in The Gambia. This money would be used for school uniforms, textbooks and transportation to and from school, along with other basic needs they need fulfilled," she said.
As of now, Kinteh is the only U.S.-based member of the organization and has 10 board members back in The Gambia helping with the non-profit.
There are a variety of obstacles to address when starting a non-profit that is international. There are different laws and regulations that need to be followed in both countries. There are also fees and paperwork that need to be filled out which include a statement of purpose, and articles of incorporation, among other things. With Kinteh's dedication to the project, she was able to complete all necessary paperwork in just one week on top of her already busy schedule.
She has another donation scheduled for some time in April.
She hopes to expand the Fatou Gaye's Memorial Foundation into more countries in the future, once the organization is large enough to sustain more locations.
Starting the non-profit ties into her dream job — working for human rights for the United Nations. She plans on getting a master's degree in International Affairs after graduation in May, potentially in Washington, D.C., where she can be close to the U.N.  
Kinteh discovered SMSU after completing her high school and associate degree in Seattle, Washington.
"I wanted to get a bachelor's degree and be close to my cousin, who was living in Minnesota, so I started searching online for universities with low out-of-state tuition. I applied to a bunch of schools in Minnesota and ended up visiting SMSU last. I loved the small town and the welcoming feel I got. Most of all, my grandmother was a farmer, so SMSU reminded me of her with all the farmland surrounding the area.
Kinteh enjoys the affordability of SMSU, and seeing familiar faces every day.
She's making a difference on campus, and 5,102 miles away in the country of The Gambia.
Related Articles