Office of Admission Using Virtual Tools to Connect with Potential Students
Published Wednesday, April 01, 2020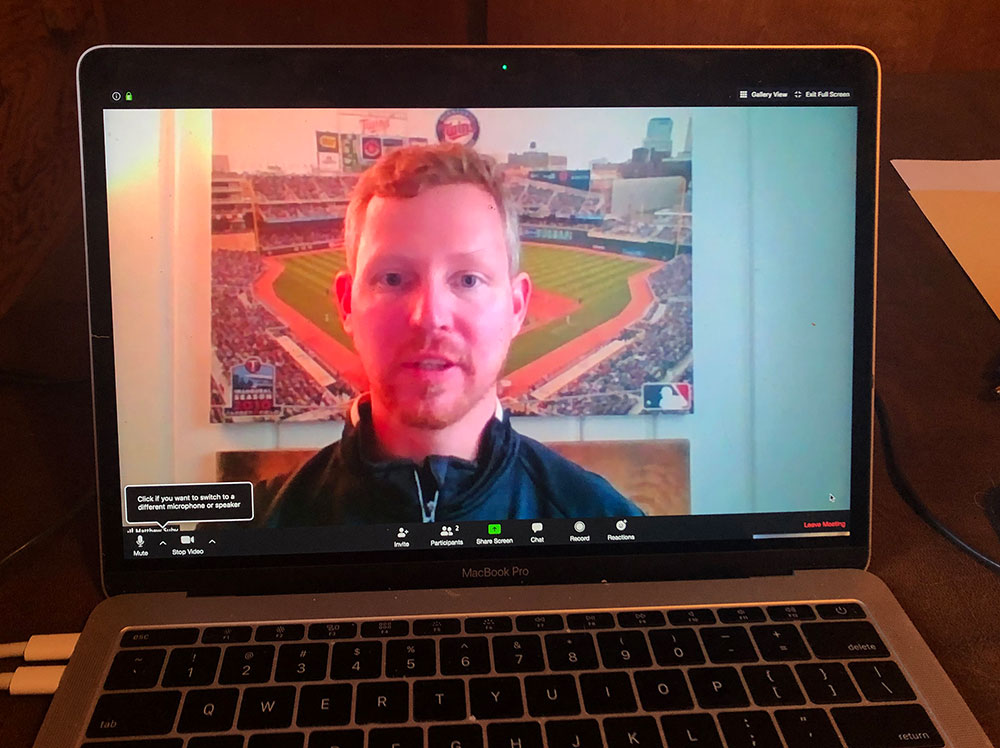 Potential SMSU students have this image of Matt Suby in these COVID-19 times
The way Office of Admission Director Matt Suby sees it, the technology being used by SMSU to recruit students in these COVID-19 times is "right in the wheelhouse of today's students," he said.
Without face-to-face contact with potential students, SMSU is relying on several technology platforms. And while that person-to-person element is missing, "it's not all that different than a lot of the things we are doing now," said Suby.
"Before all this hit, the website (www.smsu.edu/admission) was the number one way students researched colleges," he continued. "That's how students begin their college search today. We can use the virtual tour on our website to take them around campus, so students and parents can get a sense of SMSU and what we're all about."
Suby is thankful that there are tools available to his staff during these difficult times. "I don't know what we would have done, say, 10 or 15 years ago," he said. "We're able to utilize these tools to connect virtually with potential students. We can communicate with them, answer questions, provide information. Technology like Zoom, Skype, face time, and our mobile app have enabled us to keep in contact with students. Shifting our message to those platforms helps the students through this uncertain time."
Suby and the rest of the Office of Admission staff are working remotely now. "We're still able to process applications, and our admission counselors will follow up with the students. A lot of that process  is business as usual. We're able to keep up with the support end of it all, communicating with students, and campus visits have been moved to virtual."
Technology like Zoom meetings have been widely utilized since Governor Walz's lockdown order, and the Office of Admission makes good use of that virtual meeting technology. "Our counselors will set up a time to talk to the students, and sometimes the parent s jump on, too. The information we supply to the student and their parents is the same, it's just that it's being delivered in a different way now."
Suby was part of a team that interviewed 23 Presidential Scholarship applicants two weeks ago using Zoom. "I think one of the things that surprised me is that, even though it's not normal, it can feel normal using these tools," he said.
Right now Admission personnel are preparing for virtual priority registration April 6-17, and working with faculty to make them available to students for academic advising. "Advising will be via Zoom or phone," said Suby.
Junior Visit Day was cancelled, and Suby is looking for an alternative day, again using virtual tools.
"One thing about all this that's exciting is that we can't go back to business as usual. We have changed so much how we communicate with potential students, we have new tools to do so and we're moving forward. We'll analyze which of these virtual efforts really work and we'll incorporate those into what we do when things do return to normal. It's challenged us all, and our staff has really stepped up. We've had tremendous support from IT, and our faculty, as well."
To learn more, visit: smsu.edu/admission.
Related Articles