Nubile, Physical Plant Employees Help Keep SMSU Running Smoothly
Published Friday, May 29, 2020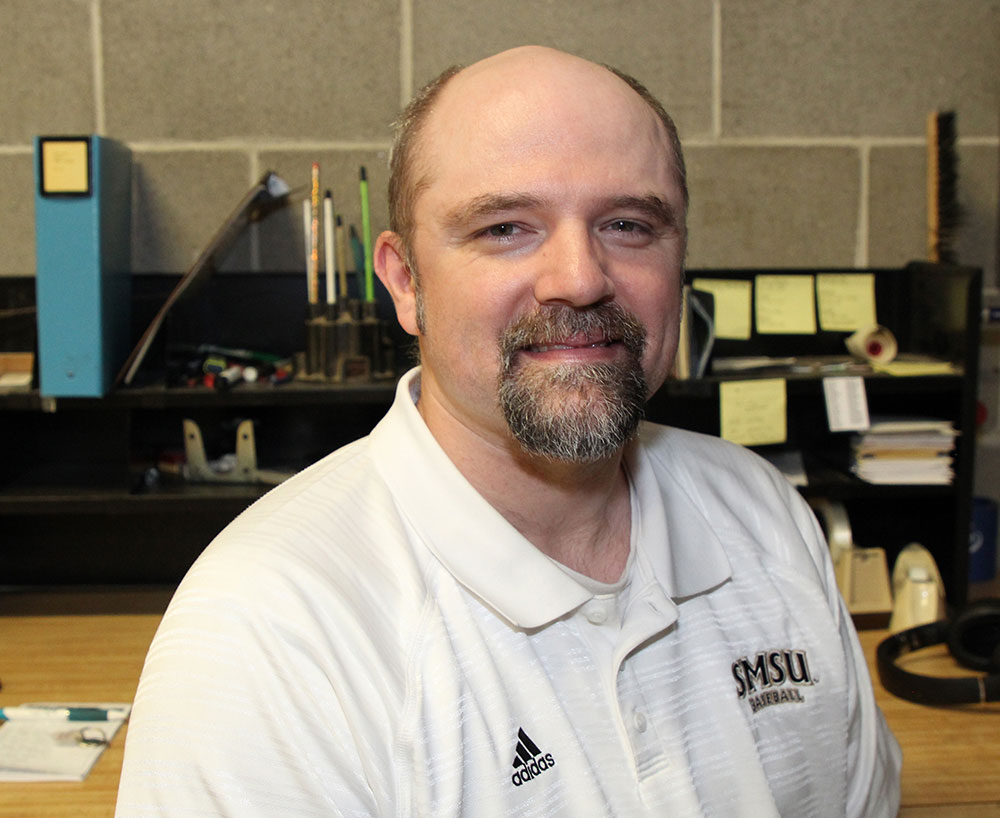 Tony Nubile
Facilities Director Tony Nubile had been on the campus of Southwest Minnesota State University once before, in 2002, as a member of the Trinity Bible College (Ellendale, N.D.) basketball team. And while it's true he'd like to forget the results of that 98-44 thumping at the hands of the Mustangs — he scored 6 points ­—  it did make an impression on him.
That why, when he saw the posting for the position, it piqued his interest. "I said, 'I've been to that campus.' It left a  positive impression on me as a young person, and drew me to apply."
He started his duties in July 2019, coming to SMSU from the University of Kansas, where he was facilities manager. "Same duties, different title," he said.
Nubile leads a Physical Plant crew that has gone above and beyond during the coronavirus pandemic. While most other areas of campus are working remotely, Physical Plant personnel have been on site, every day, attending to the various duties critical to the overall operation of the campus.
"When the governor's stay-at-home order came on March 30, we changed the schedule. We scheduled teams with three-day rotations, and they provided the critical baseline operations," he said. "Mechanical teams, which includes plumbing and electrical, and HVAC (heating, ventilation, air conditioning). Our general maintenance workers provided critical services to the students and the campus community, and we had our staff in the residence halls." Post office personnel hours were reduced, too.
The entire Physical Plant team was brought back to near full-staffing on May 5, he said.
"With the governor's order we had to reduce staffing to a very minimal on-campus presence, but yet provide critical services needed at the time. We went from about 40 people per day to about 13. We are near full staff now."
Three sanitizing machines were purchased and "we were deep sanitizing classrooms, restrooms, lecture halls and office suites — all spaces we could, and closed them off as much as we could."  Three other sanitizing machines have been ordered, but due to demand, won't arrive until December, he said.
He's seen a lot during his career. "I've been a part of forest fires in Arizona, bomb threats, but nothing compares to this. Those had end dates. This is ongoing and evolving and changes daily. We are doing the best we can with the information that's available."
Nubile began his educational career with an eye on becoming a classroom educator. "I got my teaching degree, and then realized I didn't need a classroom to be a teacher. I wanted to teach through facilities management. I had done some facilities work prior to going to college," he said.
He's discovered what so many others have about the term "Mustang Family." "I love the people — working with the staff in facilities, the campus community as a whole. Everyone is very nice, very friendly and welcoming. It's a family atmosphere."
And what has he learned about the university since arriving? "That the faculty and staff have a true commitment to this university. It's not just a job. It's a lifestyle and one I appreciate. Many of the people I've met have been here a long time, and it's refreshing to see they aren't here just for a paycheck."
He points to the fact that, in his first year, four employees in his areas have retired, with a combined service to the university over over 130 years. "That's rare," he said.
Nubile and his wife, Melisa, live in Ghent with their children: Edward, l5; Bailey, 13; and Danielle, 10.
Oddly, both he and his wife grew up 45 minutes from each other, in small towns near Seattle, Wash., but met some 1,400 miles away, while both attended Trinity Bible College.
"SMSU is a very unique place," he said. "There's something very special about this university."
Related Articles