Alumnus Larsen '14 was on Front Lines of Minneapolis Unrest
Published Thursday, June 11, 2020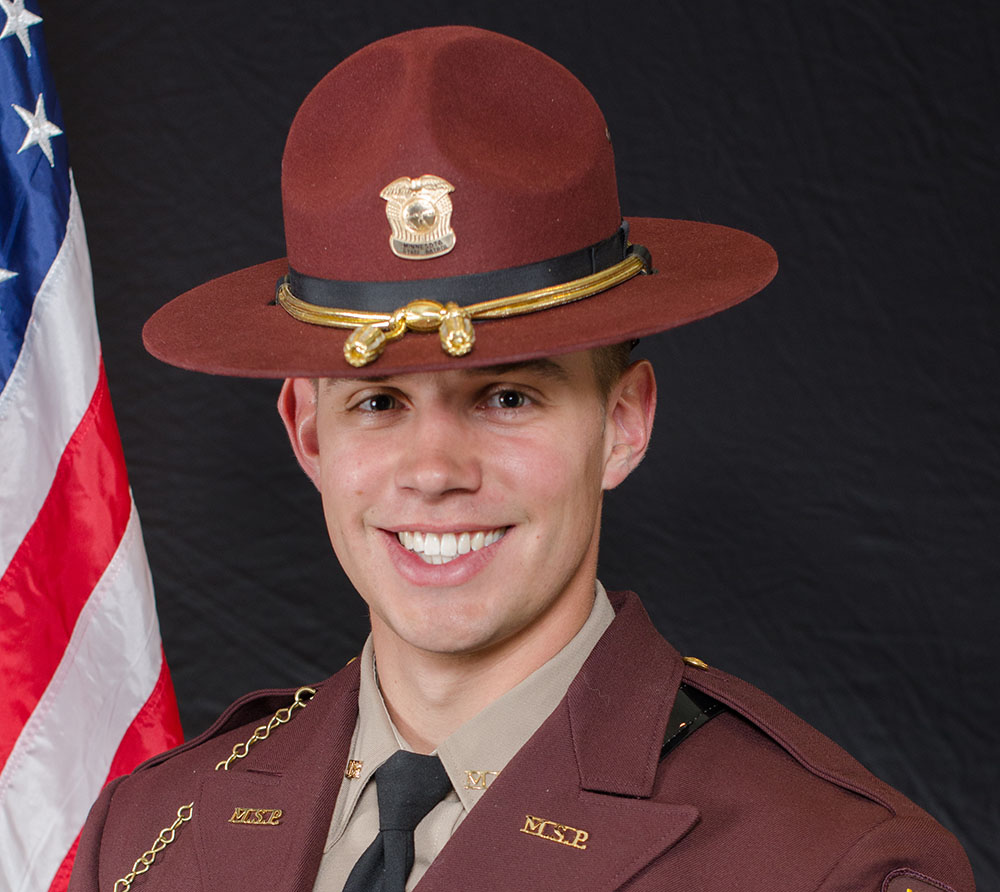 Andrew Larsen
The protests and civil unrest in Minneapolis following the death of George Floyd were like nothing SMSU alumnus Andrew Larsen had ever seen.
Larsen, a member of the Minnesota State Patrol since 2016, is a 2014 alumnus with a degree in Law Enforcement Administration. He was part of an unprecedented all-state call-up of State Patrol troopers to Minneapolis to quell the subsequent protests, and riots, that occurred in the days following Floyd's death.
"I was supposed to work my regular shift (in the Pipestone area) on the 28th. They needed more trooper up there, and I was available," said Larsen, a Marshall native.
He reported to a State Patrol training center in Arden Hills and his first night guarded the state Capitol. There were reports there may be protests around the Capitol, he said.
That was the day the Minneapolis Police Department's 3rd Precinct was burned. "That was a turning point for us, that it was getting out of hand," he said.
Larsen said that the State Patrol call-up had three parts. "We had a mobile field force of about 100 up there Tuesday, they are trained in riot control. Then they called another 200 up, I was part of that. After the burning of the 3rd Precinct, they activated every trooper in the state, which had never been done before."
Larsen said he did a double-take when saw the alert come across his phone. "When I saw it, it sent shivers down my spine," he said. "I said, 'Oh boy, this is not good.'"
He was originally scheduled to be in Minneapolis for three days. He spent 10.
Much of his duty was near the burned 3rd Precinct building. "I have never seen, or been a part of, anything like that," he said. "It seemed like a different world. It looked like a war zone. The news showed buildings that were burning. It was entire city blocks."
Larsen agrees with reports that much of the rioting was instigated by individuals from out of state. "When there's that much civil unrest, some people want to be a part of it," he said. "The day crew got to see the peaceful protests, but we were driving out the rioters. It was sad to see the destruction that came out of what started out as peaceful protests. "
Larsen doesn't delve into the "what if" political scenarios surrounding the decision-makers and their response to the aftermath of Floyd's death. "It was a city issue, basically, until they burned down the police precinct. Then, there was no control. As one of my commanders put it, 'This isn't a Minneapolis police issue, this isn't a Hennepin County issue, this is a law enforcement issue. We will enforce the law; that's what we signed up for.'"
Larsen is following in the footsteps of his father Dana, who recently retired from the State Patrol. "I grew up in the culture," he said "If there's one thing I take pride in, it's being part of an agency that really did help. We didn't watch. We did something, that's why people get into law enforcement."
He earned a two-year degree from Alexandria Technical College before pursuing his four-year degree from SMSU. He worked part-time for the Tyler and Granite Falls Police Departments and the Yellow Medicine County Sheriff's Department while pursuing his degree at SMSU. After that, he worked full-time as a deputy for the Redwood County Sheriff's Department before joining the State Patrol.
He's glad to be back in Pipestone, though it's difficult because he is quarantined for two weeks because of his duty in Minneapolis, and can't see his family. Larson and his wife Paige (Swenson, 2014 alumna) are the parents of two-year-old Ensley, and they are expecting their second child in late July. "That's been tough," he said, "not being able to see them."
Related Articles