Homecoming 2020 at SMSU Features Theme 'Mustangs Come Together — Six Feet Apart'
Published Thursday, September 10, 2020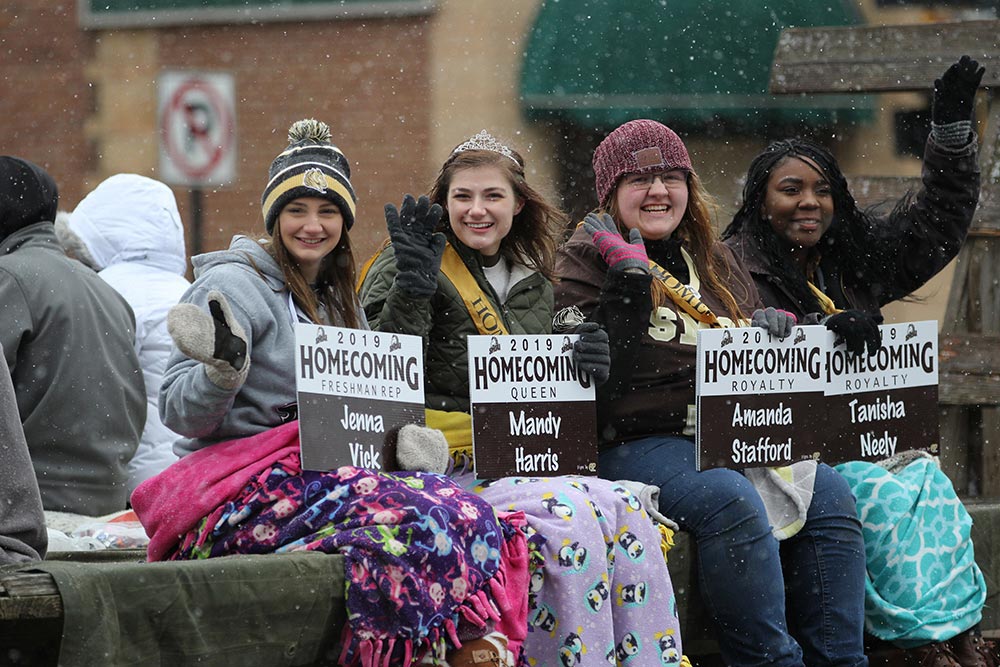 Last year's parade included a bit of snow.
Homecoming 2020 at Southwest Minnesota State University will be held on Saturday, Oct. 10, with a theme of "Mustangs Come Together — Six Feet Apart."
"This is an unusual Homecoming. That's why we want to make sure that we continue the tradition and show our Mustang Spirit," said Mike Van Drehle, Alumni Director. "COVID-19 has changed how we will celebrate many of the events during the week, but that's not going to dampen our enthusiasm for Homecoming. As we like to say, COVID can't break the Mustang Spirit."
A number of virtual events will be held throughout the week, including the Oct. 6 candidate's night, which will feature virtual mind reading and magic show by Spidey, and the Oct. 8 king and queen coronation.
Alumni Association award winners will be honored with videos during Homecoming week. Those will be posted on SMSU Today social media platforms. Alumni Achievement Award winners are: Lee Bush, retired Minnesota District Court Judge, Class of 1973, and his wife Pam, retired teacher/administrator, Class of 1972; Tina (Walliser) Cartwright, Senior Vice President of US Bank, Class of 1997 and '98; and Jeff Mauland, President of North Star Mutual Insurance, Class of 1978. The Graduate of the Last Decade (GOLD) Award goes to Dr. Peter Grahn, Assistant Professor in Neurosurgery and Physical Medicine and Rehabilitation at Mayo Clinic, Class of 2011. The Honorary Lifetime Membership Award is presented to retired Theatre Professor Ray Oster.
The popular Mustangs Got Talent event, highlighting the talent of SMSU students, faculty, staff and alumni has been opened up to the general public. Those interested will create a video — which are being accepted through Sept. 28 — and will be sent to the Alumni Office. The talent can be anything — song, dance, instrument, trick shots, comedy, etc. A panel of judges will review all entries and pick 10 finalists. Those will be released on SMSU Today social media platforms on Oct. 5, with the top three being determined by the number of "likes." Votes will be accepted until 11:59 p.m. on Oct. 10. The first-, second- and third-place winners will be announced on Oct. 11. For more detailed information about Mustangs Got Talent, go to: https://www.smsualumni.com/MustangsGotTalent.
A new event, the Marshall Medallion Hunt, will start on Oct. 5. Held in conjunction with the city of Marshall, clues will be posted on the SMSU Today and Visit Marshall, MN Facebook pages until the medallion is found.
A "Golden Ticket " event, featuring specials at participating downtown businesses, will be held Oct. 8-10. Those wearing Mustang gear who show the "Golden Ticket" will receive special discounts. Just take a photo of the ticket on the Homecoming poster, or it's also available on the Mustang app.
A pair of limited seating Planetarium shows will be held. "Laser Queen & Elton John" will be held Oct. 9 at 8 p.m., and "Discover the Stars" will be presented Oct. 10 at 1 p.m.
The Legacy Homecoming Run 5K/10K will kick off events on Saturday, Oct. 10. Registration is at 7:30 p.m. in the Social Science parking lot on the north edge of campus. The race begins at 8 a.m., and is sponsored by the Veterans Club.
The Homecoming parade will begin at 11 a.m. on Oct. 10, with parade lineup on East Lyon/Jewett Streets. It will have its normal route on Main Street.
Breakfast paninos will be available at 10:45 a.m. on Oct. 10 at Memorial Park on the corner of Main Street and East College Drive.
Other events during the week include the Donut Drop — free homemade donuts — in the upper level of the Student Center at 9 a.m. on Oct. 5; a special menu by Chartwells for the Stampede Feed, from 5-7 p.m. Oct. 5 in the Residential Restaurant; a VIP shopping event at the Barnes & Noble Campus Store from 9 a.m.-4:30 p.m. Oct. 8; residence hall and office and door decorating contests, judged on Oct. 8; a Take 2 Improv show at 8:30 p.m. on Oct. 8; Homecoming Traveling Trivia at the Gambler at 5 p.m. on Oct. 8, featuring SMSU trivia; a bonfire at 9 p.m. on Oct. 9 at Central Field; and the Farmer's Market from 7:30-noon on Oct. 10 in the YMCA parking lot.
There will be an alumni brunch in the Residential Restaurant on Sunday, Oct. 11.
"While some institutions are bypassing Homecoming this year, we feel it's important to continue that tradition, and we're looking forward to the events that we have planned," said Van Drehle.
The Homecoming schedule may see some changes in the weeks ahead, said Van Drehle. Visit www.smsualumni.com/homecoming for updates.
Related Articles