Lee Kanten '74 Finds a New Kind of Busy in Retirement
Published Tuesday, October 13, 2020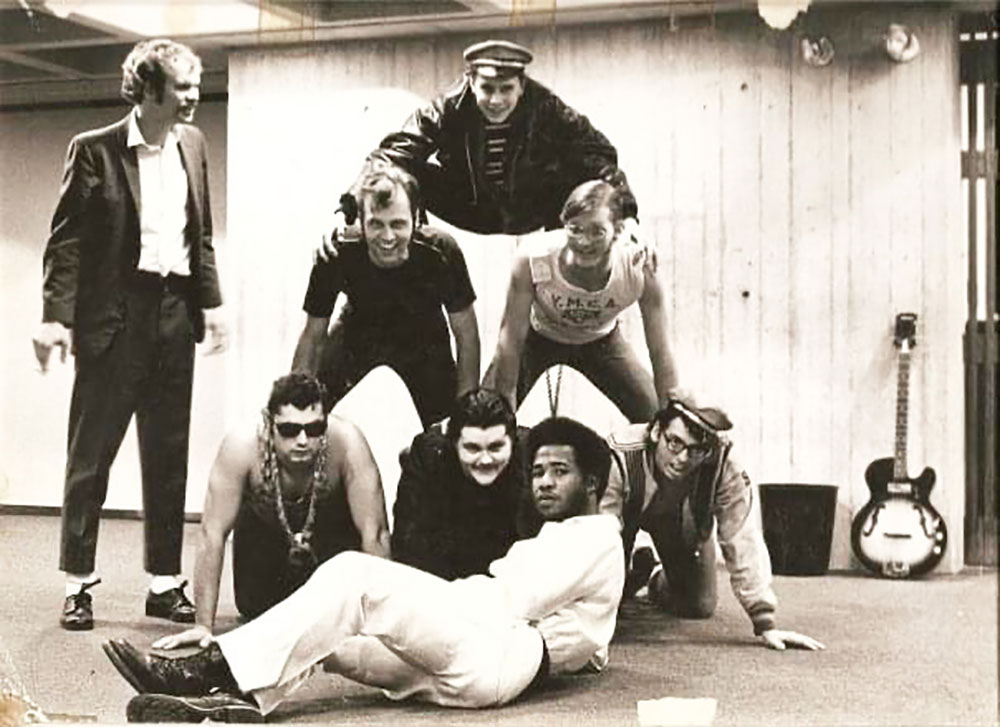 Lee Kanten in his Clutch and the Shifters days, second row from top, left.
Although Lee Kanten's globetrotting days are over, he feels the best of his creative days may still be ahead of him.
Kanten, a 1974 alumnus, and his wife Jeanie (Strube '75) have moved from the Twin Cities, where they owned the video production company Lee Pictures Inc., to Ortonville, population 1,916, on the southern edge of Big Stone Lake, on the South Dakota border. It's his hometown, and he's glad to be back.
"I can do things I never did before," said Kanten. "I write a column for the local paper. I co-host a radio talk show on things going on around town. Retirement is a new period of my life, and I have more going on than I can get done!"
Jeanie runs a couple of non-profits in Ortonville, he said, and is an officer of the local arts council.
And though retired from major production work, Lee and Jeanie still produce smaller-scale videos for local groups and organizations. In the heyday of Lee Pictures, the company won over 100 national and international awards. Much of their work early on was for Fortune 500 companies, and, later, shifted more to social issue videos, such as violence against women, and drug and alcohol issues. "It was very rewarding work," he says today.
Kanten was a member of the Clutch and the Shifters band that was formed in 1973 and which would go on to tour America's heartland for a couple of years playing '50s music. The band had amazing success, considering it was formed on a whim to win a Homecoming talent contest. They would later be inducted into Mid-America Music Hall of Fame in 2009.
The music bug has stuck with him, and he submitted an original song, "Thank You: The Teacher Song" to the Homecoming "Mustangs Got Talent" competition this year. It made the "final 10 cut" and, as he explained, is an ode to his two songwriting teachers, Gary Rue of McNally Smith Music College and Sara Thomsen of the Echoes of Peace Choir in Duluth. The song can be heard here: https://www.facebook.com/SMSUToday/videos/339800834020605/.
 He credits faculty member Ken Erickson head of the Speech program back then, with setting him on his path to success. "The man was wisdom personified," said Kanten, who earned a degree in Speech Communication: Radio-TV. He credits Erickson with understanding that he wanted to be a storyteller, and the Radio-TV program with giving him the freedom to go out and experiment with equipment and ideas.
 "The openness of the teachers was astonishing, not only their doors so you could stop in and talk, but they were wide open in thought."
Lee and Jeanie's skill sets have benefitted his hometown of Ortonville in many ways and they are finding out quickly that so often you find yourself busier in retirement than when you were working.
Related Articles