Faculty Volunteer to Move 'Pod' Desks
Published Thursday, October 15, 2020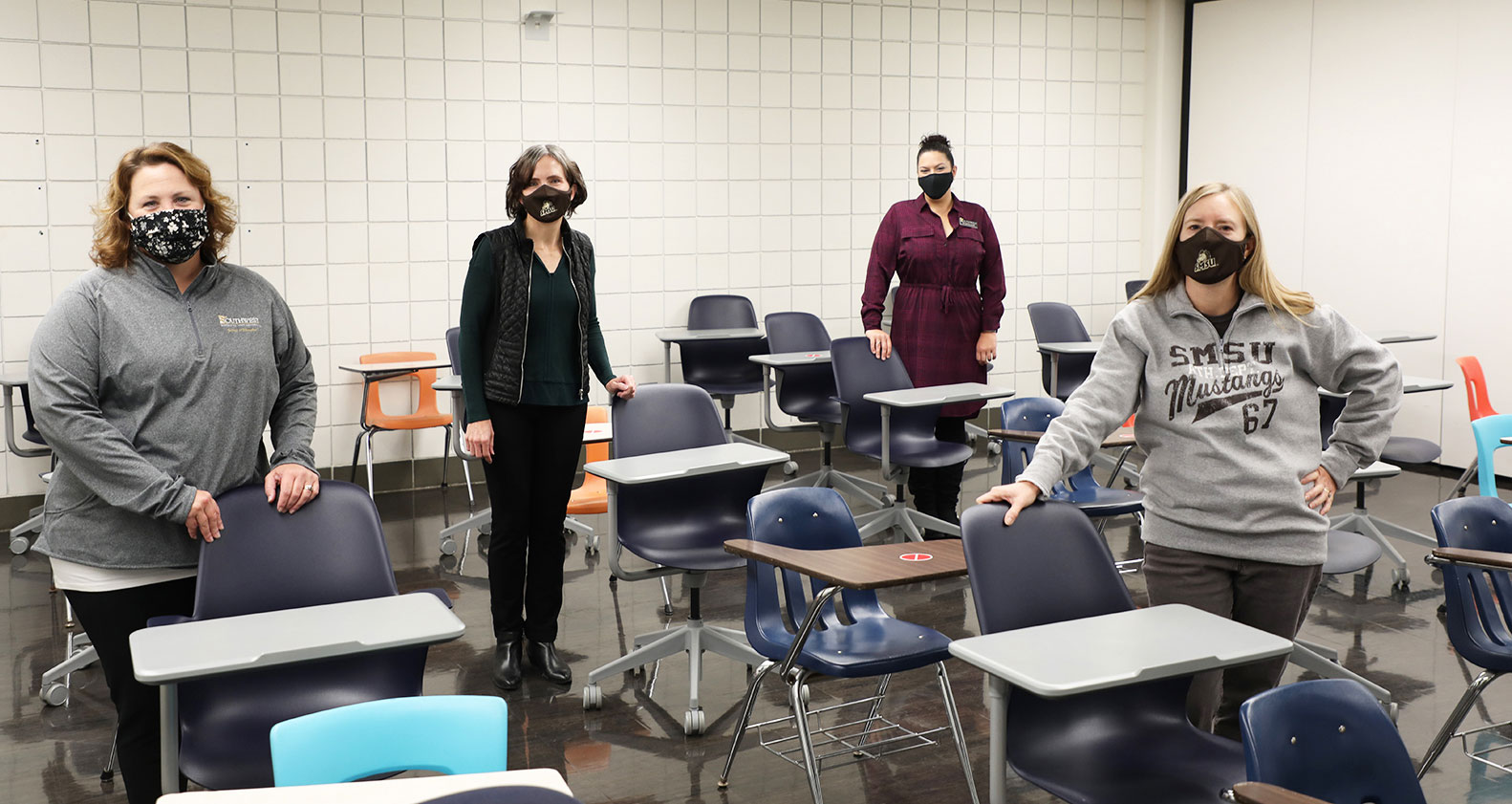 From left: Dr. Sonya Vierstraete, Sara Fier, Dr. Kristin Kovar, BC Franson
We're all in this together.
That's the belief of group of faculty members who are helping SMSU students feel more comfortable in face-to-face classrooms during these COVID-19 times.
The group recently volunteered to move larger "pod" desks into several classrooms to accommodate students who are in need of the roomier, more versatile desks.
"We had a request from faculty to utilize existing pod desks that were not being used in some classrooms due to physical distancing," said Director of Facilities Tony Nubile. With distancing requirements, some tables and alternative seating options had been removed. There are students who because of their size or a physical condition may need larger desks, he said.
Due to other demands related to COVID-19, Physical Plant does not currently have the manpower or resources to move the pod desks, "so we had faculty members who volunteered to move the desks themselves. We are thankful they stepped up as we continue to battle the COVID-19 challenges," said Nubile.
The pod desks, he said, "are a little bigger, and they have a portable top that adjusts in or out so they are more comfortable versus standard desks."
University Counselor/Professor Sara Fier, the Inter-Faculty Organization union president and one of the organizers of the faculty volunteers, said that some students were not comfortable in the smaller classroom desks. Thus the group's efforts to get some of the unused "pod" desks moved into other classrooms, where they can be better utilized.
She worked with Provost Ross Wastvedt and Nubile, "and we came up with a plan," she said.
Fier said that some students may be too big physically for the traditional desks, or may have a physical condition that requires more space. "The student may be hesitant to come forward and tell someone about that," she said.  Students with a concern can talk with the faculty member, or with Pam Ekstrom in Accessibility Services, said Fier.
"We saw it as an inequality and inclusion concern. Since the doors opened at SMSU in 1967 we have always taken pride in being inclusive and we thought it important to provide seating options," said Fier.
The six faculty members who volunteered to move desks include Fier; Professor of Education/Department Chair Dr. Sonya Vierstraete; Assistant Professor of Communication Studies Julie Walker; Associate Professor of Justice Administration BC Franson; Associate Professor of Agricultural Education Dr. Kristin Kovar; and Associate Professor of Library Maria Kingsbury.
The desks are being moved into several classrooms in Bellows Academic (BA), Charter Hall (CH) and Social Science (SS). Approximately 65 desks are being moved.
"We really appreciate the faculty are taking the time to do this. We really thank them," said Nubile. "They've gone above and beyond."
Related Articles