Hailey Nierling a Leader in Many Ways at SMSU
Published Wednesday, February 03, 2021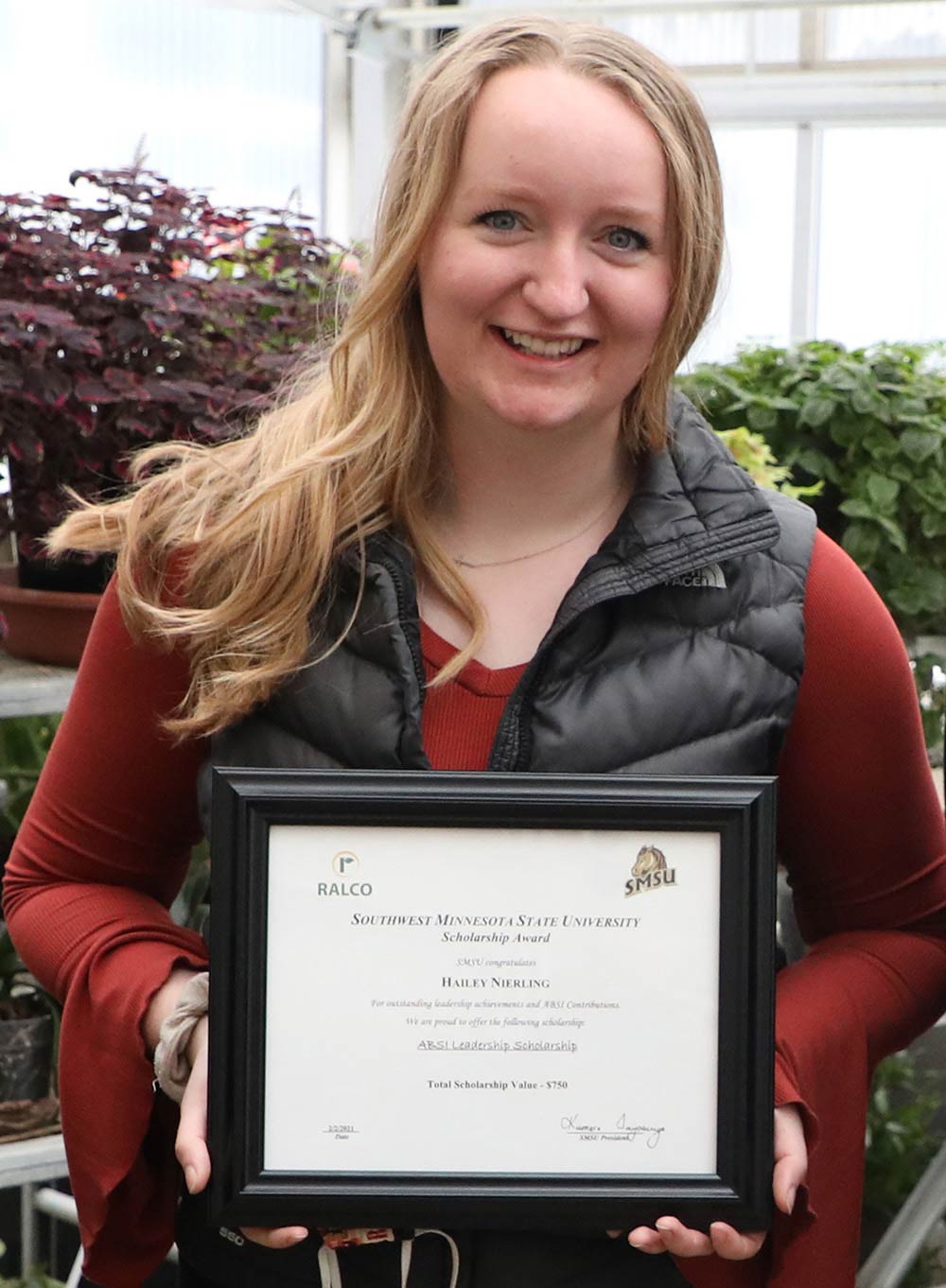 Hailey Nierling
Being a classroom leader is something SMSU senior Hailey Nierling aspires to be professionally. She is getting plenty of hands-on experience as she pursues that goal.
Nierling is the first Ag Bowl Scholarship Invitational Student Coordinator scholarship recipient, in recognition of her work for the upcoming Ag Bowl Scholarship Invitational. This ninth annual FFA competition, held from Feb. 22-26, is being delivered virtually for the first time.
The event has steadily grown, and organizers are hoping to match last year's number of participants, which was over 600. And while the competition is being held virtually for the first time, Nierling feels that is a positive. "We've been reaching out to FFA chapters in the surrounding states, and we are getting a lot of new schools signing up, which is awesome," she said.
Nierling is a Decorah, Iowa, native, the oldest of three children in the Matt and Jolene Nierling family. She grew up on a dairy farm just a mile from the Minnesota border, in northeast Iowa. She was an outstanding track & field and softball athlete at Decorah, and caught the eye of the SMSU track and field staff when she competed at the Iowa state track meet. She competes primarily in the hammer throw outdoors, and the weight throw indoors.
She is an Agricultural Education major, Agriculture Management minor, and her position as student coordinator for the Ag Bowl Scholarship Invitational is exactly the hands-on opportunity she enjoys. "I want to be a teacher in an ag classroom," she said. "I want to be a leader and a role model for students and lay the foundation for the next generation of agriculturalists."
She's had many opportunities for leadership roles during her time at SMSU. Besides being a student-athlete on the track & field team, she's also a Student Ambassador, Global Ambassador, an officer in the Ag Club, a member of the Professional Agriculture Student (PAS) group, a Mustang Mentee, a member of the Ag Advisory Council, and a member of the Education Minnesota Aspiring Educators (EMAE) club. She also works part-time at Marshall Floral.
"I've learned a lot about time management, to say the least," she said. "I work better the busier I am. I like to be involved."
Her enthusiasm is infectious, and her glass-half-full attitude guides her every day. "With Ag Education, it's kind of a family — the students, but also the ag teachers around the state of Minnesota. They really want us all to succeed. It's a close-knit family, and there's a lot of trust. When I first came to this state, I didn't know anyone. Now, it's easy to reach out in my network for any help I may need."
As an Admission Ambassador, she enjoys nothing more than talking to prospective students and their parents. "It all comes down to student priorities," she said. "If a student comes to campus and is looking for a small, close-knit family and good hands-on opportunities, that's SMSU, it excels in those areas."
She was not expecting the $750 scholarship she received for her work with the Ag Bowl Scholarship Invitational. "I am honored. I love working with Ag Bowl. I've learned so much from it, and it's so specific to what I want to do as a career."
Related Articles